Pink to Give Away Thousands of Banned Books About Racial, Sexual Identity at Florida Shows
P!nk is challenging Florida's recent laws limiting how racism and discrimination can be taught in schools and workplaces by partnering with PEN America to give away banned books to the state that accounts for more than 40 percent of all banned books nationwide.
Florida readers have another reason to check out an upcoming P!nk show as the pop star is set to give away thousands of banned books to her fans. It's a move to challenge the state's unprecedented book challenges she's making in partnership with PEN America.
The move comes on the heels of laws being enacted by the Sunshine state that are enforcing strict guidelines on what can be taught in schools and workplaces. Examples include the Individual Freedom Act, which targets systemic racism and discrimination education, and the "Don't Say Gay" bill, limiting LGBTQIA+ discussions.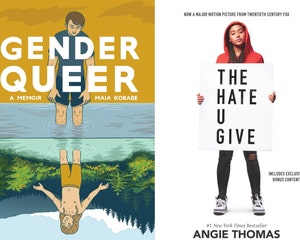 The Top 10 Most Banned Books in America
PEN America reports that Florida ranks first in the United States with the most banned books in public schools, and actually accounts for more than 40 percent of all banned books nationwide.
"We are thrilled to be working with P!nk on this important cause," said Kasey Meehan, director of PEN America's Freedom to Read Program. "Every child deserves access to literature that reflects their lives. Rampant censorship is depriving kids of the chance to see themselves in books and learn about the world and its history."
"Books have held a special joy for me from the time I was a child, and that's why I am unwilling to stand by and watch while books are banned by schools," said P!nk in a statement released ahead of her shows.
"It's especially hateful to see authorities take aim at books about race and racism and against LGBTQ authors and those of color," she continued. "We have made so many strides toward equality in this country and no one should want to see this progress reversed."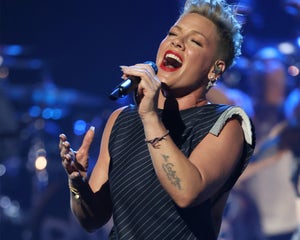 Pink Recalls Brutal Physical Fight with Mom, Nearly Dying from OD Weeks Before Record Deal
P!nk is heading to Miami on Tuesday and Sunrise, Florida on Wednesday. At each show, the first 1,000 fans will be able to pick up a commonly banned book that P!nk says address themes of racial and sexual identity.
The books that will be made available are The Family Book by Todd Parr, The Hill We Climb by Amanda Gorman, Beloved by Toni Morrison, and a book from Girls Who Code, founded by Reshma Saujani.
P!nk's partnership with PEN America was revealed in a statement by the organization on Monday, as well as a live stream hosted on her Instagram that featured PEN CEO Suzanne Nossel and the nation's first National Youth Poet Laureate, Amanda Gorman.
Ahead of the live stream, P!nk teased it with a lengthy statement on her Instagram where she highlighted how aggressive book banning has become. "Did you know there have been nearly 6,000 book bans since the fall of 2021," she noted, emphasizing the large percentage of that in Florida.
"As a mom of two young readers, I can't imagine letting someone else decide what MY CHILDREN can and cannot read!" she wrote. You can check out her full chat with Nossel and Gorman below, and if you're lucky enough to catch her next two shows in Florida, you might just pick up some reading material, too.
Waiting for your permission to load the Instagram Media.
Instagram Media Unavailable
Source: Read Full Article