Man Headbutts Car Window, Flies 'Out Like a Dolphin' After High-Speed Chase & Crash
The 24-year-old Florida man also tried to flee from a K-9 following his unusual escape attempt from his vehicle, and later admitted that he was "high as f–k" during the pursuit, according to officials.
As the saying goes, use your head.
But one Florida man took the words a bit too literally earlier this week.
As shown in police dashcam video, a 24-year-old man headbutted the passenger side window of his car — and came "flying out like a dolphin" — after he crashed into a concrete fence following a high-speed chase, according to a release shared by Marion County Sheriff's Office on Facebook on Thursday.
The man, Tyler Fayconsolo, was arrested following his rather unusual escape attempt after the high-speed pursuit.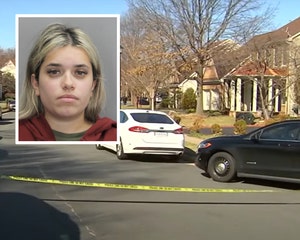 Mystery Surrounds Double Homicide As Au Pair Now Charged With Murder After Puzzling 911 Call
"THAT IS ONE WAY TO USE YOUR HEAD…," the sheriff's office's rather comical Facebook post began. "You're probably wondering why Tyler Fayconsolo was arrested earlier this week. That is a great question, and we would love to tell you."
"You see, Tyler decided not to use his head most of the night," the release continued, "and it started with him leaving the Circle K on SE Maricamp Road at a high rate of speed, driving erratically."
According to the sheriff's office, a K-9 corporal attempted to pull Faysconolo over after he suspected the man was under the influence as he was driving at up to 100 mph and was unable to stay in his line, and even ran a red light.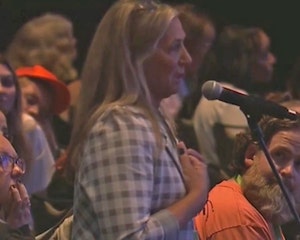 Mom of Idaho Murder Victim Makes Surprise Q&A Appearance at CrimeCon Panel About Son's Murder
Officials said Faysconolo "refused to stop," and "attempted to make several evasive maneuvers to try and elude" the corporal, including driving on the wrong side of the road and going into the Greenway Trailhead parking area. According to the post, Faysconolo "almost hit two individuals" who were parked there, with the Facebook caption adding the see no evil monkey emoji.
Officials said a deputy "successfully deployed stop sticks" into Faysconolo's tires. Despite having four flats, the man attempted to keep driving, before then he crashed into a concrete fence of a home.
"This is where Tyler used his head, but not how you should … he head-butted the passenger side window and came flying out like a dolphin," the Marion County Sheriff's Office's Facebook post continued. "But in Tyler fashion, he stopped using his head once again and thought running from a K-9 was a great idea."
The dog — who is named Jet — was released, caught Faysconolo, and "took a bite out of crime — and Tyler."
The man was subsequently arrested and transported to a hospital, officials said. While there, he admitted that he was "high as f–k."
According to the release, Fayconsolo was charged with driving under the influence of alcohol or drugs, aggravated fleeing with injury or damage, and resisting without violence.
He now remains in the "lovely Gold Star Hotel."
Per jail records, Fayconsolo was booked on a $53,000 bond, and his court date is set for November 14.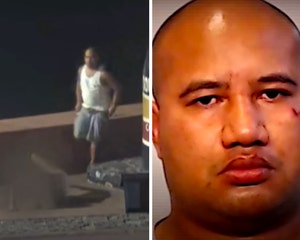 Man Calls Cops After Witnessing Uber Driver Rape Woman on Livestream from Tourist Spot
Source: Read Full Article