Jail for syndicate member who helped 'Queen of Richmond' import heroin
A drug "freelancer" who was a significant player in a syndicate that smuggled heroin into Australia on commercial flights from Malaysia has been jailed for more than 13 years.
Kha Tien Ngo was a key figure in the syndicate headed by Michelle Ngoc Tran, the self-styled "Queen of Richmond", that imported 6.6 kilograms of heroin – with a value of up to $8 million – onto Melbourne streets between October 2018 and January 2019.
One of the packages of drugs intercepted by authorities.
Ngo helped Tran arrange flight attendants to smuggle one-kilogram "tickets" from Malaysia to Australia and introduced buyers to the boss so she could sell each importation for $195,000, the County Court heard.
On Thursday, Ngo, whose role in the syndicate increased as he tried to pay off gambling debts, was jailed for 13 years and nine months after pleading guilty to charges of importing and trafficking a commercial quantity of heroin.
He also admitted trafficking a commercial quantity of methamphetamine related to selling ice in Melbourne's western suburbs.
The 57-year-old, who must serve nine years and nine months before he is eligible for parole, is the seventh member of the syndicate jailed in the past six months.
Tran, a former nail technician who boasted her heroin was the highest quality in Australia and referred to her couriers as soldiers, was last year jailed for 18 years.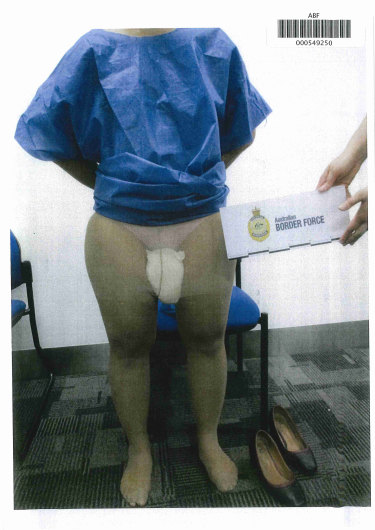 Flight attendant Zailee Zainal in 2019 after smuggling heroin into Australia from Malaysia.Credit:Australian Border Force
Judge Michael Cahill said Ngo was a freelancer who was directly involved in the importation of four "tickets" of heroin, weighing a combined 4.2 kilograms. Tran sold each ticket to buyers for $195,000 and paid Ngo $5000 from her $40,000 profit on each importation.
"You played an important role in the importation and trafficking of large quantities of heroin and methamphetamine," Judge Cahill told the former delivery driver and factory worker, who watched his sentence on a video link from prison while his family also tuned in. He has been in custody since his arrest in January 2019.
"You were a person of significant standing in the Melbourne-based arm of a syndicate that imported large quantities of heroin into Australia," Judge Cahill said.
Ngo had overcome pancreatic cancer diagnosed in 2000 but was given a poor diagnosis in 2018, the court heard, which prompted him to increase his gambling. Faced with debts to loan sharks, he acted as a middleman between Tran and the people she sold drugs to.
Prosecutors had said Ngo was once asked by another syndicate member why he kept working given he had made so much money. He replied that he kept "roasting it on the barbecue", a reference to gambling.
On another occasion he declined an associate's invitation to dine at a Chinatown restaurant, saying: "I don't crave food, I crave money."
Judge Cahill said Ngo's moral culpability was higher than all syndicate members except Tran, but acknowledged his guilty plea, remorse and poor physical and mental health.
How it worked
"Mr Hanoi" alerts Michelle Ngoc Tran (Melbourne head of the syndicate known as "The Queen") of upcoming flights to Australia. 
Code words are used to refer to various cities in Australia to indicate where the heroin would arrive. 
Mr Hanoi, in Malaysia, and other overseas associates liaise with cabin crew members. 
Cabin crew members would import "tickets" of heroin – each weighing about one kilogram – into Australia smuggled in their underwear.
Tran arranges for her couriers to meet the crew member once they have arrived in Australia to complete the importation. 
Transactions would usually occur in the toilets of the hotel in which the crew member was staying. 
Tran would arrange for her couriers to collect the drugs and pay the crew member in cash to return to Mr Hanoi. Crew members would return to Malaysia within 10 hours. 
Others already jailed include Zailee Zainal, a former flight attendant with budget carrier Malindo Air, who concealed parcels of heroin in her bra and underwear. She was jailed last year for 9½ years.
Thi Thuy Tam Tran was jailed for 10½ years for her role, which included meeting Zainal at Melbourne hotels and handing over money for the heroin.
Start your day informed
Our Morning Edition newsletter is a curated guide to the most important and interesting stories, analysis and insights. Sign up here.
Most Viewed in National
From our partners
Source: Read Full Article