What You Dont Know About Good Bones Mina Starsiak Hawk
"Good Bones" is one of the most successful shows on cable television. The show features the mother-daughter team of Karen Laine and Mina Starsiak Hawk, who, bit by bit, are renovating neglected homes and revitalizing neighborhoods that have fallen into disrepair in their hometown of Indianapolis. 
Mina and her mom run the company 2 Chicks and a Hammer. They've been renovating homes since 2007 when Mina bought a house that needed a lot of work. At the time, she was a recent graduate of Indiana University and buying the house was what made her feel grown-up. As Mina and Karen worked on the house, they discovered not only were they good at it, but they absolutely loved the process. Back then, Karen was an attorney and Mina was a waitress and they worked on two or three houses each year in their time off. Then, in 2014, producers discovered Mina and Karen, filmed a pilot for HGTV, and "Good Bones" was born!
Keep reading to find out everything you need to know about "Good Bones" star Mina Starsiak Hawk.
Mina's first house cost $37,500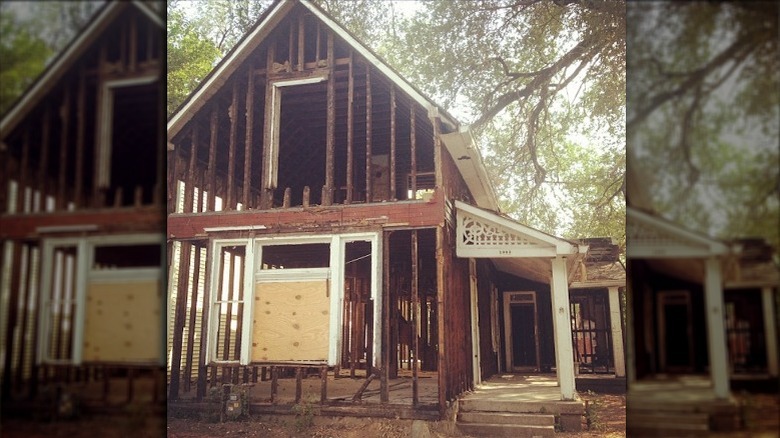 Mina Starsiak Hawk graduated from Indiana University in 2007 with a bachelor's degree in general studies and she had no idea what she wanted to do for a career. She took a part-time job as a waitress while she did some much-needed soul searching. "I didn't want to work 9 to 5 in a cubicle, but I wanted to do something grown up, because all my friends were getting accounting jobs and doing big kid things," she told People. In order to feel grown-up herself, Mina bought a house for $37,500, per House Beautiful.
The house was a fixer-upper, to say the least. Mina shared a photo of what her house looked like when she first got it on Instagram. Mina's mom Karen was a defense attorney at the time and co-signed Mina's loan. They teamed up to renovate and, let's face it, repair Mina's house. "We just learned as we went," Mina said. "I read directions on how to install flooring and watched online videos about putting up tile. It was really trial and error."
The house is in the Fountain Square neighborhood in Indianapolis, per HGTV. Years later, Mina bought the lot next door to her first home and built what Karen calls the "Taj MaMina."
Mina was renovating homes for seven years before HGTV came calling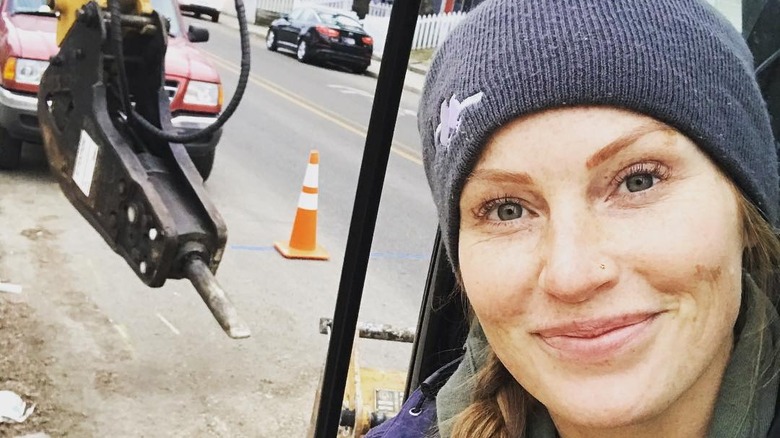 Mina Starsiak Hawk and Karen Laine renovated more than 20 houses over seven years before producers from High Noon Entertainment discovered the talented mother-daughter team, per House Beautiful. Mina was skeptical at first. "I was like, 'I know we're not that cool,'" she told USA Today. "So I did a little bit of research on the development company and find out that they're legit." High Noon is the company that produces "Fixer Upper," "House Hunters," and "Cake Boss."
They filmed a pilot in 2014 called "2 Chicks and a Hammer." The pilot aired under that name in May 2015 and was a success. HGTV ordered episodes immediately under the new name "Good Bones" and filming started right away, per House Beautiful. The first season aired in 2016 and it quickly became one of the most popular shows on HGTV.
In a 2017 interview with People, Mina said the experience of suddenly being kind of famous was "surreal." "We've been doing this for a long time, and up until a year ago, my dad kept asking me to go to law school as a backup," she said. "After 'Good Bones', he finally stopped asking!"
Mina met her husband Steve on Facebook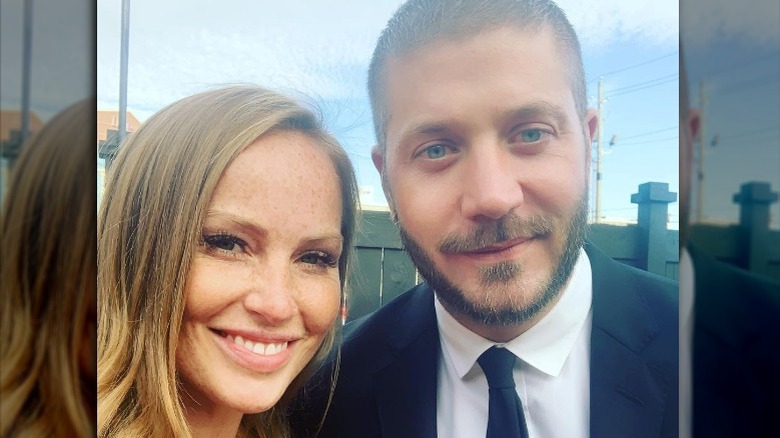 In 2013, Mina Starsiak Hawk met her future husband Steve Hawk through mutual friends — on Facebook. They met in real life when a group of their friends got together to watch a basketball game and, as Mina said in an interview with Country Living, "he ignored me all night." She also admitted, "He let his friend hit on me!" Mina got Steve's phone number and texted him, "We're going to try this again tomorrow — you get one more shot."
Steve proposed to Mina in 2015 by sending her on a scavenger hunt that led her to the 50-yard line of the training field for the Indianapolis Colts. They married on June 11, 2016. Instead of a traditional wedding cake, they had 400 donuts for their guests.
Mina and Steve welcomed their son Jack in August 2018 and their daughter Charlotte in September 2020, per House Beautiful.
Mina struggled with infertility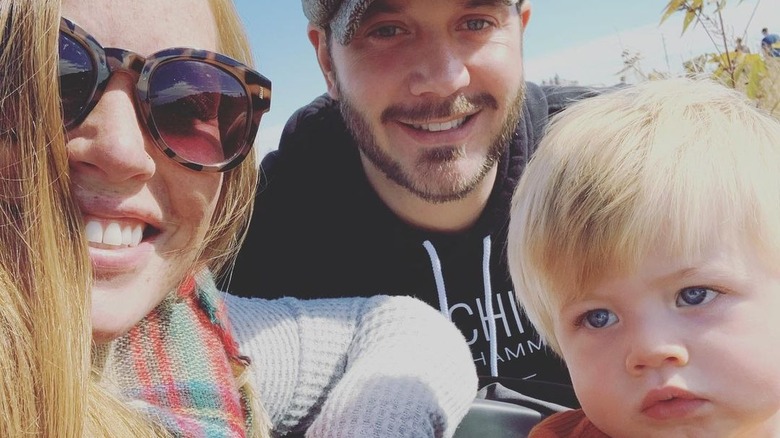 After Mina Starsiak Hawk had her son Jack, she and Steve tried to get pregnant again without any luck. She documented her journey with infertility on Instagram and shared her reasons for doing so. "I've been sharing my fertility ride publicly bc of the thousands of messages from women it's helping…. but I never anticipated what I would do if it wasn't successful. That option hadn't even entered my mind. I did get an update a bit ago but needed some time to process with my husband," she wrote. "We were told another round of IVF would be unsuccessful and our only option for me to carry another baby would be with [a] donor egg."
Mina was very candid about the experience. "Not only was this not expected EVER, it definitely wasn't this soon in the process. After sitting with it a bit, we're doing the reasonable thing and getting a second opinion, although I don't have high hopes it will result in anything different," she continued. "So that's where we are."
Watching the "Good Bones" footage of this period in her life "kind of sucks," Mina said. She told People that she wanted to share her experience because she didn't want to "look like a freaking robot talking about this later, because that's just how I deal with stuff." Based on the messages she received, her openness clearly resonated with people. 
She's a control freak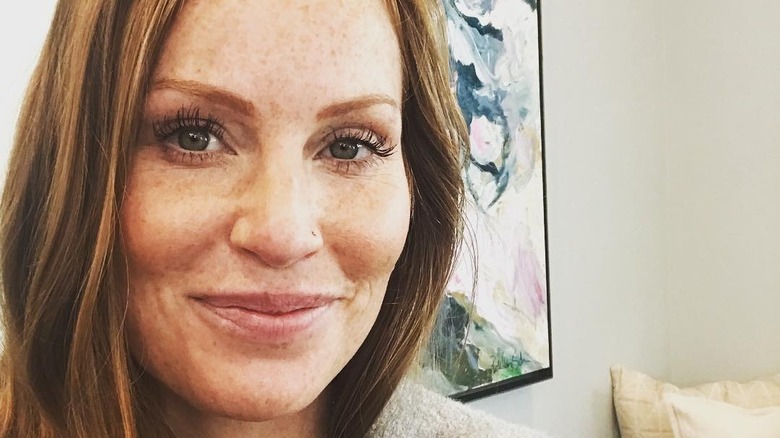 Mina Starsiak Hawk is a self-admitted control freak. Mina will come right out and tell you, "I'm a control freak, and I'm a huge planner." How so? She a created baby registry before she even got pregnant. In an interview with Fox News, she said she knew she would have to relax and loosen up when her son Jack was born. "Mom's advice is good luck with that. When the kid comes out, it's their world and you just live in it," she said. "We'll make it work for the business and for me and the baby, but it may not be like a conventional or approved method of child-rearing."
Mina also talked about what she learned from her mom Karen that she'd like to pass on to her kids. "I think she always had boundaries for us but she was never a helicopter mom," Mina recalled. "She kind of let us explore our world and if we did something, she maybe said you shouldn't do that. If we fell and scraped our knee, okay, we learned from this. She gave us enough flexibility to learn lessons so we can self-regulate." We'll just have to keep watching "Good Bones" to see some of these lessons in action.
Source: Read Full Article