'Tiger King': Where Are Joe Exotic's 4 Husbands Now?
Tiger King: Murder, Mayhem, and Madness has earned the top spot among Netflix rankings, and for good reason. The docuseries that follows exotic Oklahoma zookeeper, "Joe Exotic," is almost too unbelievable to be true. The wild life of Joe Exotic includes big cats, a murder-for-hire plot, four husbands, and now, a 22-year prison sentence. Many want to know, where are Joe Exotic's husbands now?
Brian Rhyne was Joe Exotic's first husband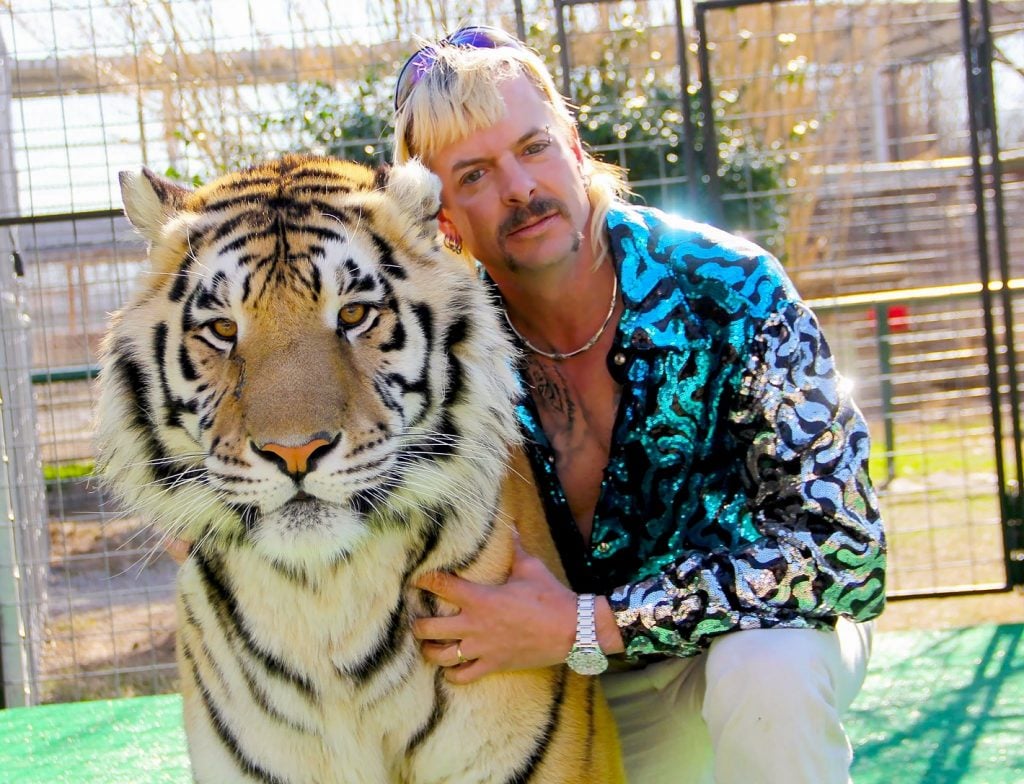 Joe Exotic's first husband, Brian Rhyne, may not have been mentioned much in the Netflix series, but he claims the title of "the first husband." Rhyne was there before the zoo's inception.
The two met in the 1980s when Exotic worked as a security guard at a gay cowboy bar in Texas, according to New York Magazine. Rhyne was 19 years old when he moved in with Exotic. The two opened the Greater Wynnewood Exotic Animal Park in Oklahoma, in 1999.
The two were never legally married, but referring to one another as much. Rhyne died of health complications from HIV in 2001.
John Finlay became Exotic's second husband before a fallout
When Finlay graduated high school, he met and fell in love with Exotic. He'd been hired to help run the zoo and roadshow. In 2014, the two married in a three-way ceremony that also included 19-year-old, Travis Maldonado, after over 10 years with Exotic.
However, court documents alluded to the fact that they may not have been legally married.
A year later, Finlay claimed Exotic had become controlling and manipulative. The end of their relationship came by way of a public brawl in a parking lot. Finlay was charged with battery.
He then married the park's secretary, Stormey, had a child with her, and got a new set of teeth, according to a post on the Facebook page, The Truth About John Finlay fan page.
"Yes I have my teeth fixed," he wrote. "The producers of the Netflix series had video and pictures of this, but chose not to show it."
According to Texas Monthly, he currently works as a welder.
Travis Maldonado died by accidental suicide
https://www.instagram.com/p/BlrB49uAsOS/
Baby-faced Travis Maldonado joined Exotic's team when he was also just 19 years old and was part of that three-way ceremony with Exotic and Finlay.
On Oct. 6, 2017, Maldonado died by accidental suicide when he removed the magazine from a pistol thinking it couldn't load the bullet when he pulled the trigger. The incident is documented on Tiger King and happens in front of a fellow employee.
Dillon Passage married Joe Exotic 66 days after Maldonado's death
https://www.instagram.com/p/Bm_DPStAx_H/
On December 11th, 2017, Maldonado married his fourth husband, Dillon Passage, whom he met online in a chat. It had been only 66 days since Maldonado's death and a grieving Maldonado's mother was in attendance. Their relationship isn't shown much in the docuseries as it happens toward the end of Exotic's bizarre tale.
As of now, Exotic is serving a 22-year sentence for the whole murder-for-hire conspiracy, as well as a slew of other wildlife violations. He and Passage appear to still be married. Passage resides in Florida and prefers to keep his Instagram page "free of Joe things," as he replied to a fan's comment.
If you've yet to catch up on Tiger King: Murder, Mayhem, and Madness, and the husbands mentioned above, there's no better time than now — while we're all quarantined due to the coronavirus (COVID-19) outbreak.
Source: Read Full Article