The Untold Truth Of Vera Farmiga
Having portrayed real-life paranormal investigator Lorraine Warren in the ever-expanding "The Conjuring" franchise, pulled double duty in the highly underrated prequel TV series "Bates Motel," and played the adopted mother of another volatile child in "Orphan," Vera Farmiga has developed a reputation as a modern-day scream queen.
But there's much more to the New Jersey native's career than spooks and scares. She picked up an Oscar nomination for her measured turn as an adulterous businesswoman in dramedy "Up in the Air" and then an Emmy nod for her depiction of lawyer Elizabeth Lederer in the hard-hitting true crime drama "When They See Us." Farmiga has also become a regular of the big screen thriller ("Source Code," "The Commuter," "Safe House"), worked with legendary filmmaker Martin Scorsese on "The Departed" and in 2011 took the director's chair herself for faith-based drama "Higher Ground."
And Farmiga's backstory is every bit as intriguing as her acting career, too. From her Eastern European upbringing to her experiences with the supernatural, here's a look at the star's untold truth.
Vera Farmiga grew up in a Ukrainian-American community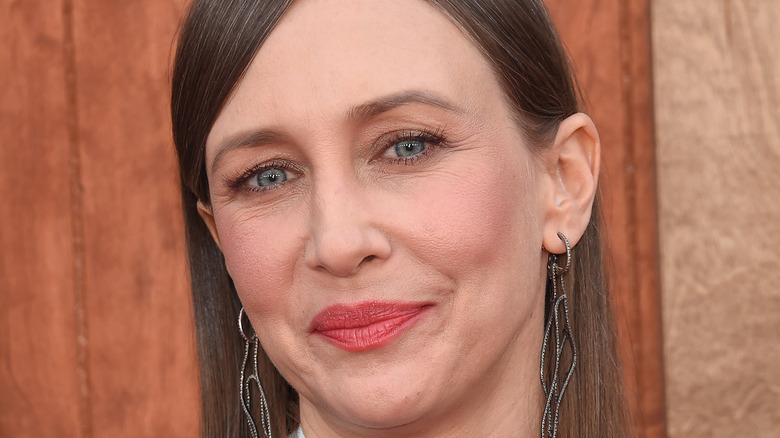 Vera Farmiga didn't speak a word of English until she started kindergarten at six years old. The actor was raised in a tight Ukrainian-American enclave in the New Jersey city of Irvington, and her parents and grandparents, all of whom hailed from the former Soviet Union state, had been keen to immerse her in their culture.
Farmiga has also made sure that her own children are aware of their roots, too. "We had Heritage Week at my daughter's school recently, and I came in with a massive pot of borscht to talk about being Ukrainian," she told Vulture in 2018. "It's crazy, kids who would never eat the individual ingredients that make up some of these dishes will eat it when it's presented in this fun circumstance."
According to the "Bates Motel" star, her upbringing informed her passion for the arts. "Every holiday and holy day, my gigantic family would get together, and a couple people would play guitars while I would sit by the piano and sing, trying to find new harmonies in the same old repertory songs," she recalled to Vulture. "And dance was a major method of learning, a way of passing down stories from history."
Vera Farmiga was a touring folk dancer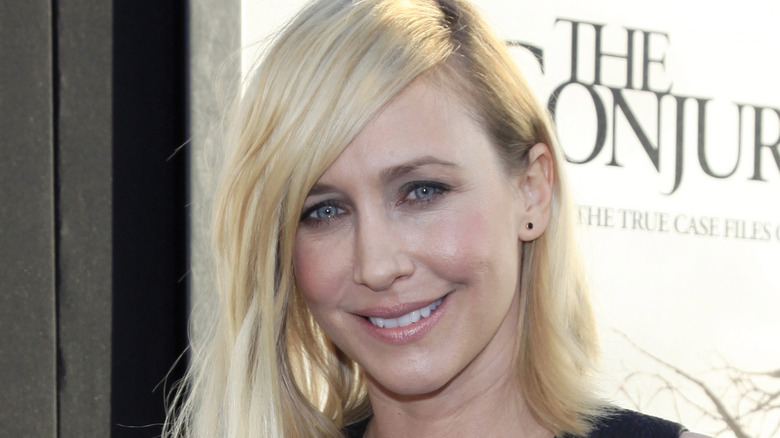 Having built her career on playing formidable characters — in 2021 she added Tony Soprano's mom Livia in "The Many Saints of Newark" to her list — it's hard to imagine Vera Farmiga throwing a few shapes. But back in her teenage years, the Academy Award nominee was quite the hit on the dance floor.
Of course, Farmiga didn't engage in just any kind of dancing. Thanks to her Eastern European background, her forte was Ukrainian folk, a style she told Female First in 2012 is a "hybrid of Irish step dancing and Russian Cossack." In fact, the actor was such a gifted mover that she got to showcase her talents across Ukraine shortly before it gained independence in 1991.
Three decades may have passed since Farmiga was in her dancing heyday, but she hasn't forgotten the steps. The "Source Code" star added, "The whole family still whips it up at weddings — largely due to inebriation. If the acting doesn't work out, it's definitely something I could fall back on."
Vera Farmiga met both of her husbands on TV sets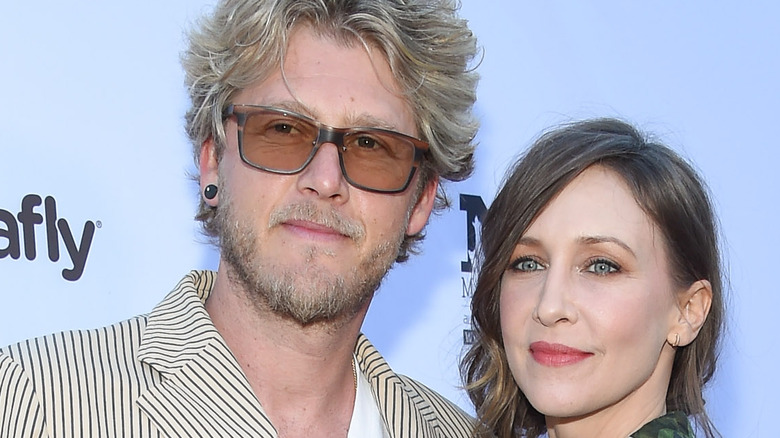 Vera Farmiga didn't need to rely on online dating when it came to meeting her two husbands. She simply turned up to work. Yes, the Emmy nominee certainly doesn't appear to have any qualms about mixing her personal and professional lives, that's for sure.
She first walked down the aisle with Sebastian Roché after the pair appeared together in a short-lived 1997 Fox fantasy series also starring a young Heath Ledger. Farmiga made her screen debut playing former slave Catlin in "Roar," while hubby number one was cast as what else but an immortal Roman centurion. Their whirlwind romance — the couple got hitched in the Bahamas that very same year — didn't last. By 2004 they were heading for the divorce courts.
Farmiga obviously wasn't deterred from using the workplace as a matchmaking service, though. As she recounted in an interview for the Emmys website, she connected with musician Renn Hawkey while filming another one-season wonder, the US remake of British crime drama "Touching Evil." The two immediately hit it off and in 2008 they said "I do."  Farmiga was also five months pregnant at the time and after welcoming son Fynn into the world, the couple added to their family unit in 2010 with the birth of daughter Gytta.
Vera Farmiga channeled her relationship with religion into a movie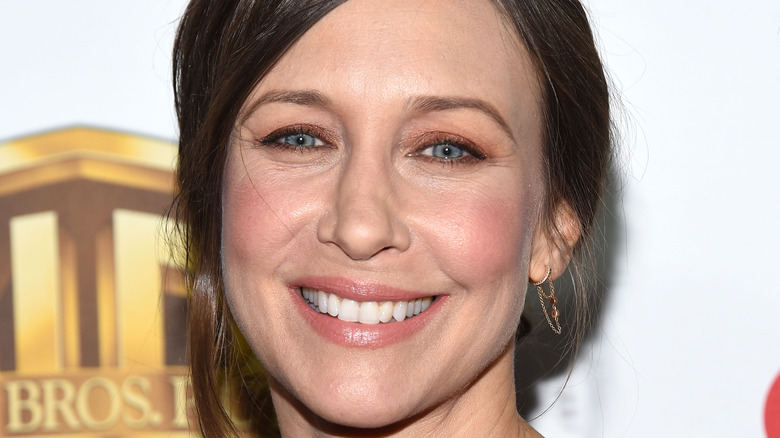 In 2011, Vera Farmiga directed and took center stage in "Higher Ground," an adaptation of Carolyn S. Briggs' autobiography, "This Dark World," about a Christian woman's lifelong struggle with her faith. And it appears as though the multi-talented star didn't have to look too far for inspiration.
In fact, Farmiga was influenced to pull double duty on the film due to her own complicated relationship with God. The actor was raised in a deeply religious Ukrainian-American community, but as she told BlackBook on the promotional circuit, her spiritual connection isn't as strong as some of her family members'. "I grew up in a Catholic home, and my dad is a believer," she shared. "I yearn to attain what he has, and I'm jealous of it, and I covet it, because he is someone who feels the breath of God on his face."
Farmiga insisted that despite the film's questions about religion, it had been warmly received by even the more conservative Christian market. "Some of the Christian films that I've tried to watch are kooky and one-dimensional," she added. "Good films about faith challenge me in ways that keep me open, receptive, and vulnerable and my intention was to portray the story — the search — in full. Doubt is a part of faith, and I don't think that makes it anti-Christian."
Vera Farmiga has no problems with nudity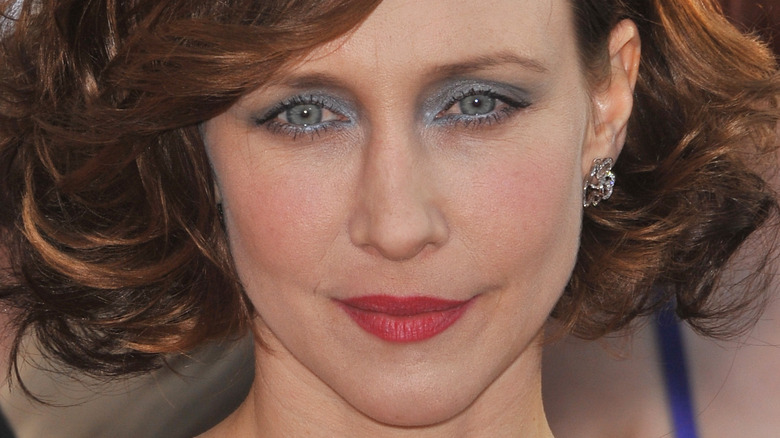 Vera Farmiga doesn't appear to have any problems with baring flesh on camera. The actor has gone nude in several films including "Breaking and Entering," "The Departed," and "Never Forever." And while talking to NJ.com in 2009, she joked about how cinemagoers have seen her "full moon, again and again."
Farmiga also admitted that musician second husband Renn Hawkey had initially been a little less comfortable with her free-spirited approach to on-screen nudity. But he soon stopped vocalizing any concerns when asked how he'd react if he was suddenly forbidden from playing particular notes.
However, Farmiga does acknowledge that there are double standards when it comes to her male co-stars taking off their clothes. Referring to the "Up in the Air" love scene in which she gets fully naked and George Clooney's modesty is protected with a bedsheet, she said, "I think that was the one directorial misstep on Jason Reitman's part. I think it would have been so much fun to see George's hairy butt."
Goat life is the good life for Vera Farmiga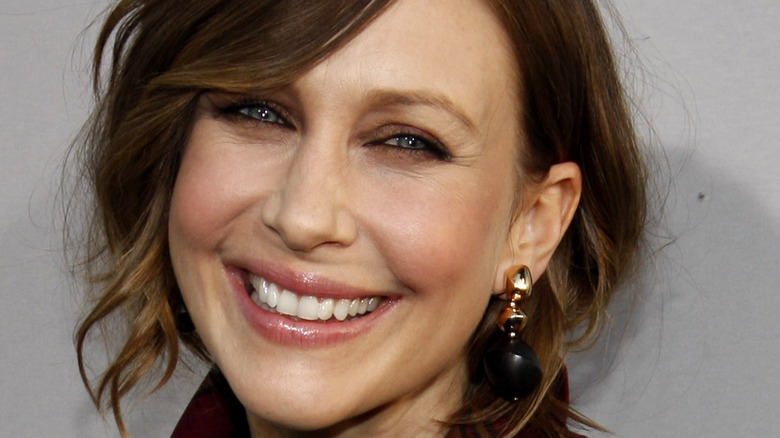 Although she's established herself as a major Hollywood name, Vera Farmiga has little interest in leading a showbiz life. Alongside husband Renn Hawkey and their two kids Fynn and Gytta, the star, as the New York Post put it, "shuns the cushy life to live two hours north of New York City on an Ulster County goat farm." And goats are a big part of their family life.
The outlet went on to note that when she's not busy commanding the screen, Farmiga likes nothing more than tending to her array of Nubian and Angora goats, and will even spin the wool they shear into yarn to make her own clothing. What's more, having her four-legged friends around her de-stress. In 2009, the star told NJ.com, "There's always a lot of wasted time on set, just sitting around. So here's an activity to keep me out of trouble. It's very therapeutic, really, just sitting there and listening to the click-click-clicking of the needles. It's hard for me to just sit still and meditate, so this is one way."
Farmiga, who in 2012 actually starred in a film called "Goats," developed her love of animals when she and the rest of her Ukrainian-American family relocated to a large acre plot in Wilmington. She recalled to NJ.com, "Each child got to choose a pet, and mine was a sheep. We got one from a local farm, and I bottle-fed it, and it ran around our backyard. I think maybe I was a shepherdess in a past life."
Vera Farmiga once described herself as 'the anti-Barbie'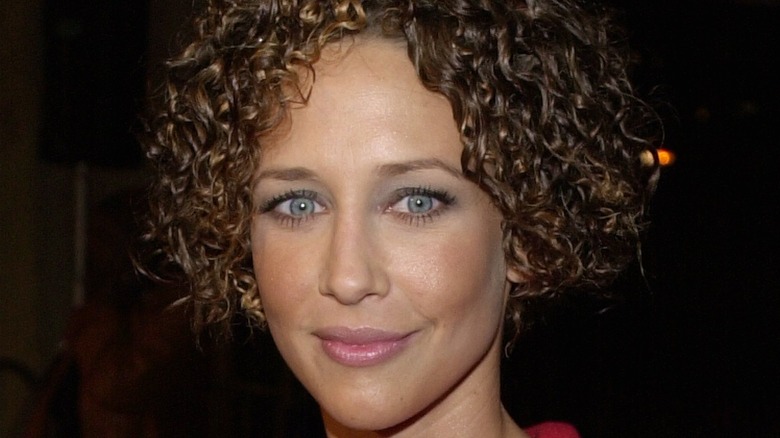 Vera Farmiga has never been afraid to speak her mind. Indeed, even when she was a relative unknown the actor was keen to state that she didn't subscribe to the Hollywood lifestyle in a quote that's followed her career around. "I can't do Los Angeles. I've always been the anti-Barbie," she once said in an interview (via Fade In). "I don't want to be in a place where almost every woman walks around with puffy lips, little noses and breasts large enough to nourish a small country."
However, when asked about the remark by Fade In in 2011, Farmiga claimed that it had been taken entirely out of context: "You know, I said that in one of my first interviews, and it was a leading question … I was talking about myself as a child … I don't remember the thought processes behind that statement."
Farmiga also insisted that she wasn't throwing shade at other stars when the quote came up in another interview with The Village Voice that same year. In fact, the "Special Correspondents" star recalled how she used to be a fan of Mattel's finest as a youngster: "I said it at 21 … I totally played with Barbies! I intermingled them with the Strawberry Shortcake doll — a weird, short, smelly piece of plastic."
Vera Farmiga is a keen boxer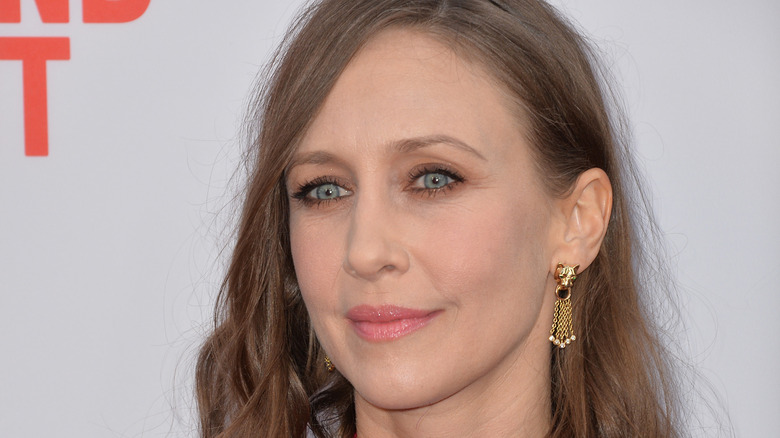 If you thought that raising goats was Vera Farmiga's only slightly unexpected way to de-stress, then think again. "The Boy in the Striped Pajamas" star has also been a keen boxer for most of her adult life.
In a 2014 interview for the Emmys website, the actor shared that she started studying Muay Thai boxing as a 20-year-old but took the discipline up again during the filming of "Bates Motel." She said that it had been a "good therapeutic outlet" after remarking, "What was imperative this season was physically shaking off that residue of work."
And the Emmy nominee was able to draw on her experiences in the ring three years later while playing the iconic Norma Bates. During one particular scene, her troubled character starts landing blows on her love interest played by Nestor Carbonell. And Farmiga told TVLine that she actually went easy on her co-star. "I could've thrown bonafide uppercuts," she shared. "I actually am a boxer. And I was so tempted to. But Norma is not an experienced fighter … It was a tough scene. You have to go for it."
Vera Farmiga and her on-screen son have a healthy real-life relationship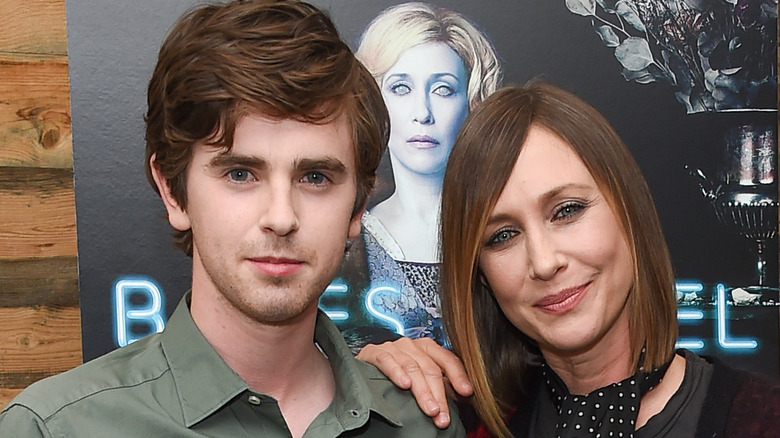 To describe the relationship between "Bates Motel" troubled teen Norman Bates and his mother Norma dysfunctional would be something of an understatement. They both became accomplices to each other's murderous tendencies, often spooned in the same bed together, and thanks to the former's dissociative identity disorder, ultimately ended up becoming the same person.
Thankfully, the two actors who built such a compelling but disturbing bond on screen have a much healthier one when the cameras aren't rolling. Freddie Highmore became a part of Vera Farmiga's family while they were filming the criminally underrated drama in Vancouver. So much so that, as Farmiga told the AP (via CTV News), he was asked to be the godfather to her and husband Renn Hawkey's oldest child, Fynn.
In 2016, Farmiga explained her real-life connection with Highmore further during a Comic-Con chat with Daily Dead. "We do have a great rapport," she shared. "We have a deep, deep friendship. With friendship you can do no wrong. It's unconditional love between the two of us, so we can push each other further, we can dig deeper. After all these years, we know each other's trip switches. He's a big part of my family and I'm part of his now, so what you're seeing also is that tenderness."
The acting career of Vera Farmiga happened on a whim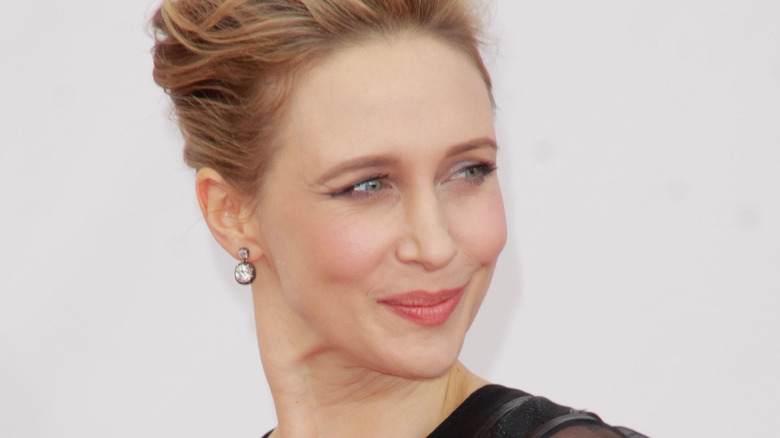 Having grown up in a strict Ukrainian-American enclave, Vera Farmiga wasn't exactly destined for a career in Tinseltown. In fact, the star didn't even think about acting until her mid-teens. And it took a snub on the soccer field to help her see the light.
As Farmiga recalled to The Guardian, she initially planned to pursue a career in law or medicine. "Then one day in high school I was benched in soccer, and a friend encouraged me to try out for the school play instead, and I got the lead role," she said. The future Oscar nominee, who would go on to bag "all the lead roles," told the outlet that she doubts she'd be where she is today without her friend's "first nudge."
But despite later landing a place in Syracuse University's theater department, Farmiga struggled to envisage finding her place in Hollywood. "Even in the senior year when I got all the lead roles, I still wasn't convinced that this was a vocation or a calling," she said in The Guardian. "I even entertained ideas of being a shepherdess in New Zealand." So what do the "Boundaries" star's parents think of their daughter's profession now? Well, in another interview with the same British newspaper, Farmiga revealed, "They take it with a pinch of salt. You know, I'm one of seven and they want success for all their children. They're proud but they're even more proud now that I've given them grandchildren."
The paranormal experiences of Vera Farmiga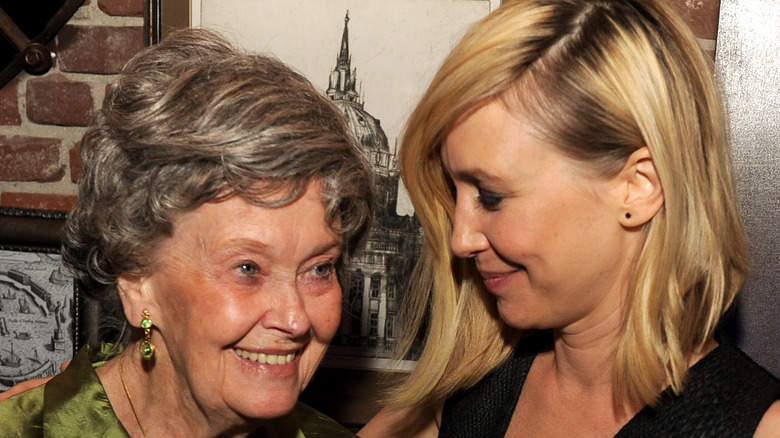 Turns out that there's a case of life imitating art when it comes to Vera Farmiga's stint on "The Conjuring" franchise. When several press outlets, including CinemaBlend, stopped by the set of "The Conjuring 2" in 2016, the actor revealed that she'd experienced plenty of paranormal activity herself. And it all started when she began mulling over whether to take the part of investigator Lorraine Warren.
Farmiga explained that after chatting on the phone with director James Wan about the role, she discovered several digital claw marks on her computer screen. This rather spooky coincidence didn't deter the Oscar nominee from signing up. But she could have been forgiven for getting a little freaked out when the day after wrapping up filming, she found three similar marks on her thigh.
However, instead Farmiga took comfort from the character that she'd spent months portraying. "I woke up with that, and I knew I had a choice to give into the fear, and it's like mental gymnastics," she said during the aforementioned set visit. "You just really gird up mentally, and you just don't accept that. There's evidence there, but I was adamant about not feeling fear. It's emotional armor. You just learn; you figure it out. You figure how to build it around yourself, even though there's clear evidence of some strangeness that's occurred. My husband did not do that to me. I did not scratch some mosquito bite … It's inexplicable."
Celebrity doesn't faze Vera Farmiga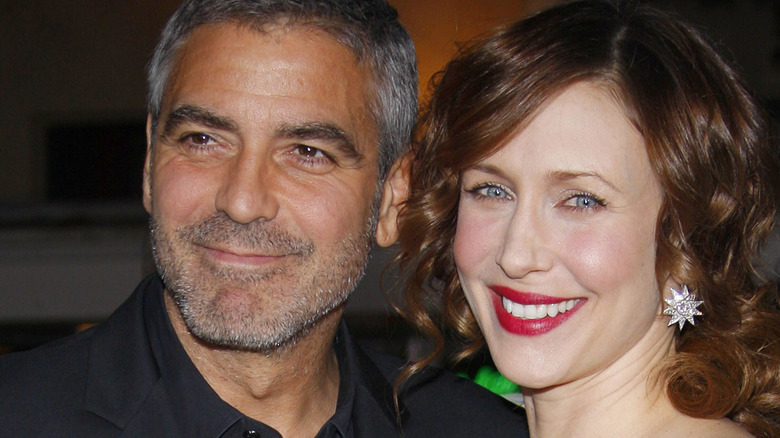 After several years of failed TV shows, forgettable supporting roles, and little-seen indie movies, Vera Farmiga finally got her overdue big break when she was cast as Dr. Madolyn Madden in Martin Scorsese's remake of "The Departed." But the cool-as-a-cucumber actor had no trouble adjusting to the significant rise in her profile.
In a 2008 interview with The Guardian, Farmiga revealed that she had little interest in signing up to the cult of celebrity. "'I'm blessed with a pretty sound constitution and I don't intimidate easily," she said. "I never hung the posters as a child or worshipped at the altars of stars. It's just good to play opposite someone as capable as I think I am."
It's a stance that meant that Farmiga didn't even get fazed by working alongside Hollywood's most swoonsome leading man in "Up in the Air," telling Fan Bolt in 2010, "You know I'm really nonplussed with actors. I don't care who they are. It's been the same since I was a child and I've never understood that fanaticism or that worship of fame. I looked at George [Clooney] as a collaborator. I respected his work and everything I'd heard about him as a man and as an actor was good. And he was absolutely great. He has such a warm presence and it's easy to bask in it when you are working with him."
Vera Farmiga says her upbringing was 'too perfect'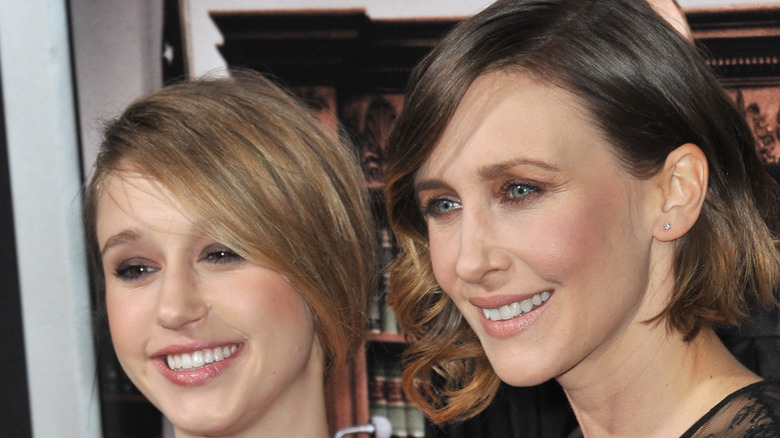 Taissa Farmiga followed in her big sister's horror-loving footsteps when she joined the first season of "American Horror Story." Oh, and let's not forget about Taissa's part in "The Conjuring" spin-off "The Nun." So is there a reason why the pair of wildly successful celebrity sisters have both gravitated toward the scariest genre over the years?
Vera Farmiga says it could be because they shared such an idyllic upbringing. She told Refinery29 in 2014, "Honestly, friends and family will attest to it, we grew up in a gentle and loving family. There's no deep or twisted secrets. Maybe it was too perfect of an existence that we kind of needed to explore the other side. I like to think of it, though, that we are maybe into dark subject matter. But, I look at Taissa and I think she's a beam of light within that darkness. And, that's more exciting to play than being the darkness."
Vera, who at the time was promoting "At Middleton," the romantic comedy in which she plays Taissa's mother, added that she couldn't be prouder of what her little sis had achieved. "There are 21 years between us, so I'm a kind of a role model-slash-surrogate mom for her," she said to Refinery29. "I'd like to think I've had a hand in shaping her and guiding her. And, all of a sudden these amazing opportunities are coming her way and I was watching her just grow up and expand and explore. It's not bittersweet; it's pure sweetness for me."
Vera Farmiga has a net worth of $10 million
Having graced everything from one of the most lucrative horror franchises of the 21st century ("The Conjuring") to A&E's longest-running original drama ("Bates Motel"), it's little wonder that Vera Farmiga is reportedly rich beyond most people's wildest dreams.
According to Celebrity Net Worth, the Academy Award nominee has a cool $10 million to her name. And you could say that she's earned every cent. Forbes reported in 2019 that 15 of her films have grossed more than $50 million at the global box office — and that figure has now increased thanks to "Annabelle Comes Home," "Godzilla vs Kong" and "The Conjuring: The Devil Made Me Do It."
Speaking to Deadline in 2013, Farmiga freely admitted that she has to take money into consideration when accepting a role: "I have so many other interests in life, and no role is more challenging, rewarding and inspiring than my real-life role as a mom and a wife, so I pretty much just look at the most remunerative offers these days. But seriously, if I'm going to step away for 18 hours a day, there better be some sort of a paycheck or spiritual salary being offered."
Source: Read Full Article