The Lizzie McGuire Reboot Is Officially Happening. Here's Everything You Need to Know.
When it was announced that iconic character Lizzie McGuire would be returning to our screens, fans were understandably shook.
Thanks to the new streaming service Disney+, Lizzie McGuire is coming back at exactly the time we need her. Everyone who grew up watching the Disney Channel classic likely wondered what happened to one of Hilary Duff's most memorable characters. Well, wonder no more, as the reboot is already in production.
Here's everything you need to know about the Disney+ reboot of Lizzie McGuire.
The reboot will follow Lizzie into her thirties.
At Disney's D23 Expo in August 2019, it was revealed that Duff would be returning to play the titular character in a Lizzie McGuire reboot on Disney+. It was also announced that the show's creator, Terri Minsky, would be returning, and that the series would follow Lizzie, now in her thirties and living in New York.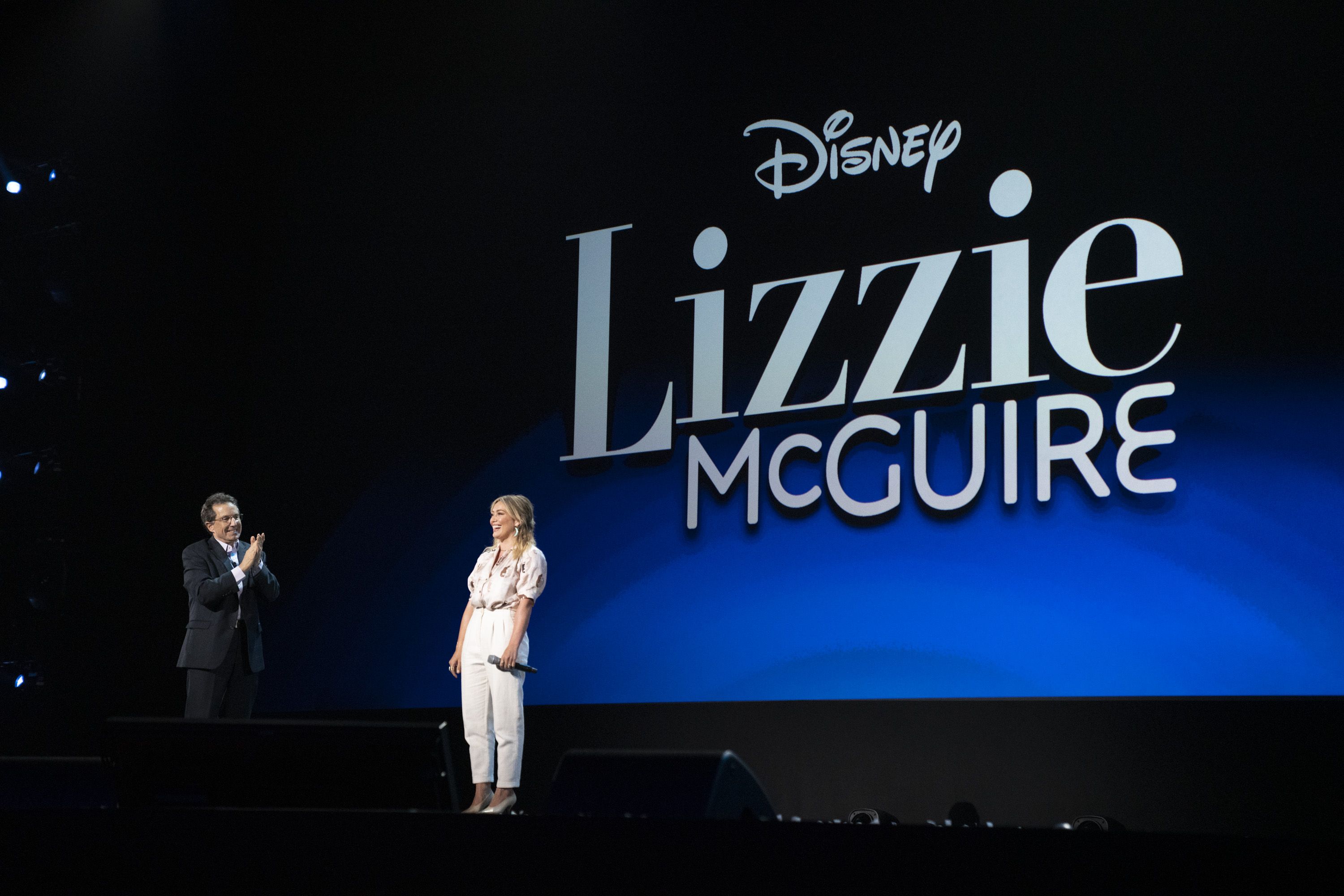 At the D23 Expo, Duff explained (per Variety), "Lizzie has also grown up, she's older, she's wiser, she has a much bigger shoe budget." She continued, "She has her dream job, the perfect life right now working as an apprentice to a fancy New York City decorator."
Duff excitedly confirmed the reboot on Instagram and wrote, "SURPRISE!!! I've been trying to contain this excitement for a loooong time while this has been in the works! I am beyond excited to be home again, back with my girl ♥️…and into her 30s #bringbackbutterflyclips."
The show is expected to air in 2020.
While Disney+ is officially launched on November 12, 2019 in the United States, the Lizzie McGuire reboot won't be one of the service's initial offerings. The streaming service will feature an extensive back catalogue of Disney titles, along with new movies and shows like the live-action Lady and the Tramp. Subscription will set you back $6.99 a month, and fans will have to wait for a release date for Lizzie McGuire, thought to be sometime in 2020.
A trailer released by Disney+ previewing what's coming in 2020 also included a first clip of the reboot. In it, Hilary Duff peeks into a car window as her iconic character and says with a smile, "Hi! It's me." The montage didn't share an exact premiere date, though.
Production started in October 2019.
Duff has been teasing fans with photos from the set. She shared a photo of her incredible hair and makeup during filming.
The Younger star also adorably reunited with her McGuire family, and wrote on Instagram, "we are standing in what will soon be the McGuire living room. What's up fam. We doin this #lizziemcguire #disneyplus."
As confirmed by Duff's Instagram post, Hallie Todd, Robert Carradine, and Jake Thomas are returning to portray Lizzie's mom, dad, and brother.
Duff was also photographed in costume carrying a giant cuddly llama around New York City.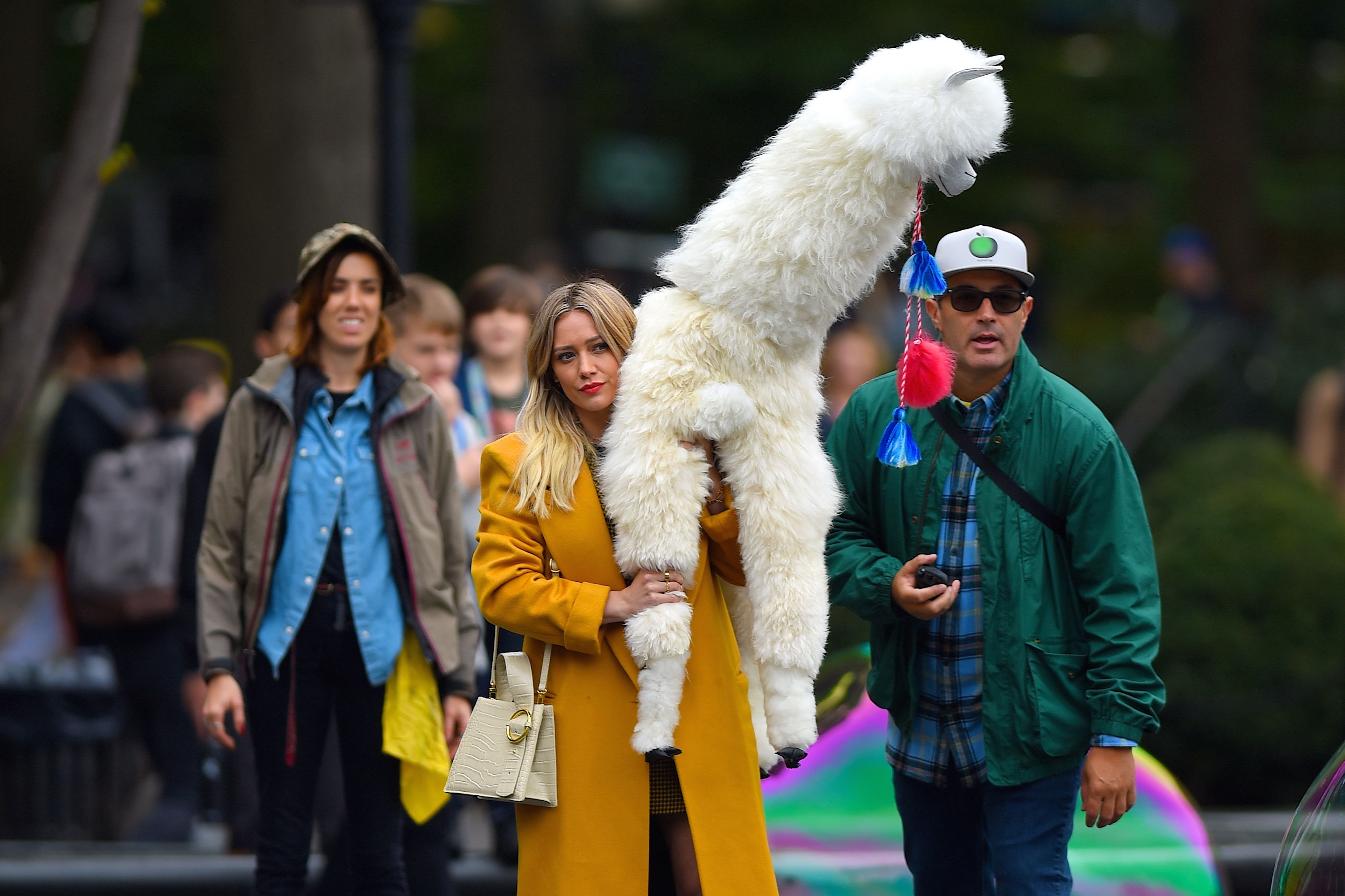 Lizzie will have a new love interest.
While fans might have been hoping that Lizzie ended up David "Gordo" Gordon (Adam Lamberg), Duff revealed to Vulture that the reboot is going in a different direction. She explained, "Ah! I feel like them not being together is what was so good."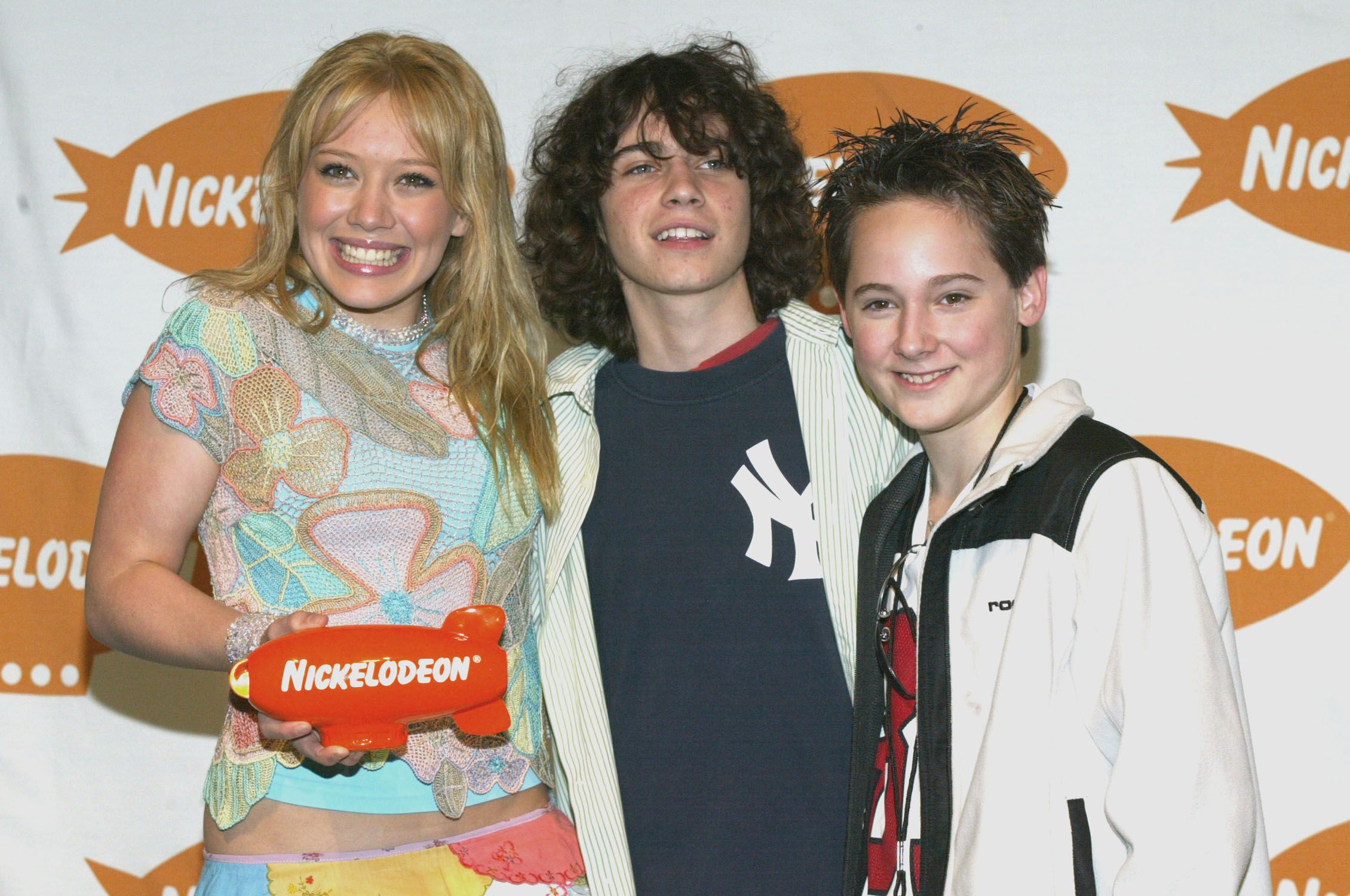 She continued, "It's that one person that you're like, Was he the one? Is it ever going to be? You're always kind of wondering. We wanted it to hurt everyone a little bit, and it'll continue to hurt. I really hope he's going to be involved. We've been planning out the season and coming up with what everything looks like, and it's so important for him to be there for part of it."
Instead, Duff told E! News, "She has an awesome boyfriend and they've been together for two years so everything's looking pretty promising for her."
But Ethan Craft could be back.
In an interview with E! News, Duff said of actor Clayton Snyder, who plays Ethan Craft, "He is hot. He's very hot." Hinting that he might be back for the reboot, the actress explained, "I'm pretty sure there's going to be, there's going to be a thing."
As for where else the reboot might go, the A Cinderella Story star told E!, "I have said this before, but for me coming back when she's 30 and she's not in a marriage and she's not having a baby and she's not doing all the things that I have already done in my life, that story is really exciting for me."
Gordo is definitely coming back.
Despite Duff's conversation with Vulture, the actress announced in a video with Disney that Lizzie's best friend-turned-love interest Gordo will return in the reboot. (Will he go by his full name David Gordon as an adult?)
Actor Adam Lamberg will return to reprise his role. "This is what dreams are made of," he says in the clip with Duff. Perfection.
"Gordo was an essential piece of the puzzle to what made the original 'Lizzie McGuire' so authentic and beloved," Duff said in a press release, per ABC. "I couldn't imagine the series without him. I can't wait for fans to see what he's up to 15 years later and how he fits into Lizzie's adult world."
The show is on hiatus after a showrunner shakeup.
Terri Minsky, who created the original Lizzie McGuire series and signed on to spearhead the reboot, has stepped down from her post. Her successor has not yet been revealed, but changes on the project are imminent.
A Disney spokesperson told Variety in a statement, Fans have a sentimental attachment to Lizzie McGuire and high expectations for a new series. After filming two episodes, we concluded that we need to move in a different creative direction and are putting a new lens on the show."
Variety reported over a month later that Minsky was ousted after just two episodes of the reboot were completed. The outlet added that Duff learned of Minsky's ousting shortly after she returned from her honeymoon when Variety broke the news, not from Disney. Duff declined to comment.
Duff hinted that the show wasn't "family friendly" enough for Disney.
In late February, it was reported that the Love, Victor series slated for Disney+—which revolves around a gay teen and is a spinoff of the Love, Simon movie—was shifted over to Hulu because it wasn't "family friendly" enough for the original platform. A similar thing happened to High Fidelity starring Zoë Kravitz.
Hilary Duff responded to the news by hinting that the same could be happening to the Lizzie McGuire reboot, following Terri Minsky's exit from the project. Duff shared a screen grab of the Love, Victor headline on her Instagram Story and commented, "Sounds familiar .." Disney has yet to respond.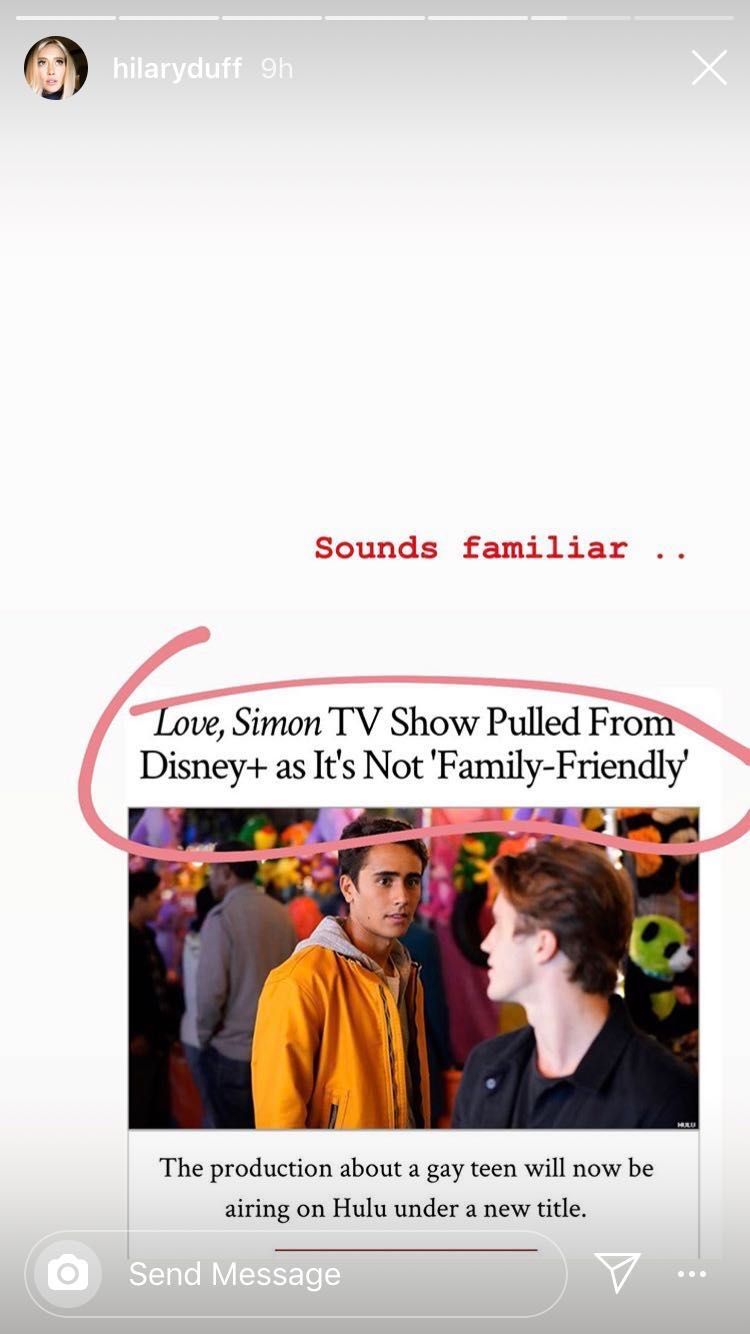 Duff elaborated on her comment a few days later on Instagram. The actress wrote, "Was incredibly excited to launch 'Lizzie' on D+ and my passion remains! However, I feel a huge responsibility to honor the fans' relationship with LIZZIE who, like me, grew up seeing themselves in her. I'd be doing a disservice to everyone by limiting the realities of a 30-year-old's journey to live under the ceiling of a PG rating."
Duff continued, "It's important to me that just as her experiences as a preteen/teenager navigating life were authentic, her next chapters are equally as real and relatable. It would be a dream if Disney would let us move the show to Hulu, if they were interested, and I could bring this beloved character to life again."
Minsky explained her exit in an interview with Variety, further fueling the idea that her grown-up version of Lizzie didn't work with Disney's vision. "I am so proud of the two episodes we did," she told the outlet. "Hilary has a grasp of Lizzie McGuire at 30 that needs to be seen. It's a wonderful thing to watch. I would love the show to exist, but ideally I would love it if it could be given that treatment of going to Hulu and doing the show that we were doing. That's the part where I am completely in the dark. It's important to me that this show was important to people. I felt like I wanted to do a show that was worthy of that kind of devotion."
Sources told Variety that she wasn't happy with Minsky's firing. "The two women wanted to do a more adult version of Lizzie for the revival, while Disney wants a show that would appeal to kids and families, something more akin to the original series," the site reported.
The first episode reportedly involved sex and cheating.
In a feature about Disney Plus, The Hollywood Reporter revealed that it obtained the script for the Lizzie McGuire reboot. The first episode, it reports, "acknowledges the existence of sex with cheating as a central plot point."
Disney hasn't confirmed or denied whether this storyline is true, or whether such details are what triggered creative differences between Minsky and the company. However, a spokesperson from the brand previously said, regarding the hiatus, "Our goal is to resume production and to tell an authentic story that connects to the millions who are emotionally invested in the character, and a new generation of viewers too."
Watch this space!
Source: Read Full Article