The Crown Season 4: Everything We Know So Far
The Crown Season 3 is already streaming on Netflix, but its fourth season is already underway. On April 9, 2019, the streaming platform announced it finally cast its Princess Diana for Season 4, signaling that the future Princess of Wales will not, in fact, appear in the show's forthcoming third season, which completed filming in February. We also have more information about when the fourth installment starts filming and what to expect from its plot. Here's everything we know about Season 4 thus far. Keep checking back for updates.
1 | Season 4 reportedly began filming in August.
Olivia Colman reportedly revealed during the 2019 Oscars in February that Season 4 would begin filming in August, per Yahoo. Additionally, Backstage, a career resource for actors, has a notice on its site about Season 4 filming from August 2019 to February 2020.
Additionally, an announcement on The Crown's Twitter page on Thursday, April 11, confirmed Season 4 of the series would begin filming later in 2019.
2 | It will feature the same cast as Season 3.
The Crown production plans to re-cast the series every two seasons, so Olivia Colman (Queen Elizabeth II), Tobias Menzies (Prince Philip), and Helena Bonham Carter (Princess Margaret) will hold onto their leading roles through Season 4 of the show. See the complete cast of The Crown Season 3 here.
Erin Doherty (Princess Anne) and Josh O'Connor (Prince Charles) are also set to return as the series shifts its focus on a new generation of royals.
3 | Princess Diana will make her first appearance.
Contrary to earlier reports, Princess Diana will not appear in Season 3. She'll make her debut in Season 4, and will be played by up-and-coming actress Emma Corrin. "Beyond excited and honoured to be joining The Crown for its fourth season," Corrin said in a statement released by Netflix. "I have been glued to the show since the first episode and to think I'm now joining this incredibly talented acting family is just surreal. Princess Diana was an icon, and her effect on the world remains profound and inspiring. To be given the chance to explore her through Peter Morgan's writing is the most exceptional opportunity, and I will strive to do her justice!"
Creator Peter Morgan also weighed in on the casting choice in a statement through Netflix:
Corrin made an appearance in Season 4 of British TV show Grantchester in 2019. She will also star in the upcoming EPIX series Pennyworth and the forthcoming film Misbehaviour.
4 | Gillian Anderson confirmed that she is playing Margaret Thatcher.
On January 20, 2019, Deadline confirmed the news that Gillian Anderson will play British prime minister Margaret Thatcher in Season 4 of The Crown. Back in 2017, the UK Times reported that Season 4 would focus on the Thatcher years, while Season 3 would focus on Prime Minister Harold Wilson.
On September 7, 2019, Anderson confirmed the news via the official The Crown Twitter account. She wrote in a statement, "I am so excited to be joining the cast and crew of The Crown and to have the opportunity to portray such a complicated and controversial woman. Thatcher was undoubtedly formidable but I am relishing exploring beneath the surface and, dare I say, falling in love with the icon who, whether loved or despised, defined an era."
5 | Prince Charles plays a much larger role in Seasons 3 and 4.
Netflix announced in July 2018 that the show cast Josh O'Connor in the role of Prince Charles. O'Connor's statement to Netflix hinted at his character's trajectory throughout the next two seasons. "Seasons 3 and 4 will follow some of the most turbulent events in the Prince of Wales's life and our national story and I'm excited to be bringing to life the man in the midst of it all," he said.
O'Connor later told Vulture that Season 4 is "very much the Diana and Charles years, and particularly focusing on what happened there and the ramifications of that going forward."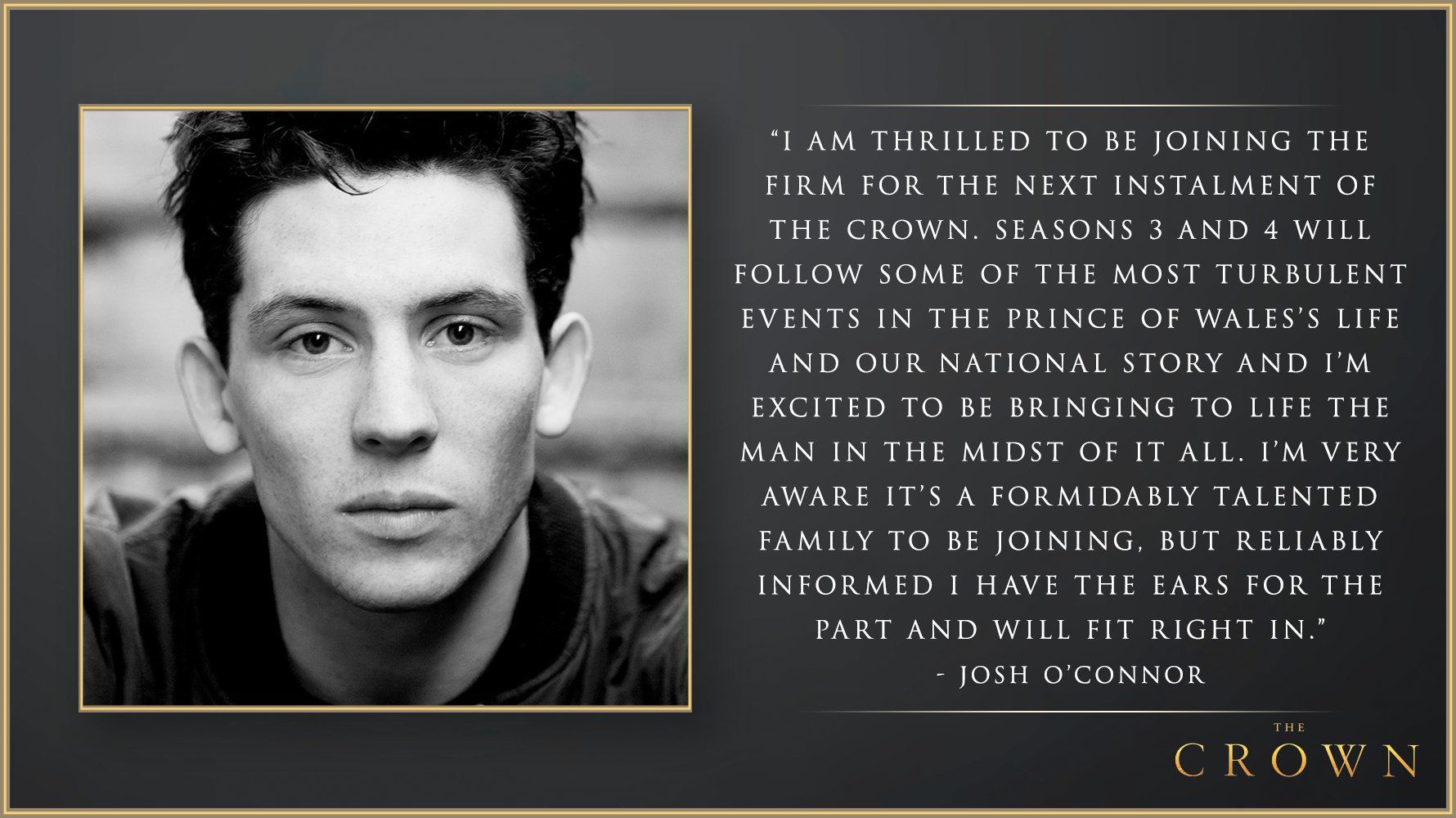 6 | Season 4 will likely premiere in 2020.
With Season 3 officially due to drop on November 17, 2019, Season 4 will likely premiere the year after—just like Season 1 aired in 2016 and Season 2 in 2017. Historically, seasons of The Crown have debuted in November or December, which could mean that the fourth season may hit Netflix toward the end of 2020.
7 | There will be one more season.
Although it seems showrunner Peter Morgan originally planned to have the series run for six seasons, Netflix announced in January 2020 that Season 5 would be its last.
Netflix's chief content officer previously revealed in 2016 that Morgan pitched the series for a total of 60 hours. "The idea is to do this over six decades, in six seasons presumably, and make the whole show over eight to 10 years," he said, per The Hollywood Reporter.
However, that is no longer the case.
8 | Photos of Princess Diana and Prince Charles for the season have already leaked.
Images have begun to spread online showing Corrin and O'Connor shooting scenes for Season 4, where they appear to be recreating moments from Charles and Diana's royal tour of Australia in 1983. One shot with Diana in a breezy white dress and Charles in a khaki ensemble references the duo's visit to Ayers Rock in March 1983, while another scene of the princess wearing bright pink recreates a walkabout she had in Perth in April that year.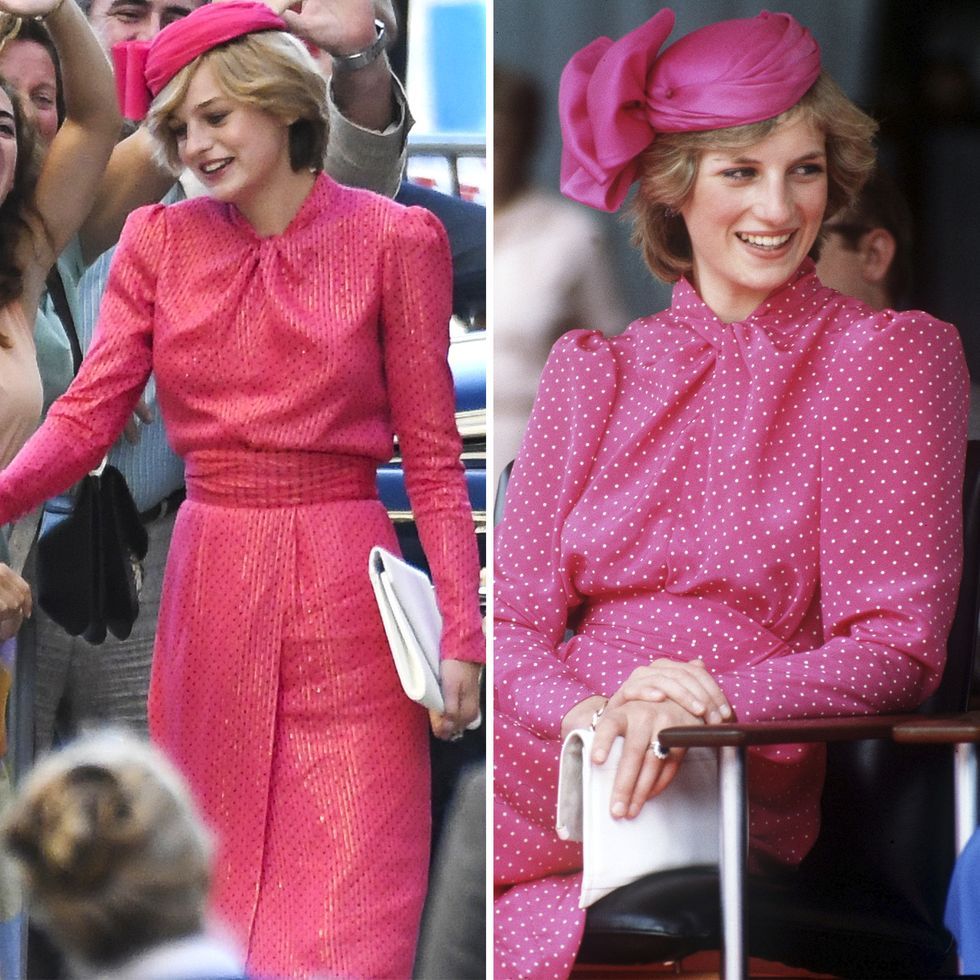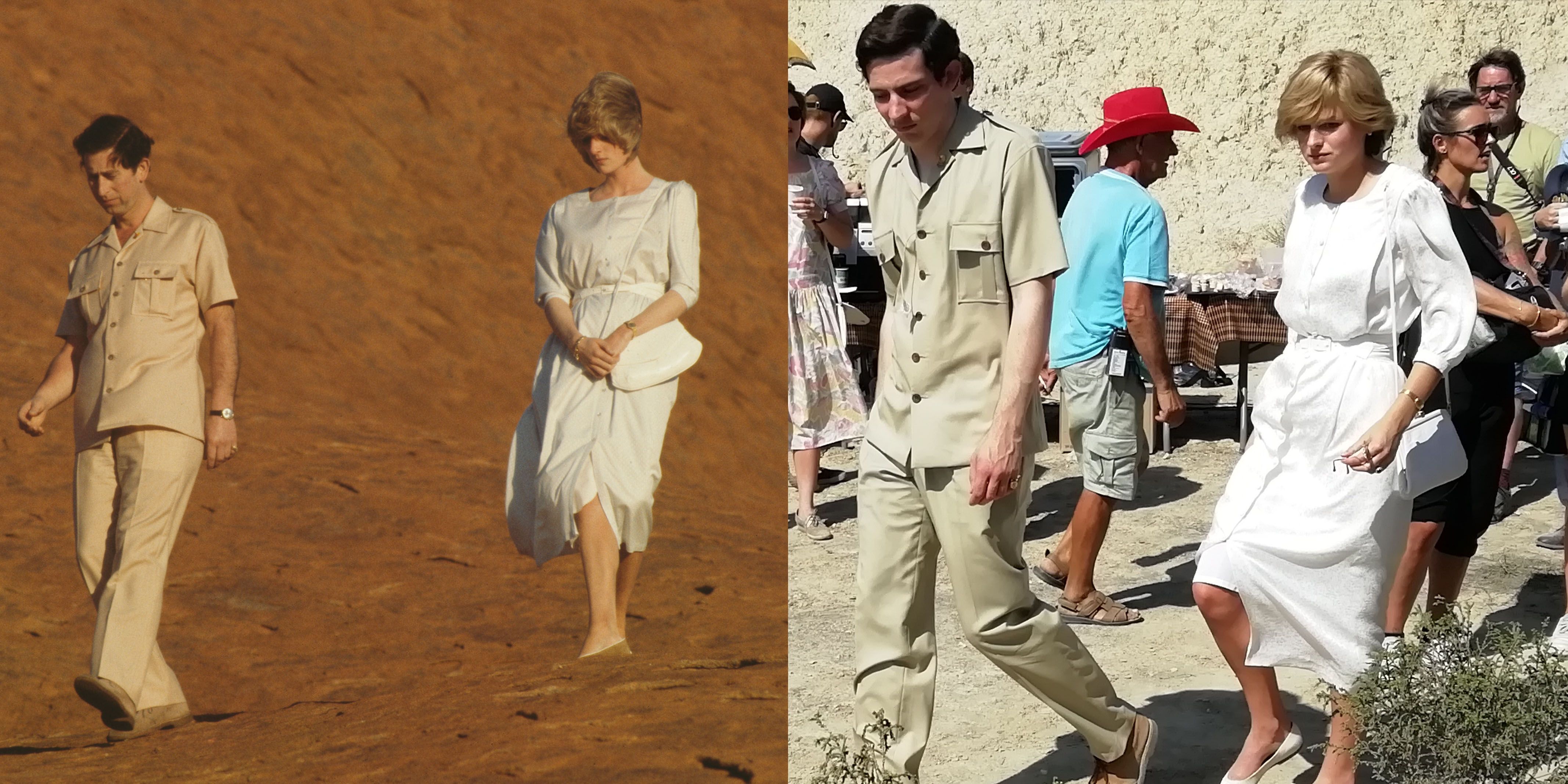 9 | Images of Margaret Thatcher have also surfaced.
In October, fans got their first glimpse of Gillian Anderson as Prime Minister Thatcher, AKA the Iron Lady. In true '80s fashion, she was dressed in a cobalt blue skirt and blouse on a set that appears to resemble the Royal Yacht Britannia. The wig is extremely accurate.
Olivia Colman has already sung Anderson praises in her role as the prime minister, telling Entertainment Weekly, "She's amazing. The moment she opened her mouth in the read-through, you could feel everyone wanting to do a little silent 'Yay!' Because she was so brilliant."
10 | Season 4 feels less "historical."
While speaking to Entertainment Weekly, Colman compared what it was like filming the third and fourth seasons.
"It's interesting because, series 3, for me, was like doing a historical piece," she said. "Now, it feels less like that and more, I remember that! I remember that voice! I remember that moment! It feels quite different. We had our read-through and to hear the voices of Margaret Thatcher and all of that, it's quite fun."
11 | Corrin's portrayal of Princess Diana is so good it's "spooky."
While speaking to BAZAAR.com in November 2019, O'Connor shared an update of what filming Season 4 with costar Emma Corrin as Diana is like so far.
"I mean, there's obviously nothing I can say about the story, but in terms of filming, we just had a great time, and Emma's doing a brilliant job, and it's breathtakingly accurate; she looked the spitting image [of Diana], and it's kind of extraordinary," he said. "So that's kind of spooky."
He also opined that the upcoming season of The Crown "will be the best yet."
12 | Claire Foy may be making a cameo.
Foy, who portrayed Queen Elizabeth II in Seasons 1 and 2, was replaced by Olivia Colman for the following two seasons; but she could still make another appearance in Season 4.
The actress was recently photographed in costume filming what looks like the queen's 21st birthday speech in South Africa. The real-life address took place in 1947, years before her father King George VI died. Considering the show is no stranger to flashbacks, it's possible Foy's scene will be a memory of the queen's that will have some relevance in the upcoming season.
13 | Prince William makes an appearance as a baby.
Paparazzi photos from set show that Charles and Diana's firstborn, Prince William, makes his first appearance on the show as a baby. Images show a infant actor portraying the young prince in scenes recreating the royals' trip to Australia, and a toddler-aged actor as the prince during a Buckingham Palace Easter Egg hunt years later.
The real-life Duke of Cambridge, however, does not watch the show.
14 | A Fleabag star is playing Prince Edward.
Angus Imrie, who portrayed Creepy Jake in Fleabag, has been cast as a young Prince Edward in Season 4 of The Crown, according to Harper's BAZAAR UK. The actor is the son of acting legend, Celia Imrie.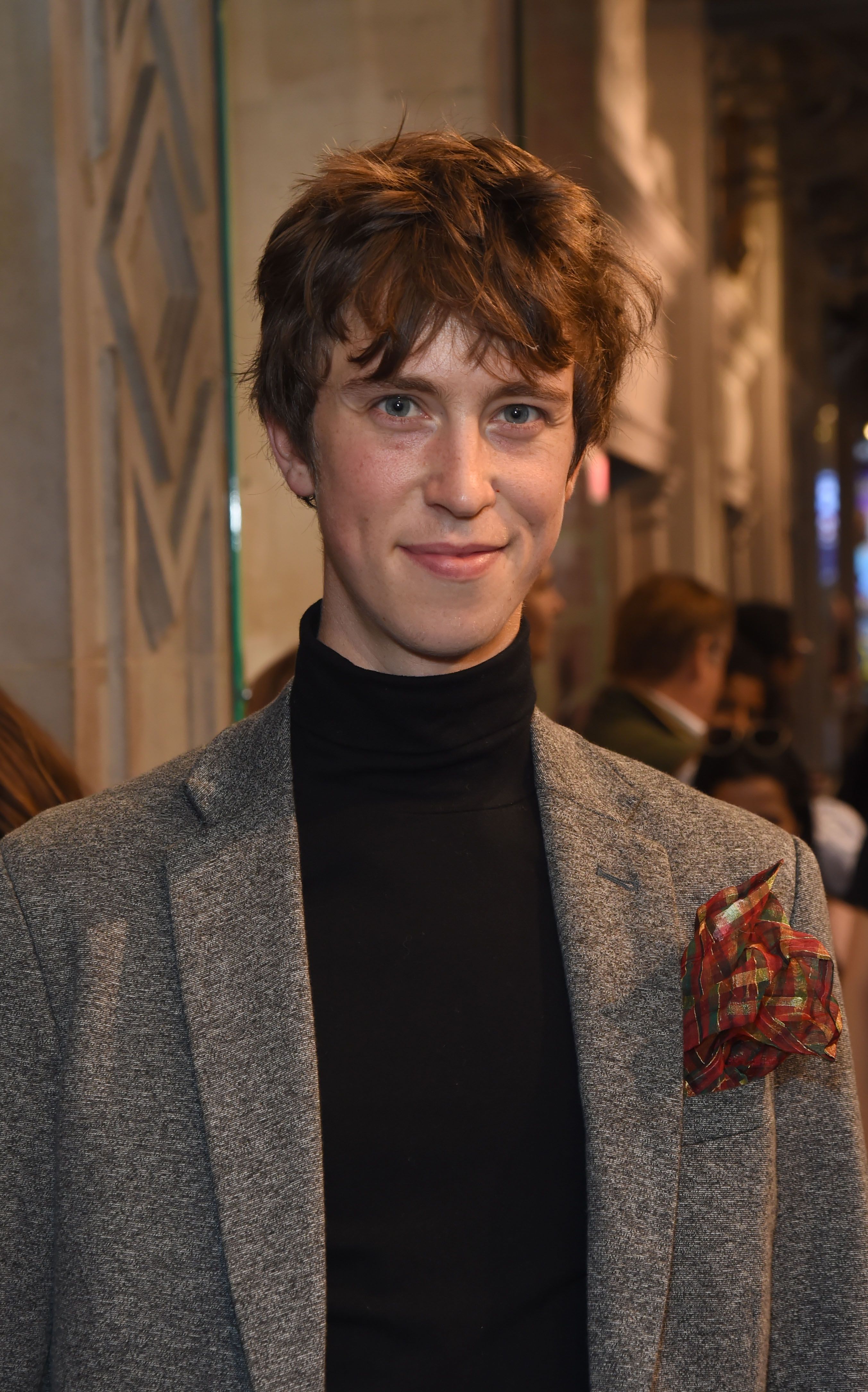 15 | Production ended early due to coronavirus.
As film and TV productions took a halt in March 2020 due to coronavirus precautions, Deadline reported that The Crown is continuing its final week of filming for Season 4. Its production company, Left Bank Pictures, "simply [needs] to tie-up loose ends on the series," according to the outlet.
However, Metro.co.uk confirmed soon after that the show wrapped filming early. "The Crown has now completed principal photography on season 4 having pulled the final shoot date forward by a few days," a spokesperson told the outlet.
Watch this space for updates.
Source: Read Full Article