Kim Raver Says of Teddy's 'Grey's Anatomy' Season 16 Story: 'There Are Some Crazy Things Coming up in the Next 2 Episodes'
Fans of Grey's Anatomy may have been distraught to learn that, after production shut down due to the coronavirus (COVID-19) pandemic, the season would not continue as planned. However, there are still two episodes remaining, to air in April 2020. Star Kim Raver (Teddy Altman) reveals a little about what's to come for her character as Season 16 wraps up (for now).
Kim Raver plays Teddy Altman on 'Grey's Anatomy'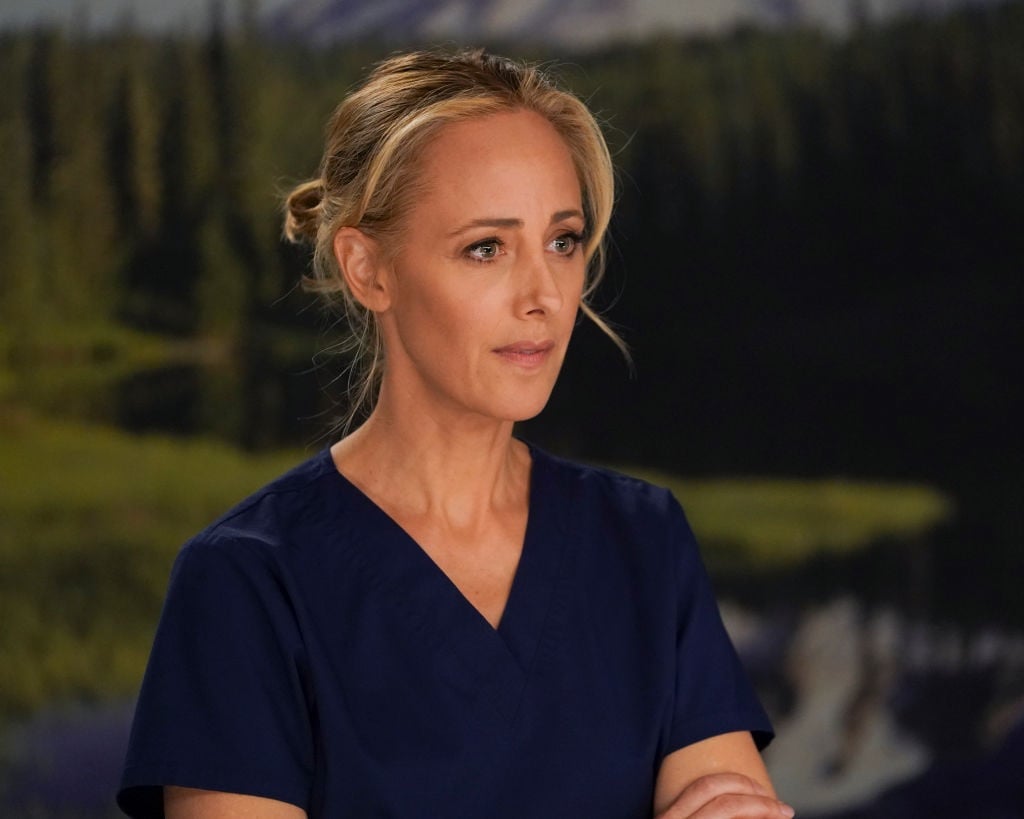 Raver began portraying cardiothoracic and trauma surgeon Teddy Altman in Grey's Anatomy Season 6. She is brought on by Owen Hunt, a friend from her days as a medic in the U.S. Army. Teddy is in love with Owen, but he's with Cristina at the time. In season 8, she leaves for a job in Germany with the Army Medical Command.
Years later, in Season 14, Teddy returns when Owen's sister, Megan, is found alive. This reignites Owen's feelings for her, and he flies to Germany to see her. They sleep together, which results in her pregnancy. Teddy then comes back to Seattle and gets a job at Grey Sloan Memorial, where she's been ever since.
Her character has been having a difficult season
Not that there's ever a lack of drama on Grey's Anatomy. But this season has been especially difficult for Teddy. She and Owen finally got together when their daughter, Allison, was born at the end of season 15. But throughout season 16, they've struggled to find a balance as parents of an infant and a toddler. And recent events have further complicated things.
When Teddy learns that Amelia might be having Owen's baby, she panics. She finds herself sleeping with her ex, Tom Koracick, cheating on Owen (now her fiance). They later find out that Owen is not the father, and now Teddy is racked with guilt, unsure of how to handle the current situation.
What was revealed in the flashback episode
In the midst of all of this, Teddy was able to get out of town. In episode 19 "Love of My Life," she goes to the LA Surgical Innovation Conference where she runs into her former friend, Claire. It's then revealed in flashbacks that Teddy was involved with Claire's girlfriend, Allison (her baby's namesake), when she died in the 9/11 terrorist attacks.
Speaking with ET about the episode, Raver called the plot "a genius move," saying "it just makes total sense" for the character. "I know that Teddy in her present life is making some really, really not great choices…so I feel like her flashback with Allison is really such an 'aha' moment."
Raver on the season ending early and what's next for Teddy
As for what's to come, Raver said, "You definitely will get some answers and you definitely will get some new kind of questions." She added, "The last scene [of episode 21] is sort of a 'Whoa, what does that mean?' So I think it's going to work out perfectly that that's [the finale]."
Regarding her current love triangle, Raver said that what happens next is "juicy." "There's definitely something you guys should not miss," she said. "I don't think it's going to wrap up neatly," she continued, adding, "there's some crazy things coming up in the next two episodes." It sounds like it's going to be one epic finale.
Source: Read Full Article