Josh Duhamel Flaunts Toned Abs After Being Dumped by Netflix Amid Jupiters Legacy Cancellation
When calling out the streaming platform, the 'Safe Haven' actor shows off his 'sexy santa summer' look in character as Sheldon Sampson from the action series.
AceShowbiz –Josh Duhamel seemingly isn't happy with "Jupiter's Legacy" cancellation. Apparently calling out Netflix, the "Safe Haven" actor flaunted his toned abs in a new social media post as he felt like he was "dumped" by the streaming service.
On Thursday, June 4, the "Life as We Know It" actor shared a shirtless photo in character as Sheldon Sampson, the super-powered Utopian from the action series "Jupiter's Legacy". Along with the snap that showed off his ripped physique, the 48-year-old wrote in the caption, "When you get dumped by @netflix and have to put yourself back out there. … #sexysantasummer What's up, @hulu?"
In a separate post he shared on the same day on his Instagram page, Josh offered more of his thoughts as Netflix would not be moving forward with more episodes of the fantasy-action series. "It's never easy to hear that a project you cared about/ believed in/ put so much into is ending prematurely. It was a challenge and a privilege to dive into the character of Sheldon/ Utopian," he penned.
"I got to do things as an actor that took me to places I had never been," Josh added further in the caption of the post that featured some behind-the-scenes photos. He continued, "A big thank you to @netflix for giving us this opportunity and an even bigger thank you to the fans – you took us to the #1 spot around the world and we stayed there for almost 2 weeks. Your support of the show means everything."
Josh went on to thank the cast and crew involved in the big-budget fantasy series, writing, "To the cast and crew- we put all of our lives on hold to take on the challenge of creating a new universe together. It truly took blood, sweat, and tears." Elaborating further, he gushed, "I'm so proud of what we accomplished together and the journey we had (on & off the screen) is something I'll never forget. #NoLegacyLivesForever (But maybe this one will)."
Josh's reaction came just a day after the creator of the comics, Mark Millar, revealed in a Twitter statement that they "made the tough call of letting our incredible cast out of their show commitment as we continue to thoughtfully develop all realms of the 'Jupiter's Legacy' saga."
Mark said that he's "really proud of what the team achieved with 'Jupiter's Legacy' and the amazing work everyone did on that origin season," as he explained that it would become somewhat of an anthology series moving forward, taking on new avenues of the same "vast and rich" universe. He also noted that "we're confident we'll return to it later," with a thank you to "the cast and crew who made this look so great."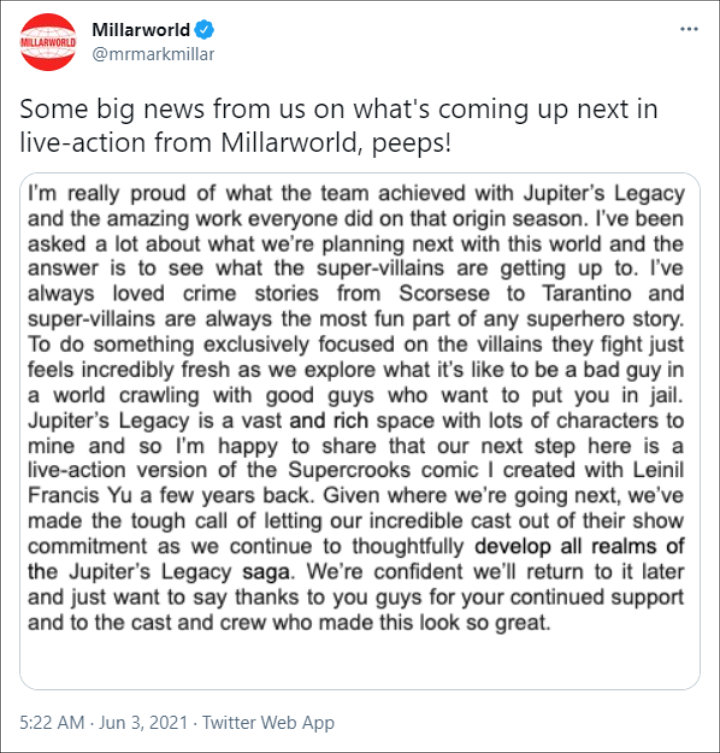 Mark Millar announced that Netflix would not be moving forward with more episodes of the 'Jupiter's Legacy'.
The decision to cancel "Jupiter's Legacy" was made less than a month after the first season of the new series premiered on Netflix on May 7. The series also starred Leslie Bibb, Ben Daniels, Andrew Horton, Matt Lanter, Mike Wade and Elena Kampouris.
Source: Read Full Article