'Grey's Anatomy': What Really Happened Between Derek, Meredith, and Addison, According to the Residents
It's been a while since Addison Montgomery (Kate Walsh) introduced herself as Derek Shepherd's (Patrick Dempsey) wife. So Grey's Anatomy cleverly talked about that drama with gossiping residents. This is how that love triangle went down, according to them.
[Spoiler alert: This article contains spoilers from Grey's Anatomy Season 18 Episode 3 'Hotter Than Hell.']
Why Addison Montgomery is back on 'Grey's Anatomy'
Addison was last seen on the show in season 8. She's back 10 seasons later because Dr. Richard Webber (James Pickens Jr.) has been struggling with their teaching program.
The episode "Hotter Than Hell" showed the residents following Addison around for the day. She specializes in genetics and obstetrics.
The show acknowledged her history through the residents. They got some things right, but other things were wrong about the love triangle between Derek, Meredith Grey (Ellen Pompeo), and Addison.
What really happened between Derek, Meredith, and Addison, according to the residents
Residents were instantly star-struck by the doctor. One took a picture of her with her phone immediately. While they followed her for rounds, they gossiped about her past.
"Apparently she and Dr. Grey have history. And whatever happened, I'm Team Grey," Dr. Taryn Helm (Jaicy Elliot) tells Dr. Levi Schmitt (Jake Borelli). "I heard Dr. Grey cheated with her husband, Dr. Shepherd," Dr. Michelle Lin (Lynn Chen) said. Zander Perez (Zaiver Sinnett) says Derek was married to both of them but "probably not at the same time."
The residents later got to watch Addison in surgery. "I heard there were sex parties. Greys, Shepherds, Yangs, all of 'em," Dr. Sara Ortiz (Melissa DuPrey) said. "And they survived a plane crash together," Michelle said. Zander corrects her saying Addison wasn't on the plane. 
Addison knows about the rumors about her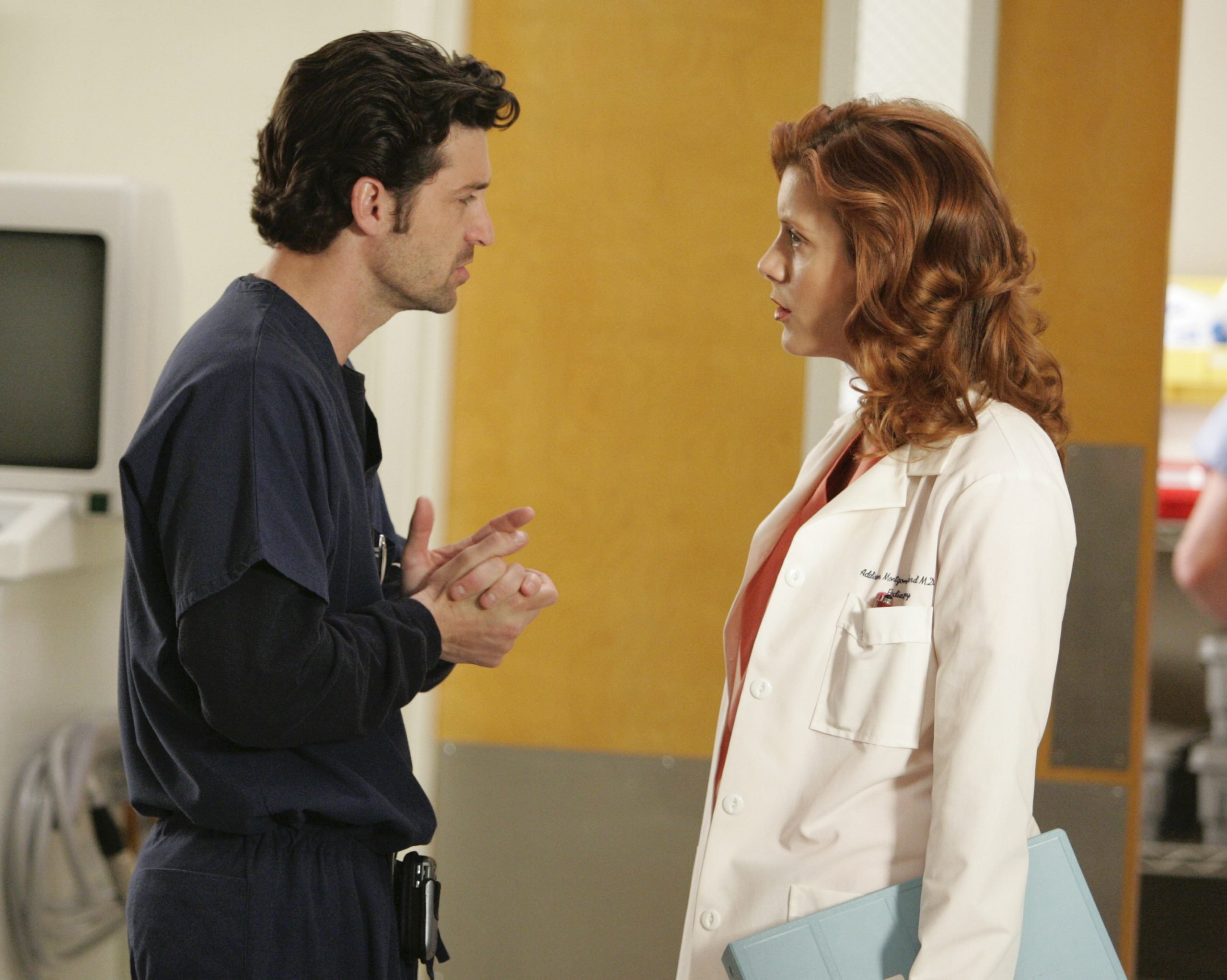 Addison needed help to finish her surgery and asked for Meredith. The residents got to watch them work together, but they still thought they didn't get along.
Meredith and Addison walked to the elevator looking serious, and the residents assumed they were mad at each other. The residents then rushed to see where they ended up. Addison cried in the elevator about missing Derek and Meredith comforted her. They left the elevator together, and the residents assumed Meredith made her cry.
Meredith and Addison had fun with the rumors. Addison was aware some people believed they had a threesome and laughed.
Addison is sticking around for a little while to teach the residents more on the ABC show. It doesn't look like she's concerned about the rumors about her, but she might set the record straight.
Source: Read Full Article