'Grey's Anatomy' Fans Got Emotional Whiplash Watching Last Night's Episode
Last night's Grey's Anatomy followed the doctors as they attended a fancy medical conference, and the show attempted to do something a little different by pairing Maggie, Richard, Teddy, and the new hot dude doctor's conference experiences with a bit of extra plot and backstory. It felt like four different episodes smushed into one, and it was a LOT to process at one time. Let's just say fans didn't love it.
We got a glimpse at Teddy's life in New York before 9/11 (and learned she's had affairs before, which was pretty important info), learned that Cormac met his late wife at a medical conference just like this. Maggie had a whirlwind fling, while Richard had stroke (or something similar) that caused him to imagine a reunion with Catherine. Any one of these, had it been a standalone episode, would have been more believable. Pushing them all together and devoting roughly 15 minutes to each one felt rushed.
This episode needs to be reported #GreysAnatomy pic.twitter.com/qauHx3V98G
One user summed it up on Reddit: "Yo what is actually happening? Here's a random Lightning romance! Here's a lightning speed emotional synopsis of McWidow's griefs. Btw Teddy is a bisexual cheater who lost her forever love in 9/11." Another put it this way, "Did I eat that edible already? Because I feel like I'm watching Grey's actors' heads pasted on other people's bodies in a different show."
Yep, that's fair! Not only is the potential loss of Richard pretty devastating, but they also ended the last episode teasing a potential DeLuca motorcycle crash. So… what happened there? Either way, there are lots of questions going into next week's episode. Stay tuned!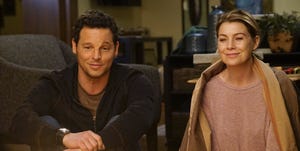 Source: Read Full Article