Followers Think Josh Duggar's Wife, Anna, Is Gathering With Large Groups Despite Social Distancing Warnings
We follow the Duggars via TLC's Counting On, but there are a few of Jim Bob and Michelle Duggar's kids who are no longer featured on the program. And one of them is the couple's oldest son, Josh. Josh brought the family into a seriously bad light back in 2015, as it was revealed that he had sexually abused minors, some of whom were his own sisters. Since then, he's stayed out of the spotlight — but his wife, Anna, still has a public social media presence.
Anna Duggar shares everything that's going on in her life with her Instagram followers. From her parenting tactics with her six kids to her marriage, she keeps her fans apprised. But her followers are concerned after she posted evidence of a large group gathering despite nationwide concerns over coronavirus (COVID-19).
The Duggars typically gather together every Monday evening
The Duggars are a communal bunch, especially when it comes to gathering with their church members, family, and friends. We know Jim Bob and Michelle had 19 children because their religion dictates don't believe in birth control. And the older Duggars would frequently assist in the cooking and cleaning of the household and raising of their younger siblings. Now that many of Jim Bob and Michelle's kids have spouses and kids of their own, all of the Duggars and their in-laws typically gather in the large family home every Monday night.
"We see her family at least a couple of times a week," Joy-Anna Duggar's husband, Austin Forsyth, said in a YouTube video. "Every Monday night we have family night at her parents' house. So, we all get together, the ones that are in town, and just hang out, catch up, and try to stay close as a family."
Anna Duggar's posted plenty of evidence that she, Josh, and their six kids head over to Jim Bob and Michelle's place weekly as well.
Josh Duggar's wife, Anna, posted evidence that she's not social distancing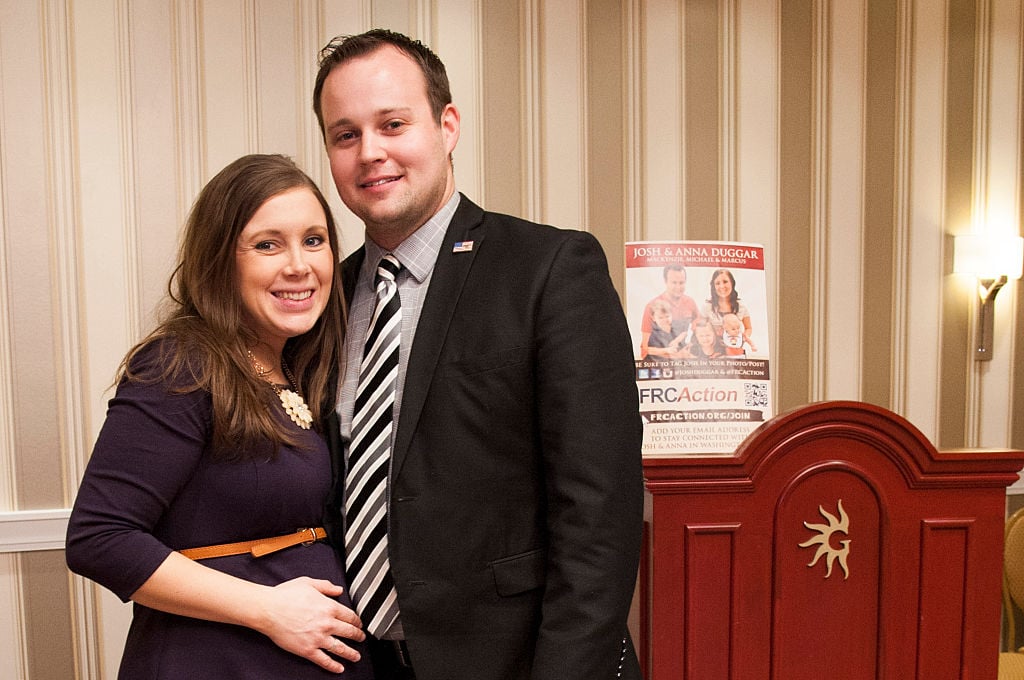 Many of the Duggars have posted their thoughts on feelings on the current state of things with coronavirus. The Duggar family's Facebook released a statement about staying safe during this difficult time.
"The one thing we do know is that even in the darkest days and in the most challenging times, we can put our trust and hope in God," they wrote. "Let's all pray for one another, for our leaders, for our healthcare workers, and especially for our elderly."
As for Anna, she hasn't made any statements herself. But Reddit users took screenshots of what appeared to be her Instagram Story. The screenshots appeared to show Anna at the large Duggar family home — and there were dozens of others gathered in the same place. "It's 'Family Night' at the Tin Mansion and there are random people in attendance," the original poster noted.
Her followers aren't impressed
Reddit users who noticed Anna's videos of the gathering think she should be ashamed of herself for not following safety protocol.
"Well, there goes my thought that they were actually taking this seriously," one Reddit user wrote.
Another questioned, "how long until she takes it down? something tells me the family won't be happy since they're pretending like they're complying."
Yet another commented, "I truly think these idiots dont understand how this virus works. Lawson has been traveling, I'm sure out of all those people, some are going out in the world. No one is safe. You stupid stupid smug dumb Duggar family. All those babies."
We're hoping the Duggars really are taking social distancing seriously. And it seems the video evidence Anna originally shared is now nowhere to be found on her Instagram.
Check out Showbiz Cheat Sheet on Facebook!
Source: Read Full Article