'Chrissy's Court' Is the Only Reason You Need to Download Quibi
If you're one of those people who isn't quite sure what a "Quibi" is, let me take this opportunity to inform you. A "Quibi" is a "quick bite" of content, which you can beam into your eyes from your iPhone, laptop, whatever. It's meant to be watched on the go. The platform launched today, and you might be thinking, "Why do I need yet another streaming service?" Great question. The answer is Chrissy Teigen.
Chrissy has her own show on Quibi called Chrissy's Court, and as you might be able to guess from the title, it's basically a courtroom drama à la Judge Judy. People come to her with their pettiest disputes, and in true Chrissy fashion, she slams down a verdict. Please enjoy this trailer.
As someone who is a major Chrissy fan, the concept of this show was music to my ears. The woman already shuts down petty bullsh*t in her Instagram comments every single day. Imagine that in episode form, and with other people who she can direct that sass at IRL! The episodes max out at, like, eight minutes (hence the quick bites thing) and they fit one whole courtroom scenario into one of those. It's truly a gift from the gods.
When I got to actually watch some episodes, it lived up to the hype I created in my head. The first episode is about a couple arguing over whether one of them gave an appropriate gift to a friend of theirs. The second is about a guy whose speaker got ruined and he's looking for money for the replacement. It's totally frivolous. These people went on a literal reality show to solve their teeny problems. It's a mess!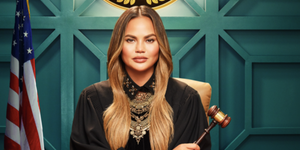 Chrissy's family plays a role in every episode. Her mom, commonly known as Pepper Thai, serves as the bailiff, and John Legend and their daughter Luna both make cameos in the second episode. It's like taking the best parts of Chrissy's Instagram and putting them in a court room drama, which sounds like it wouldn't work, but it most certainly does.
Quibi is free for the first 90 days, and there's a ton of other content besides Chrissy's show. If you're sitting at home bored right now, so do yourself a favor and check it out.
Download quibi here
Source: Read Full Article