Ashley Iaconetti on Exactly Why Matt James' 'Bachelor' Season is Gonna be a Good One
Because she's been there and done that, literally, former Bachelor contestant/tear fountain Ashley Iaconetti is recapping this season of The Bachelor for Cosmopolitan. With insider insight as well as a clear eye for what's going down both in front of and behind the cameras, she's got a whole lot to say…and you're gonna wanna hear it.
This post contains spoilers for last night's (1/4/2021) episode of The Bachelor.
When Matt James was first announced as the Bachelor in June, I thought, it's great and so important that we're going to have our first Black Bachelor and, wow, he's super handsome, but why would they choose someone the general Bachelor viewing audience doesn't know? Why not give the title to a Black man who has been on the show before?
Matt was originally cast on Clare's season of The Bachelorette which was supposed to begin shooting in March. When the filming was delayed, Clare did some research on her cast of men and indirectly called Matt out for having a Cameo before ever appearing on the show. It shouted "Wrong reasons!" to Clare and quite honestly, I can understand that.
I'll also admit that as a 32-year-old married woman, the fratty antics that went down on social media in Tyler Cameron's Quarantine Crew weren't the most appealing to me. The bro-y behavior Tyler and his friends, Matt amongst them at times, demonstrated on TikTok didn't scream "Mature!" "Romantic!" or "Ready for marriage!"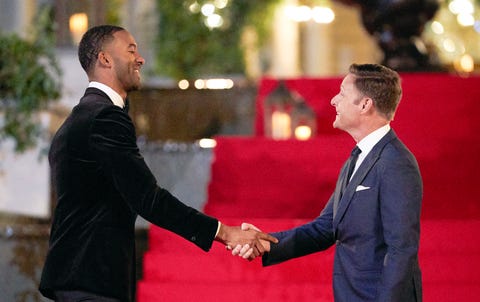 But listen: All of my reservations disappeared when I met Matt. He has a kindness in his eyes and a warmth that radiates to anyone around him. To be honest, I actually got kind of emotional explaining to people after our brief meeting why I thought he was such a great choice as Bachelor. There is a sweetness to Matt that makes you feel like you can just ramble all your thoughts out to him. He feels like a friend instantly. For as tall and good-looking as he is, he is approachable, humble, and dare I say, innocent-seeming when it comes to women. I love when a guy has the looks of someone who can be a bad boy (er, fuckboy) and chooses to be a good boy. Matt is someone you immediately root for.
I feel like so many of these traits that turned me into a big Matt fan were highlighted in last night's premiere episode of the 25th season of The Bachelor. Didn't you guys feel connected to him even though he'd never been part of the franchise previously? There were some moments early in the episode in which Matt seemed nervous and out of his element, but I found his nervousness endearing. The fact that he isn't overly polished makes him even more likable.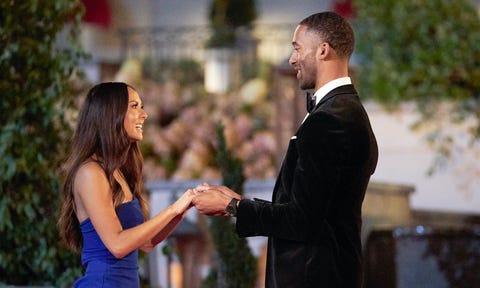 He got into the groove of things during the women's limo exits. I think he was mentally like, "You're new here! I'm new here too!" Matt and the girls had something to immediately relate to each other over. No one is in their comfort zone! It lends to the sense of innocence I get from Matt. He's never before had Twitter send him heat over a decision he made on the show. He's never had a "bad edit." It's nice that the lead isn't at all jaded. And as if he couldn't be more pure, he started the cocktail party out with a prayer. I thought it was a beautiful gesture and it said so much about what to expect from his heart this season.
Now as for the women after his heart, four really stood out as potential love connections so far for me…Rachel, Bri, Sarah, and of course, the recipient of the first impression rose, Abigail. Matt's conversation with Abigail was so authentic. They spoke about being nervous when they first arrived, and about her relationship with her sister. He got this look on his face when he realized he wanted to kiss her and it was some Bridgerton stuff! The hesitance he had going in for a kiss on the first night was SO REAL LIFE!
Matt has a stunning group of women to get to know. My predictions: Serena C. will bring the puns. Kit will be the fearless boss lady. (Her mom is fashion mogul Cynthia Rowley, btw). Mari won't have a sense of humor about anything. Katie will over-sexualize everything. And "Queen Victoria" will drive us all nuts. You guys, I don't think she's going to be a villain we love to hate. We may just hate her. Hate is a strong word, but I mean, I don't think she will be enjoyable to watch in any sense. We'll see if we get further evidence to support this theory next week…
Source: Read Full Article