'90 Day Fiancé': Vanessa Walks Out During the Tell All After Arguing With Jess
What would a 90 Day Fiancé Tell All be without someone getting up and walking out? The virtual Tell All for season 5 of 90 Day Fiancé: Happily Ever After didn't disappoint in that regard. Multiple people walked out of the camera view, but arguably the most memorable moment came when Colt Johnson's friend, Vanessa Guerra, and Jess Caroline were going at it.
Colt Johnson was dating Jess Caroline long-distance, until she came to visit him in Las Vegas, Nevada with information. Jess confronted Colt, saying eight women contacted her complete with screenshots, and that Colt had sent out pictures of his private area to these women.
During that meetup, Colt admitted to Jess that Vanessa was living with him in a spare bedroom, and it's too much for Jess to take. She breaks up with him, but they must face each other during the Tell All. Things get even more heated when Vanessa is brought into the conversation.
Vanessa Guerra makes an appearance during the Tell All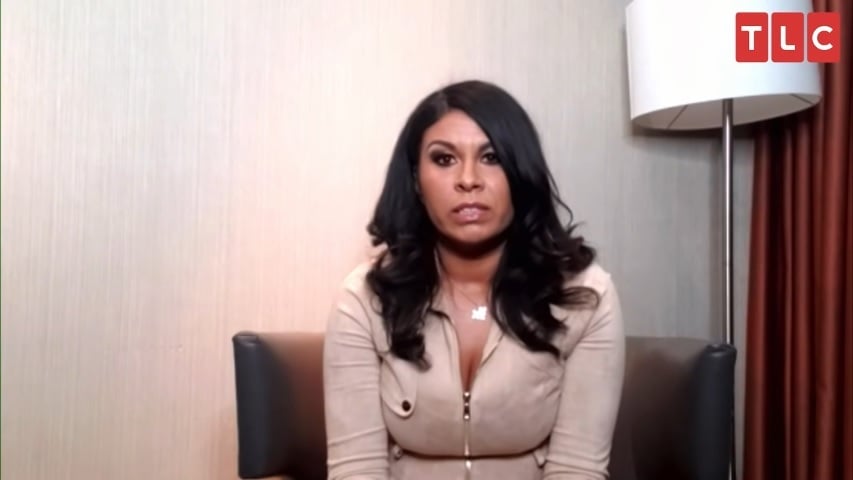 On the second part of the Tell All, Vanessa gets on the call and explains that they were both in "bad marriages." She also says they are "really good friends." According to Colt, Vanessa reached out to him after Larissa's second arrest. Colt mentions that once the marriage "further deteriorated," he started to talk with Vanessa. He admits that after the divorce, he wanted to date Vanessa, he she "wasn't interested." Apparently, Vanessa started dating someone else, and Vanessa said it got him "upset."
But Jess thinks they were "friends with benefits." Colt goes on to admit that he loves Vanessa, which prompts Jess to ask him why he started dating her if he loved Vanessa.
"Because Vanessa said no, and if she said yes, I would have dated her in a second," Colt reveals. "I'm sorry that you were in a s***** relationship with me. Like, it was a summer fling at best."
The host, Shaun Robinson, asks Colt if he slept with Vanessa while he was dating Jess. After a long pause and Jess telling him not to lie, Colt says, "OK, after I came back from Brazil, I cheated on Jess with Vanessa. I'm sorry Jess."
Obviously, Jess isn't happy about that. She calls him a "liar," and goes on to ask if Vanessa is still married, and Vanessa answers her directly.
"Yeah, so?" Vanessa says. "I separated. I haven't seen him in over a year. So what's the big f****** deal?"
Vanessa walks out during the Tell All after arguing with Jess
After more drama between Jess and Colt discussing matters, Colt and Larissa Dos Santos Lima's previous marriage takes center stage. Eventually, the host shifts to Jess again and asks her if she thinks Colt and Vanessa are in an "intimate relationship now."
"Yes," Jess replies. "A hundred percent. Yes."
Shaun asks Colt and Vanessa if they are, and Colt says, "I wish." Vanessa says they aren't.
"I don't trust him," Jess says, and Colt goes on to say he's "sorry" for lying to her about Vanessa.
Shaun asks Vanessa if she "feels" like she should apologize to Jess, and Vanessa says, "No. All she did was talk s*** about me. I don't feel bad."
"You support him lying," Jess says.
Shaun asks if Vanessa would feel the same way had the situation been reversed, and she admits that she would, but she has more to add. "Yes, but this was before like, since the first time she saw me call she started, 'Oh she's a b****. She's this, she's that. She's sleeping with my man.' And I wasn't at the time."
Jess doesn't let it go, and adds that the two of them "deserve each other." "Women support man lie to other women is terrible too," Jess declares. "Look like him. So I think you and Colt deserve each other, because it's two terrible persons."
Vanessa tells her not to "act like a victim."
Jess replies back that she's "terrible."
"Says the girl calling me a b**** and all this s***," Vanessa snaps back.
"F*** you," Jess replies.
Suddenly, Vanessa gets up and leaves the camera view, and just like that, the conversation is over. Things got extremely heated, and it doesn't look these two will ever be cordial with one another after everything that's happened in regards to Colt.
At least Jess now knows the full truth of the matter, and she can put the past behind her.
Source: Read Full Article