'1883': Tim McGraw and Faith Hill Were Filming in the 'Freezing Cold' on Their 25th Wedding Anniversary
Tim McGraw and Faith Hill got the chance to act together when they were cast in Taylor Sheridan's Yellowstone prequel 1883. However, the husband and wife's time filming the show was anything but a walk and the park. The 1883 cast endured some pretty harsh conditions while filming the series. McGraw and Hill were even put to work on their 25th wedding anniversary.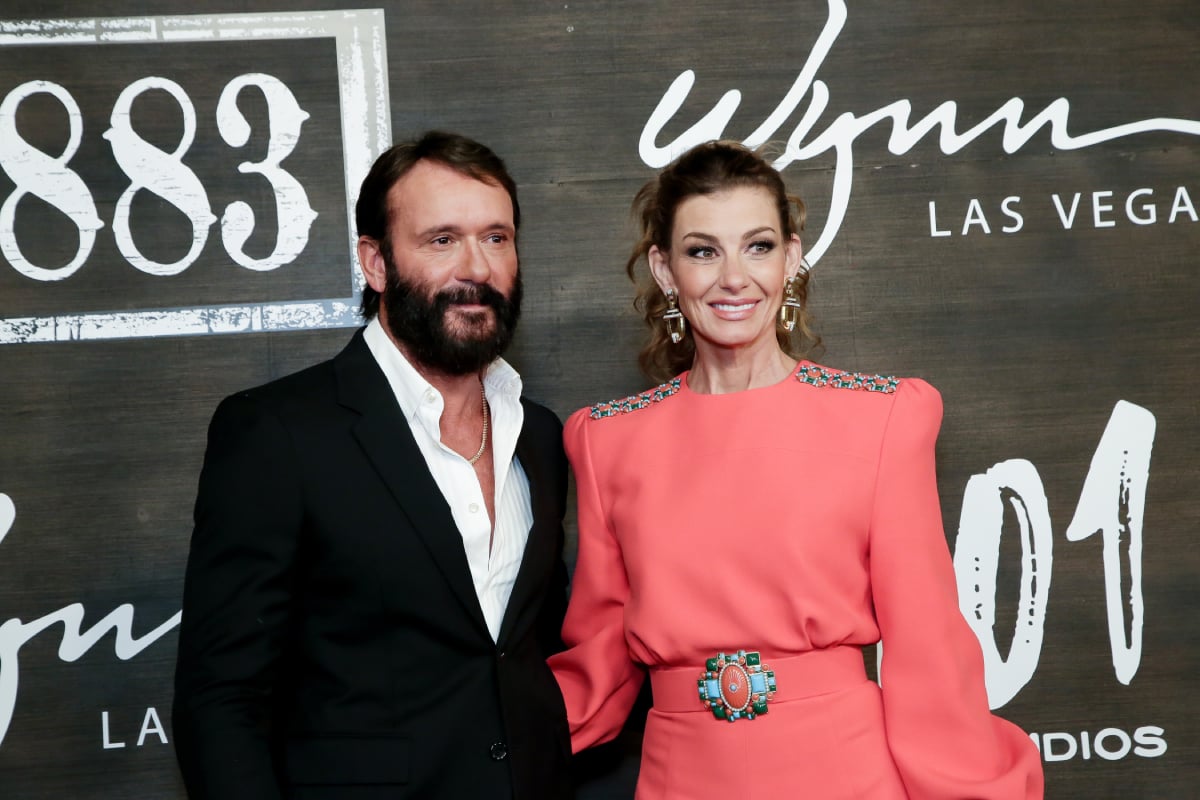 '1883' star Tim McGraw recounts proposing to Faith Hill
Tim McGraw and Faith Hill recently celebrated their 25th wedding anniversary. The pair have spent a quarter of a century together and are raising three children. However, McGraw recalled that Hill didn't say yes to his proposal right away.
"We had dated for a while. I actually asked her to marry me quite a few times and she kept saying no," he stated in a Twitter video. "She said, 'I'm not going to get involved with another country singer, it's just not going to work out.'" Then one day Hill and McGraw were at a country music festival.
"They had these trailer houses set up. I'm getting ready to go on stage, and I had this sort of case that had this big mirror in it," he recounted. McGraw asked Hill to marry him once again before he had to get onstage.
"I came off the stage and went back into my dressing room and Faith wasn't there, but I looked at the mirror. In lipstick it said, 'Yes! I'm gonna be your wife,'" the singer said. "And we still have that mirror. And it was the best day of my life, that's for sure."
McGraw and Hill were filming '1883' on their 25th wedding anniversary
Years later, McGraw and Hill were selected to portray James and Margaret Dutton in Taylor Sheridan's Yellowstone prequel 1883. The series follows the story of the 19th century Duttons as they embark on the treacherous journey from Texas to Montana in the hopes of a better life.
Filming 1883 certainly wasn't a walk in the park for the cast of the show. "I remember we were sitting on our patio and I looked at Faith and I told her, 'Once we sign [the contract], we are no longer the boss anymore. We're hired help,'" McGraw told NPR. "'It's going to be really hard work.' And it was: It was 14-hour days, six days a week, and we probably got three hours of sleep a night."
"I grew up in Louisiana and my step dad was a cowboy, so I could ride before I could walk," McGraw said. "But the wagon driving was something completely different. I'd never done that before, and Faith had to do that the most."
McGraw recalled one scene that stands out in his memory: "[Faith] was driving that wagon across the river and it was probably 36 degrees out, freezing cold. I was up to … my waist and on the horse in water. And it was probably 3:30 in the morning and it was our 25th wedding anniversary when we did that scene."
'1883' has been renewed for additional episodes
1883 aired its finale on Feb. 27, but the story doesn't end there. Paramount ordered more episodes of the prequel series, though there won't technically be an 1883 Season 2. The additional episodes of 1883 are anticipated to air some time this fall. Although there is not an official cast list yet, it seems more than likely that Tim McGraw and Faith Hill will return.
All episodes of 1883 are currently streaming on Netflix.
Source: Read Full Article