Why Christina Aguilera Was Asked to Use a Stage Name
Christina Aguilera was almost not called Christina Aguilera. That's right—according to Xtina, music executives suggested that she use a stage name early in her career. She recently opened up to Billboard about the experience and why she adamantly refused their requests.
"I remember when I was first coming up, there was a big debate around me on changing my last name because all the businessmen around me thought it was too long, too complicated, and too ethnic," she says.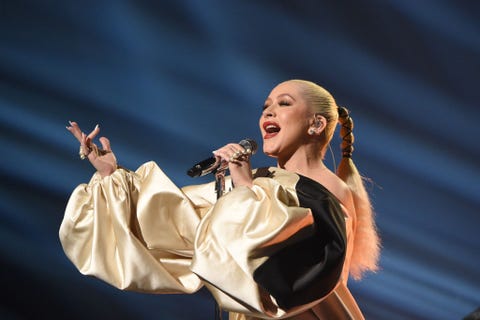 The singer has a rich heritage: her father was born in Ecuador, while her mother has German, Irish, Welsh, and Dutch ancestry. Instead of celebrating her diverse background, sadly, execs wanted to erase it. Thankfully, Christina had the courage to speak out against it. "'Christina Agee' was an option, but that clearly wasn't going to fly," she adds. "I was dead set against the idea and I wanted to represent who I really was. Being Latina, it is a part of my heritage and who I am."
Since then, she's included Spanish language songs in her discography. She released Spanish versions of "Genie in a Bottle" and "Come On Over Baby (All I Want Is You)."
"I was excited to bring a new life to [these songs] and reinvent some things," she explains. "I was allowed to create and express new ad libs and vocal runs that I wasn't given the freedom to do on the original record. Everything sounds better in Spanish. Let's be honest."
The moral of the story is don't let anyone change who you are. It's like Christina sang: Being a fighter only makes you "that much stronger."
Source: Read Full Article