Miley Cyrus Reflects on 'Wildly Different' Relationship to Fame from Dad Billy Ray Cyrus
"I grew up financially stable and emotionally stable … That's something that my dad didn't have," reflected Cyrus.
Miley Cyrus is opening up about her life for her new TikTok series of videos titled, "Used to Be Young," after the new single she dropped last week.
In one video, Miley opened up about how her relationship with fame is different than that of her father, Billy Ray Cyrus.
"When I was born, my dad had the No. 1 country song," said Miley, 30. "When I see the numbers, I just see the humans behind it enjoying the music, and I just see people in numbers. A number doesn't change who I am."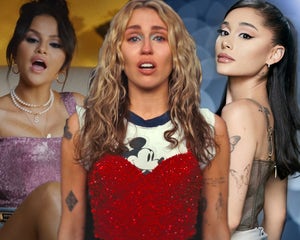 Miley Cyrus, Selena Gomez, Ariana Grande All Release Music — Watch New Videos Now!
She noted that their different upbringings impacted their respective outlooks on fame and success. The country song Miley referred to was Billy Ray's breakout hit "Achy Breaky Heart."
"My dad grew up the opposite of me. I grew up on a soundstage in a house with a family that was super close and all lived under the same roof, and I grew up financially stable and emotionally stable … That's something that my dad didn't have," reflected Cyrus.
Waiting for your permission to load TikTok Post.
TikTok Post Unavailable
"I think that's where me and my dad's relationship to fame and success is wildly different," she added. "Him feeling loved by a big audience impacted him emotionally more than it ever could me. When he feels special or important, it's like healing a childhood wound, and I've always been made to feel like a star."
And while their relationship might be rocky at the moment, Miley shared that she has fond memories of learning about music from her father.
"I do have a lot of great memories singing music with my dad and learning and watching his voice and the way that he's using the instrument," she said. "I will say that I feel vocally my dad was under appreciated."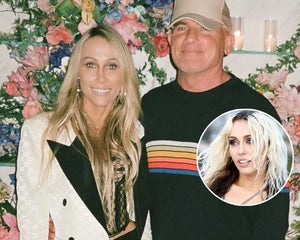 Miley Cyrus Reportedly Maid of Honor as Tish Cyrus Weds Dominic Purcell
She also opened up about her decision to not tour anymore.
"The show is only 90 minutes, but that's your life. If you're performing at a certain level of intensity and excellence, there should be an equal amount of recovery and rest," said Cyrus. "There's a level of ego that has to play a part that I feel gets overused when I'm on tour. And once that switch is on, it's hard to turn it off."
"It erases my humanity and my connection and without my humanity (and) my connection I can't be a songwriter, which is my priority," added Miley.

Source: Read Full Article