Jim Carrey Reacts to Paul Dano's Riddler in 'The Batman' — 'It's Not My Kind of Thing'
Critics and fans have raved about Paul Dano's performance as the Riddler in The Batman. And Jim Carrey, who famously played the Riddler in Batman Forever in 1995, is also speaking up about his reaction to Dano's portrayal of the iconic villain.
Jim Carrey played the Riddler in 'Batman Forever'
The Riddler, played by Jim Carrey in Batman Forever, significantly differs from Paul Dano's character in The Batman. Whereas Dano took the darker, more serial killer-like route, Carrey's villain was flamboyant and over-the-top. He was like a villain pulled straight out of a comic book. And the critics praised him for his performance at the time.
In the 1995 movie, Edward Nygma became the Riddler after Bruce Wayne rejected his newest invention that would send television signals into people's minds. Nygma wanted revenge, so he teamed up with a fellow villain — Two-Face. In the end, Batman defeated them and sent the Riddler to Arkham Asylum.
The 2022 film begins with Edward Nashton as the Riddler, a serial killer who targeted Gotham's elite. And this version of the villain believes that he has a special connection with Batman. So Jim Carrey and Paul Dano's interpretations of the Riddler couldn't be more different.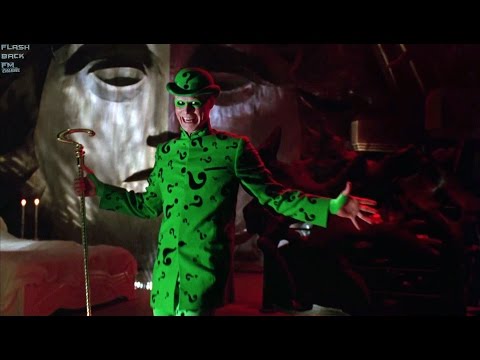 Jim Carrey reacts to Paul Dano's version of the Riddler
During an interview with UNILAD, Jim Carrey shared his thoughts on Paul Dano as the Riddler in The Batman.
"I've not seen it," the actor revealed. "It's a very dark version. I have mixed emotions about it. To each his own and all that. I love him as an actor. He's a tremendous actor."
Carrey then referred to Paul Dano's idea of covering the Riddler's face in plastic wrap in the movie. He said, "There's a spot of worry in me over gaffer-taping people's faces and encouraging people to do the same. Some sickos out there that might adopt that method."
Carrey concluded, "I do have a conscience about the things I choose. Robotnik has cartoon bombs, and no one gets hurt. I know there's a place for it, and I don't want to criticize it, but it's not my kind of thing … it's very well done. Those movies are very well done."
So The Batman isn't the kind of film that Jim Carrey likes to watch, but he still applauded Paul Dano for his work as the Riddler.
The actor is against violence in films
Jim Carrey's comments about Paul Dano's Riddler and The Batman aren't the first time he's spoken about violence in films. After the Sandy Hook shootings in 2013, the actor took to Twitter to condemn his movie, Kick-Ass 2, according to Variety.
"I did Kick-Ass 2 a month before Sandy Hook and now in all good conscience I cannot support that level of violence," Carrey wrote. "My apologies to others involve[d] with the film. I am not ashamed of it but recent events have caused a change in my heart."
Now, Carrey is starring as Dr. Ivo "Eggman" Robotnik in Sonic the Hedgehog 2, which premieres on April 8. As the actor mentioned in his above comments about Paul Dano, Robotnik is similar to a cartoon villain, unlike Dano's violent Riddler.
The Batman is now playing in theaters. And Batman Forever, starring Jim Carrey as the Riddler, is available to stream on HBO Max.
Source: Read Full Article