Celebrate Women's Equality Day By Giving These Inspiring Female Athletes a Follow
From gymnasts to tennis players to basketball coaches, these female athletes have got game. So the extra barriers they have to bust through? Hardly a challenge at all.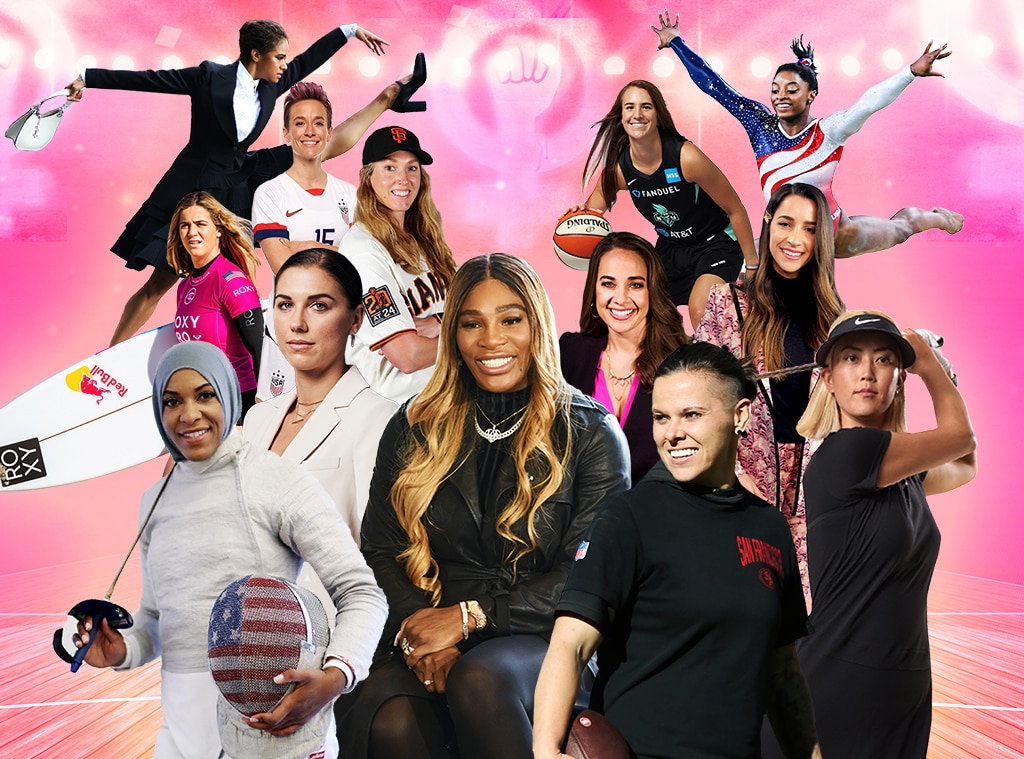 No doubt female athletes have to be strong AF. 
They climb mountains, perform back flips on four-inch-wide beams, run an entire damn marathon at a five-and-a-half-minute-mile clip. Heck, Serena Williams even won a Grand Slam in her first trimester of pregnancy. 
So what's a few extra barriers to bust through, really? 
When they're not becoming the first woman to hold a full-time coaching position with an MLB squad (hey, Alyssa Nakken!) or fighting to net the same payday as their male, arguably less successful, counterparts (oh, hiiiii four-time World Cup-winning U.S. women's national soccer team), they're simply hustling for some damn recognition. 
After then-University of Oregon star Sabrina Ionescu scored a triple-double in the 2019 NCAA tournament, she was surprised to see ESPN fixate only on the men who had reached the same heights. "They had posted something about Ja Morant getting one and said that there was only eight or seven people that ever got one in the NCAA tournament, and they listed all the men that had gotten a triple-double," she later explained to the network's magazine. "And so I was like, 'All right, well this is my chance, I'm going to say something.'"
Her post-game snipe: "It probably still won't get recognized because ESPN never recognizes women's sports."
Though, to be fair, triple-doubles are pretty common place for this year's number one WNBA draft pick, the first collegiate player to net 2,000 points, 1,000 rebounds and 1,000 assists ever. As in none of her male contemporaries have matched her achievement. 
"We are always having to qualify our accomplishments," USWNT's lethal scorer Megan Rapinoe noted to Glamour of the extra burdens placed on female athletes. "We always have to be like: Yes, we won, and we're inspiring a generation, and we're touring the country, and we're social activists, and we're really marketable, and, and, and!"
Trending Stories
Kim Kardashian's New Photos of North & Chicago Are 2020 in a Nutshell
Rose McGowan Accuses Alyssa Milano of Making Charmed "Toxic AF"
Emilia Clarke's $5 Million Home Is Fit for Daenerys Targaryen
The expectations are endless and yet, here they are, continuing to surpass them, while wondering at what point exactly they'll be rewarded for their work. "At the crux of everything is that when we play a game—win the game, lose the game, tie the game, whatever—what we're asking is that we'll have the same opportunity to make the same amount of money," Rapinoe told Glamour. "We should be treated equally."
Preach. 
While the whole world isn't quite there yet, we are marking Women's Equality Day. Held on Aug. 26 to commemorate the adopting of the Nineteenth Amendment, which gave (white) women the right to vote, it's become a catchall for all celebrations of equality. And we can think of no better way to recognize the day (besides registering to vote!) than honoring our favorite record-breaking, goal-scoring, medal-collecting badasses. 
Here are just a few of our top game-changers. 
There's a reason, as girlfriend Sue Bird put it in an essay for The Player's Tribune, that everyone fell just a little bit in love with the soccer pro in the summer of 2019. Leading the USWNT to World Cup gold with six goals (ahem, more than the entire men's team managed to score in their last World Cup appearance in 2014) and collecting both the Golden Boot and Golden Ball trophies along the way, she straight up refused to do it quietly.
Whether that meant following through on her plan to kneel during the National Anthem, detractors be damned, or unabashedly celebrating her achievements because she earned them, she's not going to stop demanding equality. "I'm the antithesis of no f–ks given—I give all the f–ks," she told Glamour of using her voice to highlight inequities between those of different genders, races and sexual orientations. "I just feel that it's my responsibility to make the world a better place—we all have that responsibility."
Few people are as deserving as their G.O.A.T. status as the tennis phenom. She's served up 23 Grand Slam singles titles, 14 Grand Slam doubles titles with equally impressive sister Venus Williams, and four Olympic gold medals—leading the Associated Press to name her their Female Athlete of the Decade. "When the history books are written, it could be that the great Serena Williams is the greatest athlete of all time," former WTA CEO Stacey Allaster told the outlet. "I like to call it the 'Serena Superpowers' — that champion's mindset. Irrespective of the adversity and the odds that are facing her, she always believes in herself."
In between all that winning, she had a baby—the ever-adorable Olympia, who turns 3 Sept. 1—got all the way real about the discrimination she's faced throughout her two-and-a-half-decade career and raised awareness about the maternal mortality crisis disproportionately affecting Black women in America. "Education I think is the biggest key," she told Glamour of sharing her own harrowing, life-threatening delivery experience. "I don't have time to do too much—between a baby, tennis, and fashion, it's a lot. But whenever there's an opportunity to speak or write or post about it, I do."
With four WNBA championships and an MVP trophy taking up residency in her display case, the two-time Olympic gold medalist shocked the basketball world when she ran an entirely new play—announcing she'd be taking a sabbatical from the sport to help Jonathan Irons mount an appeal of his 50-year prison sentence for burglary and assault charges. Convicted as a teen, the 40-year-old had spent two decades in prison despite his insistence he was innocent and had been misidentified. 
The sacrifice proved to be a winning move. Irons' 1998 conviction was vacated in March and he walked out of a Missouri prison this summer a free man. As for Moore, currently focusing on ministry work in Atlanta, she's inspired to see other sports stars driven to make a difference. "Seeing athletes looking inside of themselves saying, 'What can I do to empower someone else,' is amazing," Moore told The Undefeated in July. "I'm pumped that people are understanding where the real change lies as far as giving something up."
One of the more than 200 women who spoke out against USA Gymnastics doctor Larry Nassar's sexual abuse, the six-time Olympic medalist has made it her mission to protect others from similar situations. Through her Flip the Switch initiative, the recently retired athlete is pushing for any adult involved in youth sports to complete Darkness to Light's Stewards of Children training aimed at helping coaches and parents recognize the signs of abuse. "To address this terrible problem, we all need to be willing to confront it head-on," Raisman explained to Sports Illustrated in 2018. 
And she knows a bit about confrontation. Among the scores of women who delivered scathing testimonies against Nassar, she joined her Army of Survivors in accepting 2018 Glamour Women of the Year honors. "Amazing things happen when women support women," she said of the work that led to Nassar's decades-long prison sentence. "We are a group that fought until an abuser was stopped."
Bouncing back from a 2019 Achilles tear was tough for the Seattle Storm forward who put up more than $30,000 of her own cash on specialized workouts, nutrigenetic diet planning and equipment. Now averaging nearly 19 points per game in the WNBA Florida "wubble," 2016's top draft pick is posting up an even larger challenge. 
As a member of the league's Social Justice Counsel, she's in on their plans to recognize the death of Breonna Taylor—shot by police in her home in March as they were executing a "no knock" warrant—and combat other issues of systemic racism. "On the back of our jerseys, it's gonna have Breonna Taylor and that'll be there for the whole season underneath our names," Stewart said in a July "On Her Turf" virtual athlete panel, hosted by E!'s Erin Lim. Also part of the discussion: a potential foundation to support Black organizations. Said Stewart, "This is something that needs to become our new normal."
After a 16-year WNBA career that included six All-Star appearances, the South Dakota-bred point guard bounced into a second act in 2014 as an assistant coach for the San Antonio Spurs—the first woman to hold such a role in the NBA, NFL, NHL or MLB. "Nothing in my life has really ever been easy. I've always been someone who did it uphill," Hammon said at the time of the history-making move. "I'm up for challenges. I'm up for being outside the box, making tough decisions and challenges." 
Now she's due for another, with pretty much every expert in the league arguing she's poised to take on a head coaching role. "I've played under two of the sharpest minds in the history of sports, in Phil Jackson and Gregg Popovich," center Pau Gasol wrote in a 2018 essay for The Player's Tribune. "And I'm telling you: Becky Hammon can coach. I'm not saying she can coach pretty well. I'm not saying she can coach enough to get by. I'm not saying she can coach almost at the level of the NBA's male coaches. I'm saying: Becky Hammon can coach NBA basketball. Period."
"Cocomania" swept through the tennis world during last summer's Wimbledon as the then-15-year-old held serve at the legendary British event, besting idol Venus Williams (she cried as they shook hands post-match) en route to a fourth round loss to eventual champ Simona Halep. The daughter of a former Georgia State basketball player (dad Corey) and a onetime Florida State University track star (mom Candi), she has since lived up to the hype, losing in the third round of the U.S. Open to defending champ Naomi Osaka. And she very much intends to be hoisting a Grand Slam trophy soon. "I just want to win more," she explained to Teen Vogue. "I love winning more than I hate losing."
And her dreams extend beyond the court. "I don't want [to just] be known as a tennis player," she told the mag. Might we suggest a future in oratory? Taking to the podium at a Black Lives Matter protest in Florida this June, she urged the crowd to speak out. "No matter how big or how small your platform is, you need to use your voice," she urged. "I saw a Dr. [Martin Luther] King [Jr.] quote that said, 'The silence of the good people is worse than the brutality of the bad people.' So you need to not be silent."
The youngest surfer ever to qualify for the Championship Tour at 15, two years later the California-based phenom became one of just two Americans to qualify for the sport's Olympics debut in Tokyo. Then, just as she was celebrating her 18th birthday this past Valentine's Day, she checked another item off her bucket list: posing for Sports Illustrated's Swimsuit Issue. 
"I went pro when I was 15. And you know, when you're 15 you're like becoming a woman and things start changing. You get boobs, you get a butt," she told Red Bull. "It's so cool to see…huge companies like Sports Illustrated and [others] celebrating all different body types. It just makes you feel awesome. You don't have to be like the stereotype, skinny model body type. So I'm an athlete, like I have big legs, and I have a muscular body and it's awesome because they celebrate that."
Dancer Copeland has never worried too much about stepping a (perfectly pointed) toe out of line. Told at 13 that she was already far too old to harbor elite ballerina dreams, she nonetheless continued to bourrée forward, brushing off criticism that she was too muscular to fit the dancer mold.
Such chatter pretty much stopped when she was named American Ballet Theatre's first African-American female dancer in 2015, but the author and founder of is still talking about she and her contemporaries should be seen as athletes ("Dancers should have endorsement deals. Dancers should be paid. Dancers should have insurance," she told ESPNW) and the increasing importance of diversity on stage.
"One of the things I love about ballet is the tradition and history. And we should hold on to certain ballets. But I'm mindful of how race is depicted in the performances. I have the voice to say that I won't go on stage and perform as a slave girl," she explained to ESPNW. "I want to be a voice for women of color in the ballet world and to a broader audience. I want to tell our stories truthfully and genuinely."
The second the New Jersey native qualified to compete in fencing at the 2016 Olympics, she realized she was set to make history. "I was going to have to use my platform as an agent of change," she recalled to the Los Angeles Times of becoming the first Muslim-American athlete to wear a hijab while competing at the Games. "I knew that right away." Her goal, she continued, was to "change the image that people may have of Muslim women. We come in all different shapes, colors and sizes and we come from different backgrounds and we're productive members of society." The spot on TIME's list of The Most Influential People and the Barbie in her likeness were just a bonus. 
She's since penned an autobiographical best-selling children's book, The Proudest Blue: A Story of Hijab and Family, but the bronze medalist is nowhere close to done with her own story. As she told Lim during the "On Her Turf" panel, "I feel like I've been an activist my entire life and I think that is just part of the role in being Black in America, you don't have a choice. But to learn to, not just to advocate for yourself but, advocate for your community."
When the kinesiology major was finishing up her studies at the University of Central Missouri, "I actually got turned down from a volunteer coaching job because I was a lesbian," Sowers told Outsports in 2017 of an unnamed amateur basketball league. "Without that experience, I would not be where I am today."
And that's on the coaching staff of the San Francisco 49ers, the Women's Football Alliance vet becoming the NFL's second full-time female coach in 2017 when she was bumped up from intern to offensive assistant. Coming out shortly afterward, she also became the league's first openly gay and first female coach in Super Bowl history this past February.
As she continues to pursue her ultimate goal—a head coaching position in either college or the NFL—she remains floored by the power of her platform. "Signing autographs served as one of those moments when I realized the reality of the impact I was having on people," she told Outsports of one 2017 preseason game. "I had multiple families call me over and thank me for the doors I am opening for their daughters. I even met a few young girls who were so excited to see me and tell me their own story of the sports they play. It was a special moment that I will remember for a long time."
Sure, every member of the gold medal-winning gymnastics squad at the 2016 Olympic Games was worth flipping out over. But the 4-foot-8 dynamo was undoubtedly their star, medaling in each of the five events she competed in, her balance beam bronze the only thing stopping her from a full gold sweep. And while she intends to be in Tokyo in 2021 to take to the mat one final time, the most decorated gymnast in World Championship history is already hard at work on her second act.
Between her drive to help foster children (the Texas native was briefly placed in the social services system before being adopted by her grandparents) and her dedication to speaking out against the sexual abuse former team doctor Larry Nassar inflicted on the gymnastics community, she's deftly pivoting into her future as an activist. "I don't think of it as an obligation," the Vogue cover girl explained of her decision to fight. "I think of it as an honor to speak for the less fortunate and for the voiceless. I also feel like it gives them power."
One of soccer's most prolific strikers, the two-time World Cup champ and Olympic gold medalist had no doubts she'd be on the pitch in Tokyo this summer mere weeks after giving birth to daughter Charlie in April. And though COVID-19 changed that, it hasn't altered her plan to shift the narrative about athletes and pregnancy. "I want to be open about my journey because I want women to feel like they don't have to choose one or the other," she explained to Glamour. "The more female athletes that are moms in their career, the better—from Allyson Felix, to Serena Williams, to my teammate Sydney Leroux. The more challenged the system, the more it will change."
She's already notched one key victory, getting sponsor Nike to offer maternity protection—18 months of unreduced pay even if she is unable to compete—in her most recent contract. "I don't remember being informed about the discrimination that girls and women face in sports when I was younger," she said. "But now I see eight year olds with posters saying, 'Go Alex, thank you for giving me a better future.' I can't wait to share all these stories with my daughter and be able to tell her a little piece of history that mom had to fight for."
Making history at age 12 as the youngest player to make the cut at an LPGA event and then again a year later, when she became the youngest ever to win an adult USGA championship, the golf wunderkind changed the sport's decidedly stodgy reputation just by existing. Then, she took it a step further, joining the group petitioning to get golf added to the Olympics lineup in 2016. "I was so heavily involved in the process-back in 2009 we went over to Copenhagen along with rugby sevens and presented in front of the International Olympic Committee to convince them to include golf. It was so nerve-wracking waiting for the votes to come in!" she recalled to Shape. "I think it will really increase the amount of kids who take up golf."
Her next challenge: getting back on the links after a right hand injury had the five-time LPGA title holder contemplating packing up her clubs. It's a shift she credits to Makenna Kamalei Yoona West, her two-month-old daughter with Golden State Warriors exec Jonnie West. "Going from thinking, 'My body's completely done, it can't do anything' to 'I created a whole human from scratch,' it's completely shifted my relationship with my body. I have so much more confidence in it now," she explained in a recent interview with The New York Times. "I used to think my wrist was hurting during a round until I went through labor."
Five years into her tenure with the San Francisco Giants, the former Sacramento State first baseman didn't think much of it when manager Gabe Kapler reached out asking for her thoughts on clubhouse culture. "I honestly didn't even know the interview was happening," Nakken noted to NBC Sports. "It was just me having conversations with Gabe and some of the staff about my thoughts on the clubhouse and the team and how do we put the best team on the field every single night."
But she has no doubts that she earned her role as one of the club's assistant coaches—the first woman to hold a full-time coaching position in Major League Baseball's nearly 150-year history. (In July, she also became the first female to coach in an on-field capacity.) "It's a unique situation, for sure," she allowed. "If I went and applied for a job with the A's on the coaching staff, I probably wouldn't get it. But the fact that I've been with this organization, I know how it runs, this whole staff is brand new and it needs to come together and come together quickly and we have a lot of work to do. I'm the right person for that job, for this specific job. I'm right. I'm a good fit."
Source: Read Full Article