Australia has rejected angry populism, so why is Dutton clinging onto it?
Save articles for later
Add articles to your saved list and come back to them any time.
These past few months have felt like a reckoning for the politics of 2016, the angry populism that fuelled the victory of Donald Trump, Britain's exit from the European Union, and all the norm-busting that followed.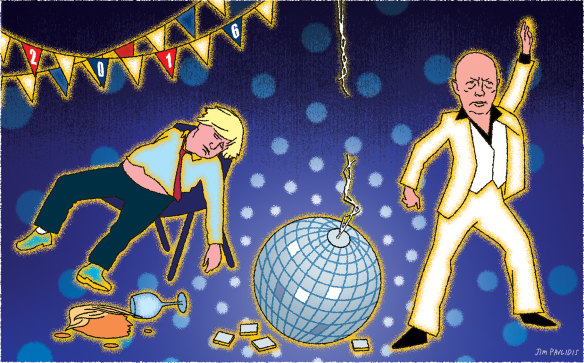 Illustration by Jim PavlidisCredit:
America's 45th president has become the first current or former US head of state to be criminally indicted. In Westminster, Boris Johnson, the face of the Brexit campaign, was interrogated by a parliamentary committee over claims that he lied to the House of Commons about the Partygate scandal. Today, the Fox News defamation trial is due to start in Delaware, rival drama for the final season of Succession.
US President Joe Biden's trip to Belfast, to mark the 25th anniversary of the Good Friday Agreement, was a reminder of the fragility of Northern Ireland's peace, and how the border complications caused by Brexit have placed it under such duress. The run-up to the Easter break witnessed mammoth traffic jams outside Dover, as the continental holiday getaway was slowed to a crawl by the passport checks that have now become such a chore for Brits.
It is tempting to look upon all this as the hangover effect from 2016, but the metaphor is inapt. Almost eight years after Trump descended his golden escalator – a portal which many of his supporters have come to regard as a heavenly stairway – the consequences of his arrival in politics, and the nationalistic populism he personified, are more permanent.
Proof of this comes from the continued political viability of Trump himself. Despite the crass authoritarianism of his presidency and despite his central role in the January 6 insurrection, he remains the clear frontrunner for the Republican presidential nomination. His prosecution has only fuelled the sense of grievance and shared victimhood that explained why a New York billionaire emerged as such a hero of the heartland in the first place.
Donald Trump and Boris Johnson benefitted from angry populism. But their countries have suffered because of it. Credit: AP
None of his challengers have explicitly called for the party to repudiate either Trump or the creed of Trumpism. They are frightened of his base, in much the same way that Rupert Murdoch's Fox News runs scared of its viewers.
Already we are witnessing the Trump effect on the foreign policy positions of his Republican rivals. His main challenger, Florida Governor Ron DeSantis, has made clear that the defence of Ukraine should not be a US priority. Vladimir Putin, then, continues to get a good return on his investment for meddling in the 2016 US presidential election, not least because Trumpism no longer requires Trump as its host.
On the other side of the Atlantic, Britain will remain a Brexit nation, despite the economic self-harm that it continues to inflict. "Make Brexit Work" has become a mantra of necessity for the British Labour Party, which will go into the next general election shackled to a policy of European estrangement which it knows is crippling the country. The ongoing effect of the politics of 2016 makes it hard for the party to advocate even quasi-membership of the European Union. Labour would likely lose even more working-class seats.
Already we are witnessing the geopolitical fallout of Brexit. US diplomats always feared it would fray the transatlantic alliance, partly because Washington would no longer have its closest ally working on its behalf in Brussels. And so it has proved. Following his controversial visit to China, French President Emmanuel Macron spoke of the need for Europe to have "strategic autonomy," and to avoid being embroiled in a conflict between the United States and China over Taiwan.
As for US-Sino relations, it is hard to envisage a return to the pre-2016 frame: the carefully calibrated balance of cooperation and competition that co-existed before Trump started bashing Beijing for its "rape" of America and Xi Jinping became more belligerent in pursuit of his own nationalistic vision to make China great again. Biden's anti-China rhetoric may not be as shrill as Trump's, but his policies, such as cutting off Beijing from certain semiconductor chips, have been tougher.
That is where Australia fits into this narrative. In the conduct of its foreign affairs, the aftershocks of 2016 have been profound. After all, the AUKUS security pact was driven by a Democratic administration determined to remain tough on China – largely for strategic but also for domestic political reasons – and by a British government fearful of international irrelevance after Brexit.
In the post-2016 world, AUKUS has also become more of a gamble for Australia because of the unpredictability of US politics, and the possibility that Trump, or someone like him, could again become commander-in-chief. America's reliability as an ally – which has always been overstated – is no longer a given.
In domestic Australian politics, however, the story is very different. My sense is that the 2022 federal election marked a wholesale rejection of 2016-style politics, whether it came in the form of Scott Morrison's post-truthism or Clive Palmer's billionaire populism.
That is why Peter Dutton's hardline conservatism is so politically perplexing. His characterisation of the Indigenous Voice to parliament as a "Canberra voice", with its anti-establishment and anti-elitist echoes from 2016, will doubtless resonate with many. But at a time when so many conservative constituencies have embraced the teals and rejected the Trumpian, making the Liberal Party more illiberal feels like such an outdated play.
Australian politics still has a 2022 vibe. For the Liberals, it no longer makes sense to party like it's 2016.
The Opinion newsletter is a weekly wrap of views that will challenge, champion and inform your own. Sign up here.
Most Viewed in Politics
From our partners
Source: Read Full Article