American Actors Danny DeVito and Rhea Perlman Desire The Perch At Mt. Washington For $1.5 Million
In 1971, Rhea saw Danny perform in the stage production of The Shrinking Bride. A whirlwind romance followed, and the two moved in together two weeks later. They went on to marry on January 28, 1982 before having three children together.
The "Cheers" star, 74, looked back on her legendary Hollywood career and past marriage to the now 77-year-old actor. "[It] probably worked out for the best," Perlman said in an interview with People. "Sometimes I wish we were still together because those were the glory days, but these are other kinds of glory days."
Rhea Perlman and the "Terms of Endearment" star married in 1982 and share three children together: Lucy Chet, 39, Grace Fan, 37, and Jake Daniel, 34. They split in 2012, however, they never formally divorced and have no plans to do so.
" 'Cheers' might have been everything in the beginning of my career, but family is everything — everything," Perlman explained. "If my relationships with my children were strained, I would be beside myself."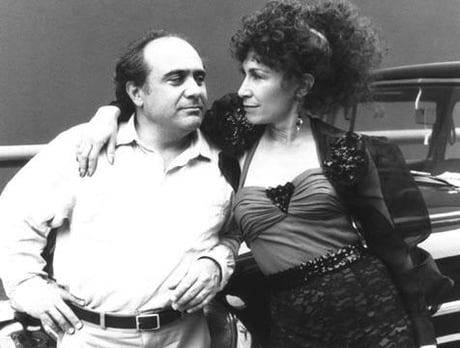 The Coney Island native opened up to The Post in 2018 about why she won't divorce DeVito any time soon.
"We've been together a very long time, so there's a lot of love and history," she said. "We agree on enough things, so why [ruin] that with the yucky things that come with a divorce?"
RELATED: The 8 Highest-Grossing Movies Directed By Danny DeVito
Throughout the last decade, Danny DeVito and Rhea Perlman have spent millions of dollars on homes across Los Angeles, including in Silver Lake, Los Feliz and Hollywood Hills.
The couple are now selling their scenic home in Mount Washington for $1.55 million.
The couple, who married in 1982 and have since separated, bought the property in 2018 for $1.3 million. The large and sprawling residence has sweeping views of the city and canyon through walls of windows and multiple decks.
The 1,864-square-foot floor plan features two bedrooms, three bathrooms, a lounge and loggia room. The most impressive space comes in the two-story living room complete with custom built-ins and a black tile fireplace.
The property includes a second parcel and the pair together add up to half an acre.
Paul Lester and Aileen Comora of the Agency have been appointed to market the listing.
Danny DeVito has starred in dozens of films over the last five decades with standout roles in "Matilda," "Twins" and "Batman Returns." More recently, he plays Frank Reynolds in the sitcom "It's Always Sunny in Philadelphia."
Rhea Perlman won four Emmy Awards for her role in the iconic sitcom "Cheers." On the film side, she appeared in "Canadian Bacon," "Matilda" and "The Sessions."
READ NEXT: James Middleton Express His Greetings To His Wife Alizee Thevenet On Their First Anniversary While Honoring Queen Elizabeth II
Sources: Los Angeles Times, Newyork Post
Source: Read Full Article