6 Photographs of Queen Elizabeth With Her Children
Queen Elizabeth II isn't just the queen of the United Kingdom, she's a mother. Ahead, check out six photographs of the 93-year-old with her children. 
Prince Philip and Queen Elizabeth are parents to four children
The queen and her husband, Prince Philip, Duke of Edinburgh have four kids together. At the age of 22, the queen gave birth to her oldest child, Charles, Prince of Wales in 1948. Two years later Queen Elizabeth and Philip became parents once again when Anne, Princess Royal was born. A decade later came Prince Andrew, Duke of York followed shortly after by Prince Edward, Earl of Wessex in 1964. 
Queen Elizabeth celebrated her birthday with a family walk
In 1965, the family marked the queen's 39th birthday, April 21, with a walk at Windsor's Frogmore House. They likely celebrated with some type of chocolate cake, a favorite dessert of Queen Elizabeth's she reportedly eats regularly.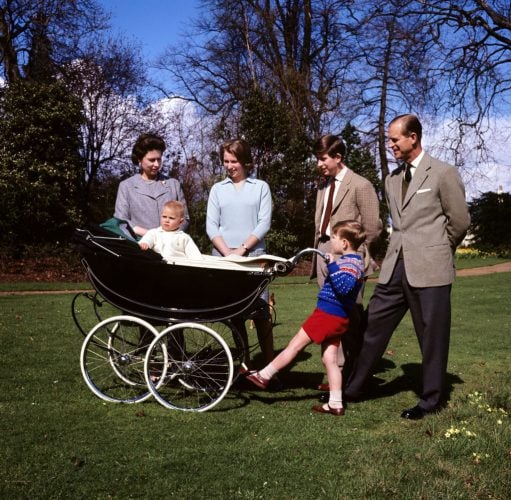 Wearing red shorts and a blue sweater, Andrew can be seen holding the stroller where his younger brother, Edward sits, while the queen, Anne, Charles, and Philip stand behind them. 
They posed for more photos on Queen Elizabeth's birthday
In what appears to be the same day judging by the identical outfits, the family posed for another photograph. Queen Elizabeth held baby Edward while Philip, Charles, Anne, and Andrew stood beside her. 
Do the steps look familiar? They're the same ones Prince Harry, Duke of Sussex and Meghan, Duchess of Sussex posed on for their engagement portraits.
Queen Elizabeth, Prince Philip and their children relaxed at Sandringham House
During a 1969 stay at Sandringham House, one of the British royal family's many residences, cameras got an inside look at the queen and Philip spending some time with all four of their kids.
In the drawing room, a young Edward can be seen peering over Philip's newspaper while Charles examines a newspaper of his own next to Andrew, who is pictured holding a bow and arrow. Meanwhile, Anne can be seen sitting in a chair while her mother, the queen, sits alongside her. 
They took family photos at wedding anniversaries
Marking Queen Elizabeth and Philip's 25th wedding anniversary, the couple and their children posed for portraits at Buckingham Palace in 1972. Wearing a blue dress, the queen can be seen sitting next to her youngest son, Edward, while Philip, Andrew, Anne, and Charles stand behind them. 
The family reconvened to celebrate the queen and Philip's wedding anniversary again in 2007 when they hit the 60-year marriage mark. They posed for a similar, but more formal, family photo.
Prince Charles got a visit from Queen Elizabeth and Prince Edward at a polo match
Polo has long been a favorite sport of the British royal family. For years, royals and future royals by marriage have been photographed attending polo matches.
In May 1971, Queen Elizabeth and a young Edward were seen attending one of Charles' polo matches.
Peep the polo gear leaning against the car and the stick Edward's carrying.
For more photos of the British royal family, check out pictures of Catherine, Duchess of Cambridge with her siblings or PDA-filled moments from the Duke and Duchess of Sussex.
Source: Read Full Article