35 Best Summer Wedding Guest Dresses To Wear In 2021
Now that the end of the pandemic is on the horizon, people are playing catch-up with events big time. And that can mean only one thing: You can expect at least a few invitations to summer weddings this year. Once that invite arrives, don't be surprised if you're suddenly consumed by the need to find something to wear—other than the sweats you've been living in the past year. (Not exactly what your bride BFF would consider formal wear, mkay?)
With the COVID-19 vaccine rollout in full swing and summer just around the bend, you can bet all your engaged pals will want to *safely* celebrate love and togetherness. And considering you probably haven't seen many peeps in a while, you'll need a dress to impress but won't cost your entire stimulus check.
Considering summer weddings are often outdoors, it's important to consider the fabric, sleeves, and length of your guest ensemble. Going to a backyard wedding? Opt for a floral dress made of a light material that gives off a carefree, but chic vibe. Maybe you've got friends getting hitched at the beach? Expect to get tons of compliments when you stroll in wearing a bohemian maxi dress that looks effortlessly perfect.
If you're already stressed about trying to handle small talk with randos at the cocktail hour after hibernating inside for a year, there's no need to add outfit anxiety to your list of pre-wedding worries. This list of 35 best summer wedding guest dresses will calm your nerves about attending social events again. There's bound to be one that fits the theme of your friend's wedding, whether that's cottage core or black tie. Even better—it'll get you excited about dressing up again.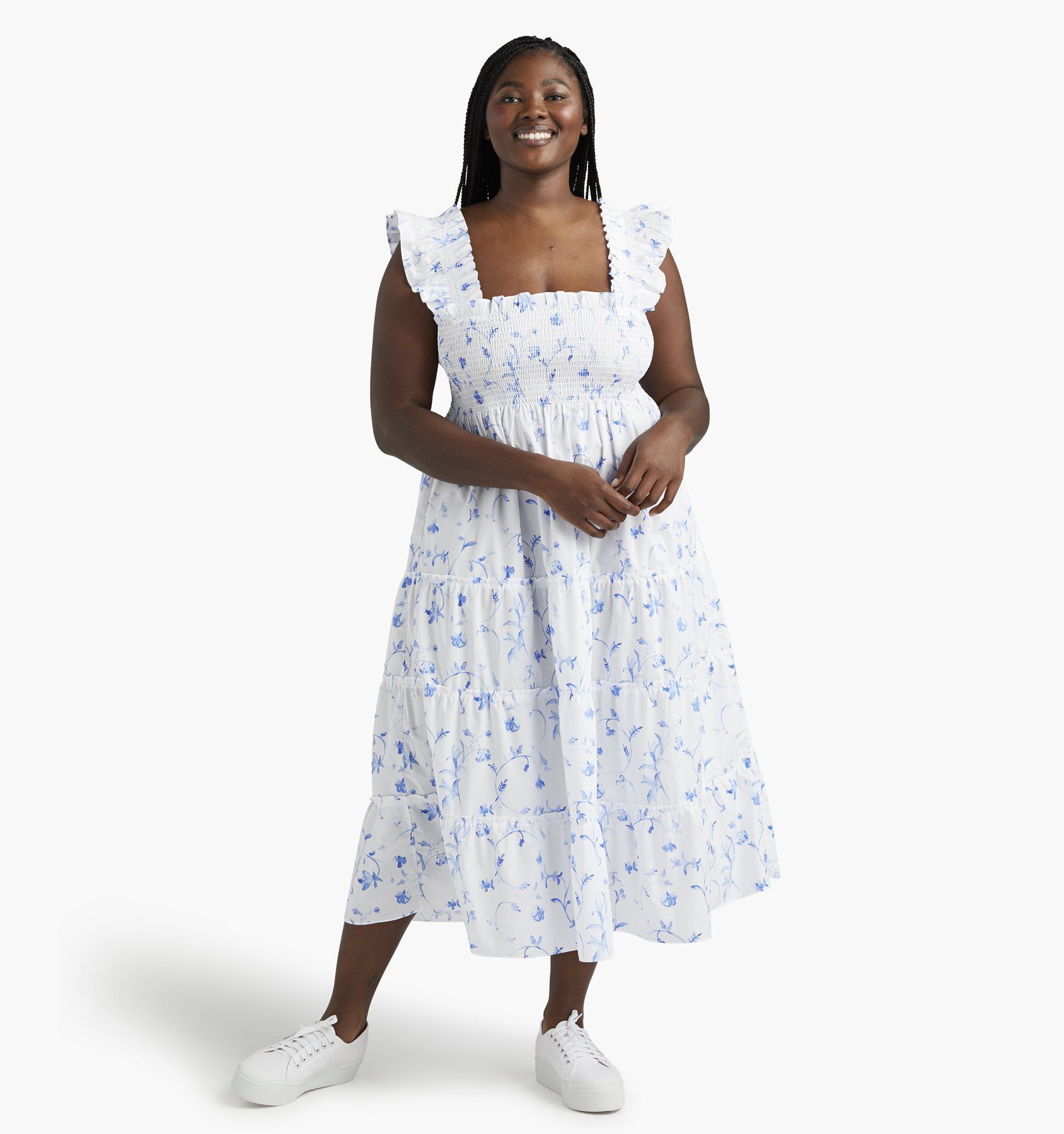 Okay, so first of all, this is called a nap dress so it's automatically winning in my book. But, paired with the right set of heels and jewelry, it's made for a casual-chic summer wedding. And if you're too tired to take it off before falling into bed after a night of dancing? No prob—it's 100-percent cotton and extra comfy. (Shhh no one will know.)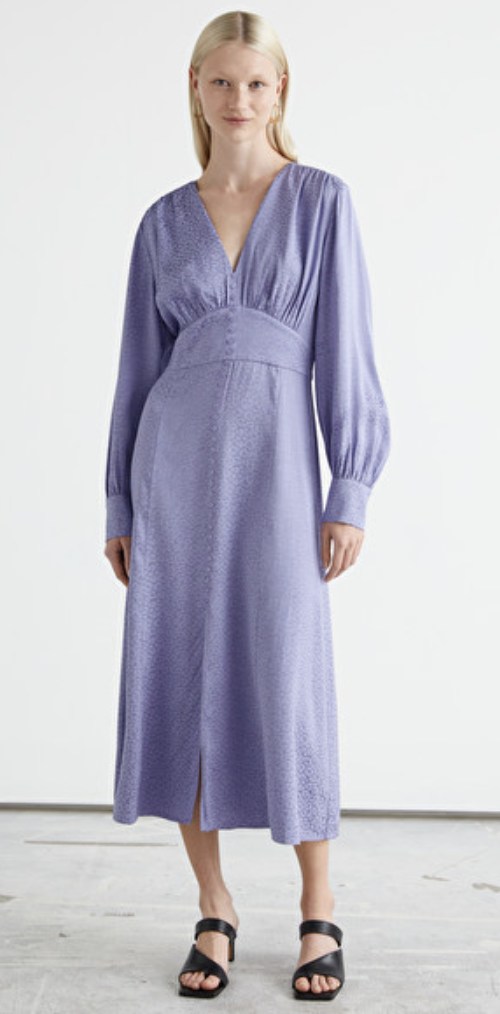 The petite buttons, voluminous sleeves, and subtle leopard-print texture bring an effortless elegance to this dress. And I truly cannot get over this color. You'll have the bride wishing they'd included it in their wedding palette.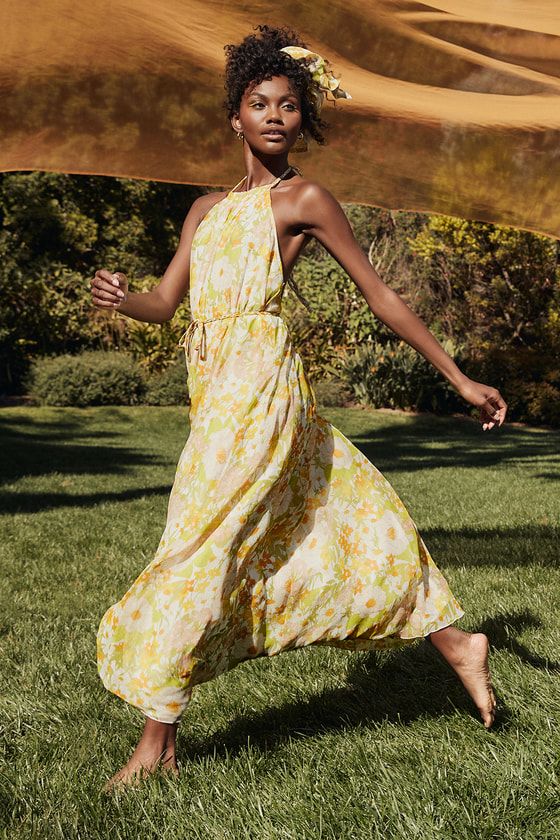 This lightweight chiffon dress will make you want to run through some meadows without shoes on (maybe wait until the bride has had a few cocktails first, though). It has a cool orange, yellow, and green groovy print that's fit for summer.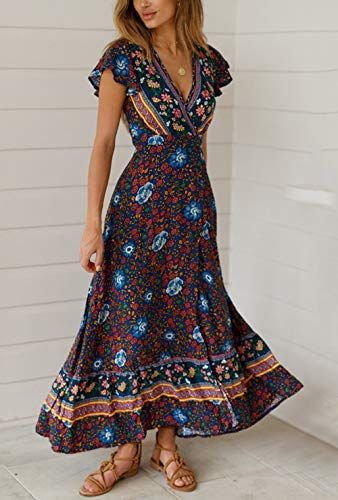 Less than $40?! You have to be kidding me. No one will know that you got this chiffon, vintage-styled dress perfect for a backyard bash on Amazon!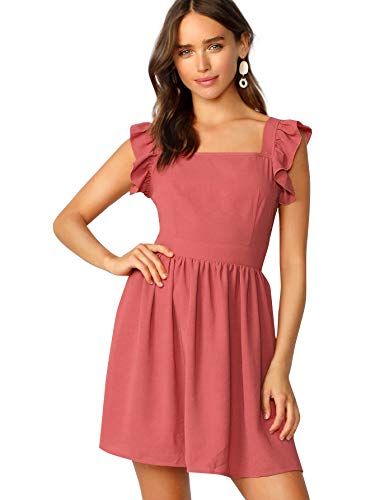 Classic, simple, and bound to be fit for many a celebratory occasion, this dress from Amazon is a must-have. Plus, its elastic waist makes it fit for most figures. Not to mention, it has the cutest little tie back.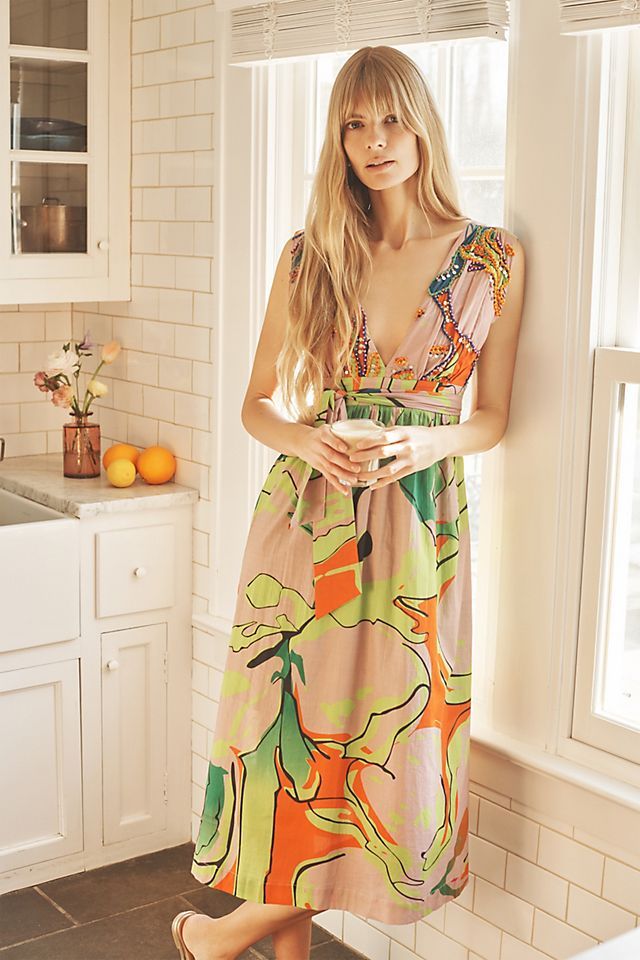 This cotton deep-V dress has beautiful detailing that looks even better in person! You'll look gorgeous sipping a mimosa—and snapping up compliments—at a brunch wedding.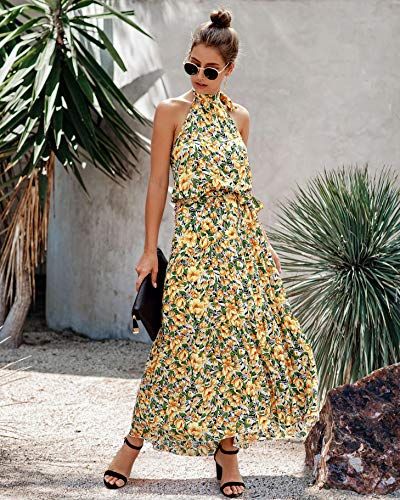 For a casual beach wedding, this dress is perfect. With its halter neck and open back, you'll be ready to take all the Insta-worthy snaps.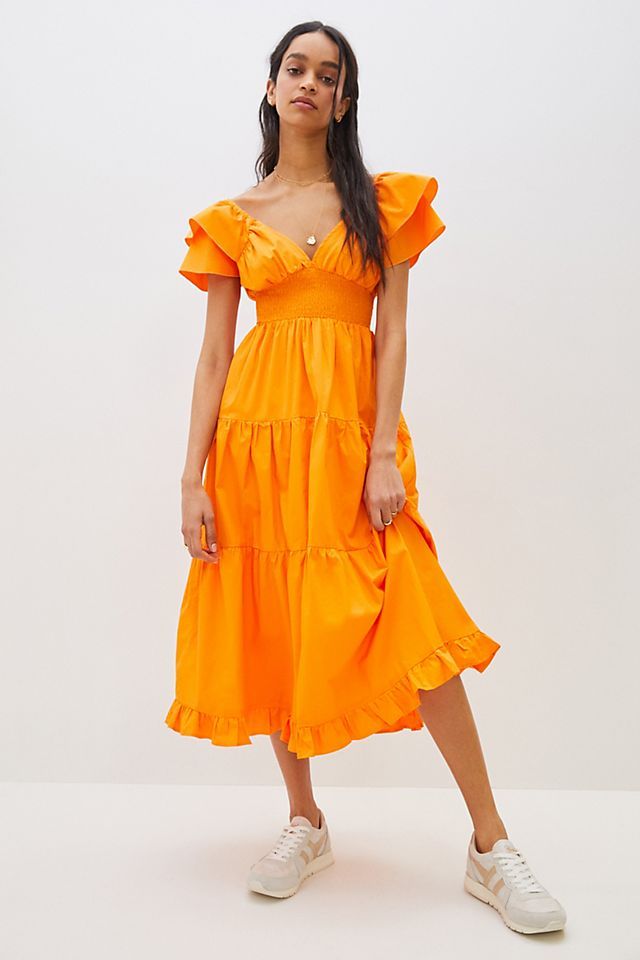 This bright orange maxi is peak showing up authentically. Everyone will be complimenting you on your bold color choice, and you'll be shining bright all night while staying super comfy in this mix of rayon and cotton.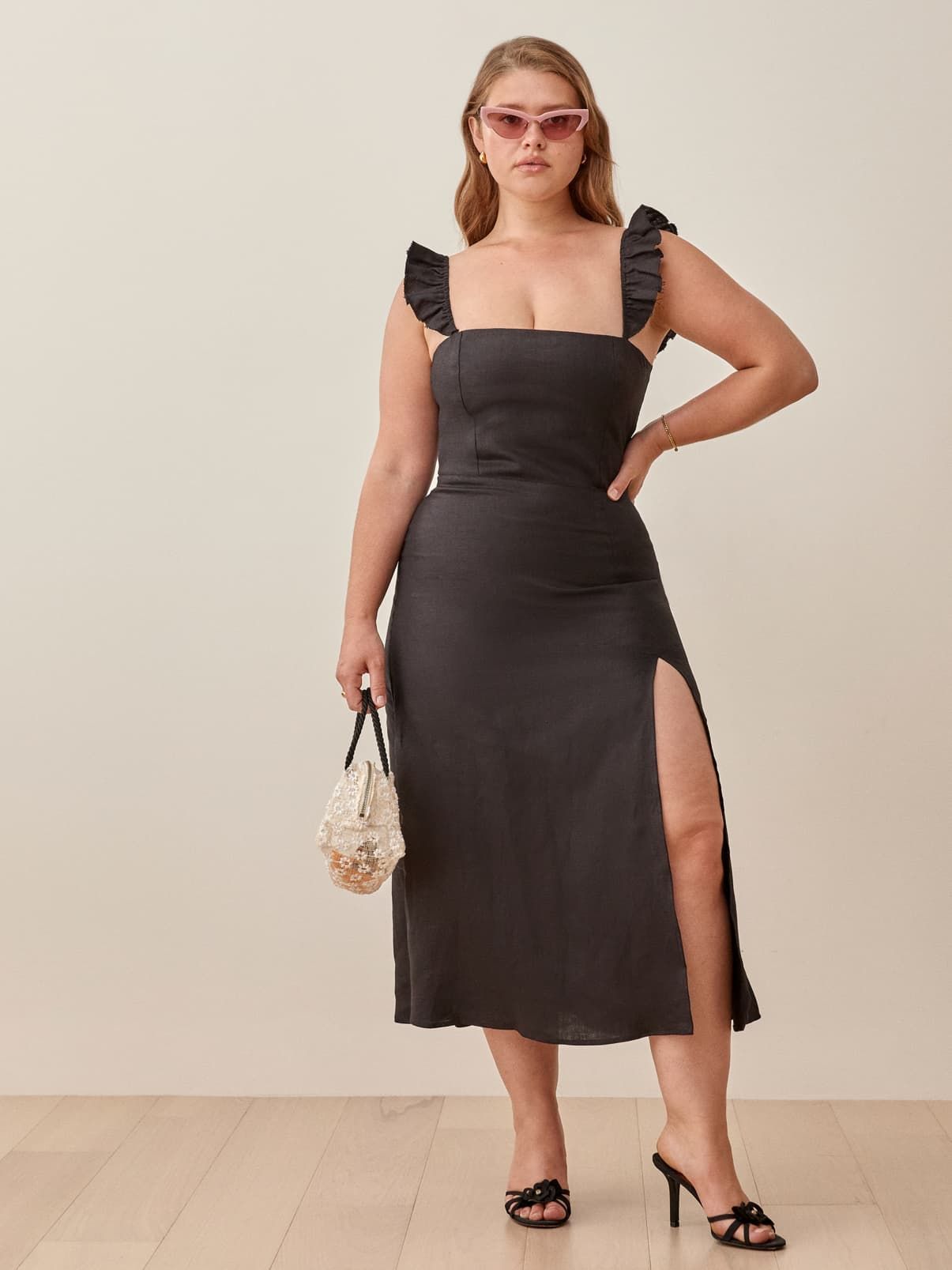 The only words I have for this are classy AF. A sexy black dress gets a summertime twist when it's made of linen. Pair it with a colorful handbag or pair of shoes, and you've just redefined the LBD.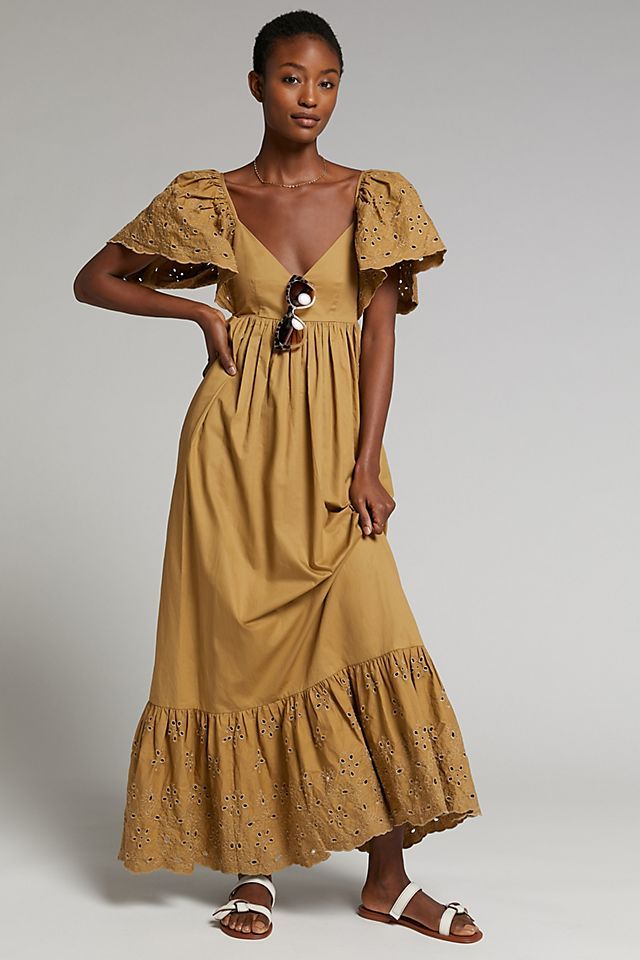 Nothing says "summer wedding" like a long, flowy dress. It features pretty eyelet detailing on the sleeves and skirt. Plus, bonus points for pockets!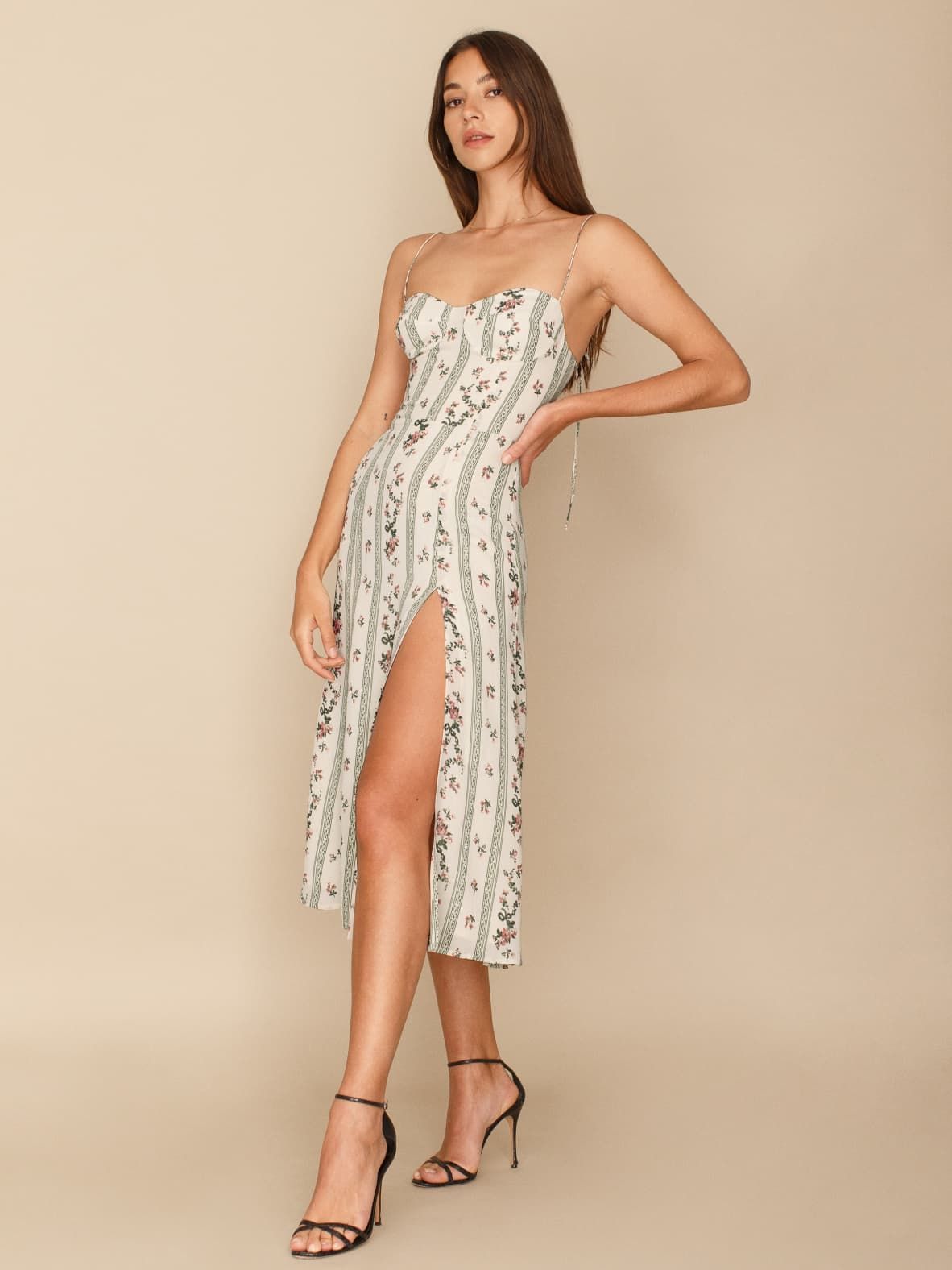 If you're favorite American Girl Doll was Felicity, this dress is for you. The pattern is reminiscent of Felicity's iconic dress, but totally elevated for a unique wedding guest look. The lightweight fabric will keep you cool as you dance the night away.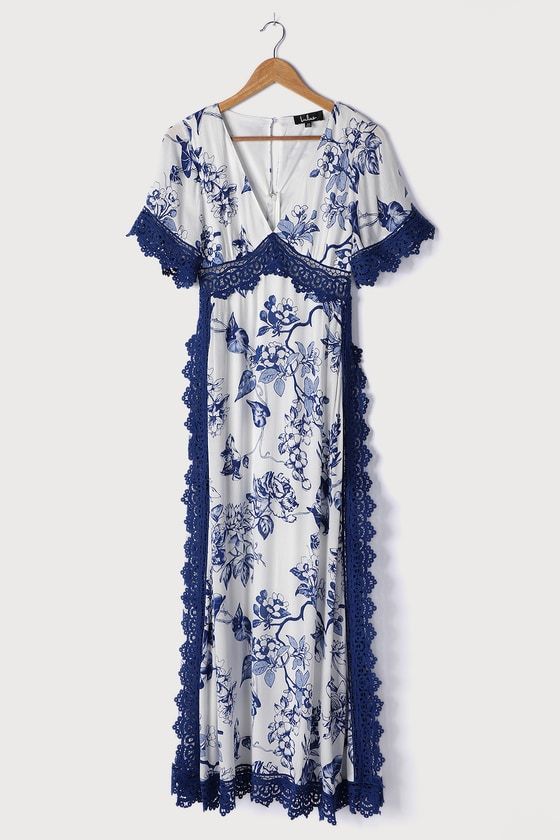 Be the something blue at the next summer wedding you attend with this sweet blue floral dress with lace detailing. The deep V adds a hint of intrigue to an otherwise sweet dress.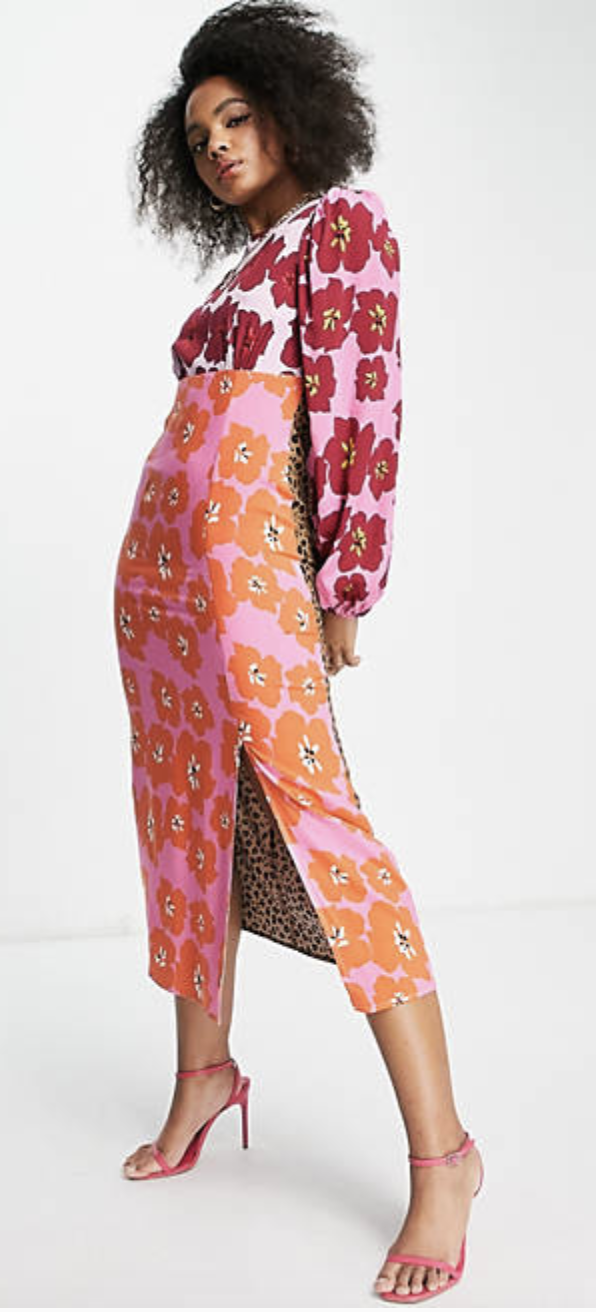 This dress screams "life-of-the-party!" With that slit in the skirt and mix of bright prints, you're bound to have an unforgettable night. It's perfect when you want to have a li'l more fun with an elegant high-neck look.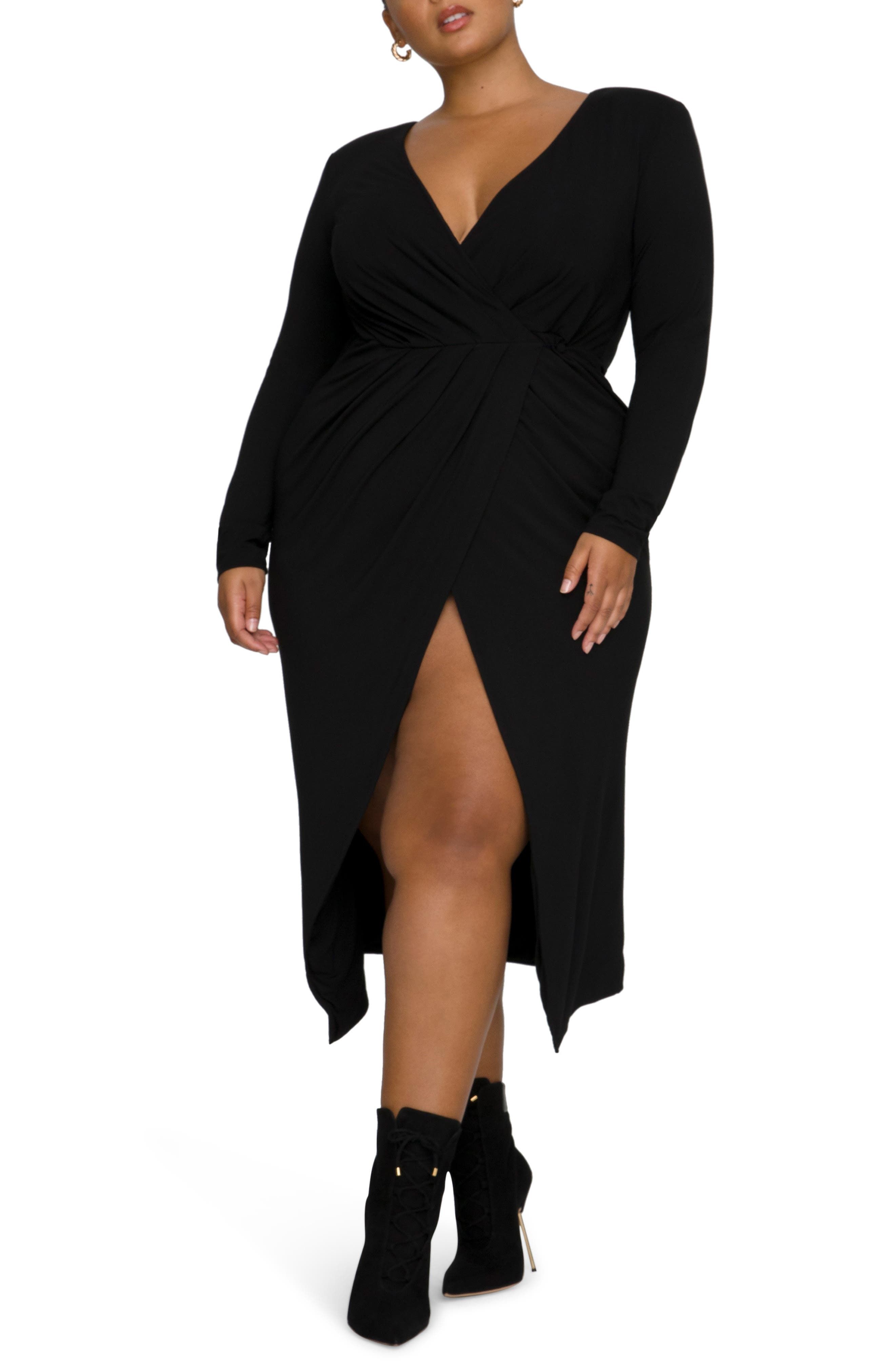 What is more versatile than a black long sleeve wrap dress? The answer is nothing. You could wear this dress to every wedding with a different set of accessories, and nobody would ever know.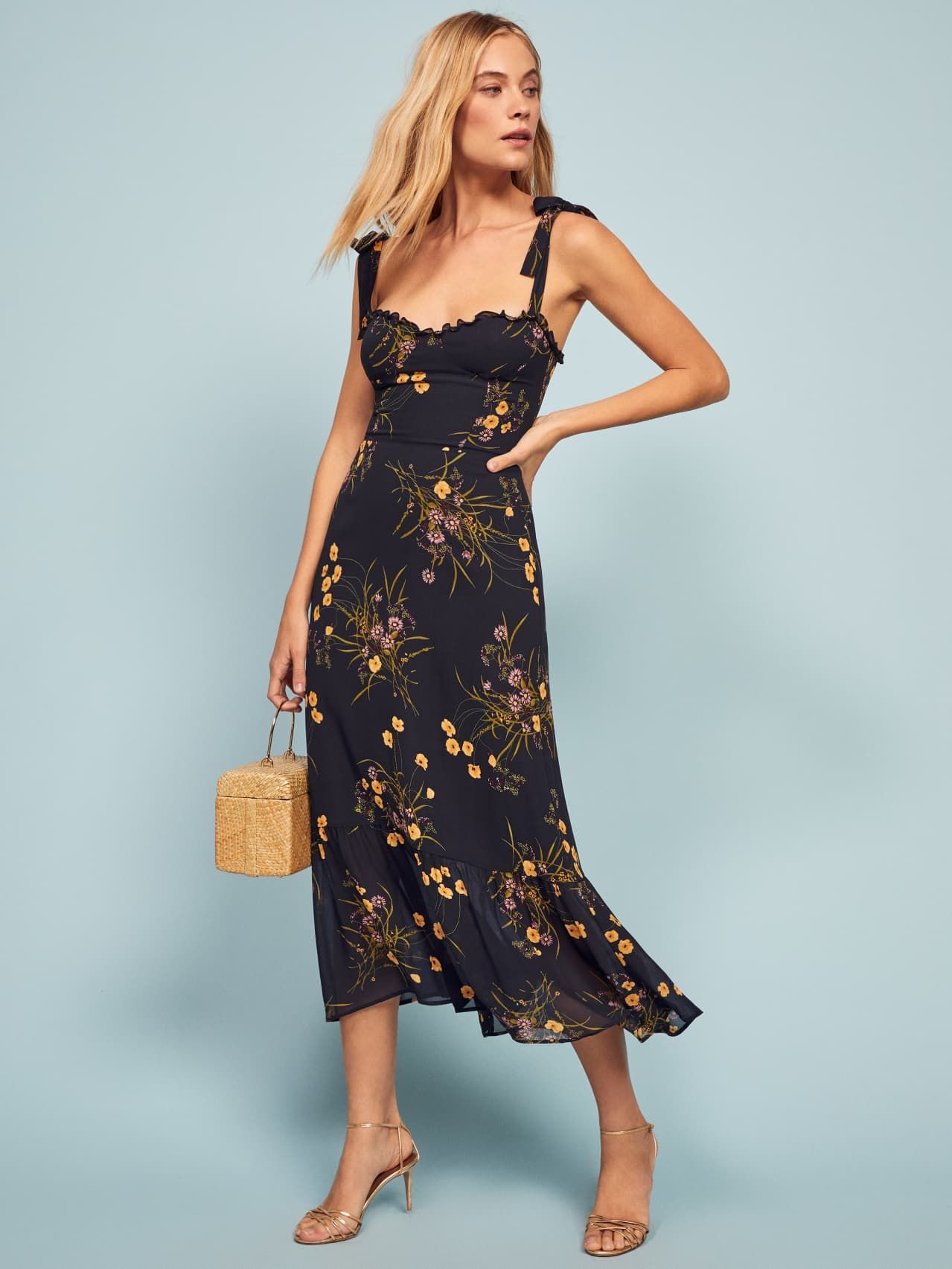 A classic muted floral print is always a no-brainer for a summertime wedding. Reformation makes this lovely sweetheart neckline dress in 10 different prints and colors, so you can pick your fave. Maybe just grab a few of them?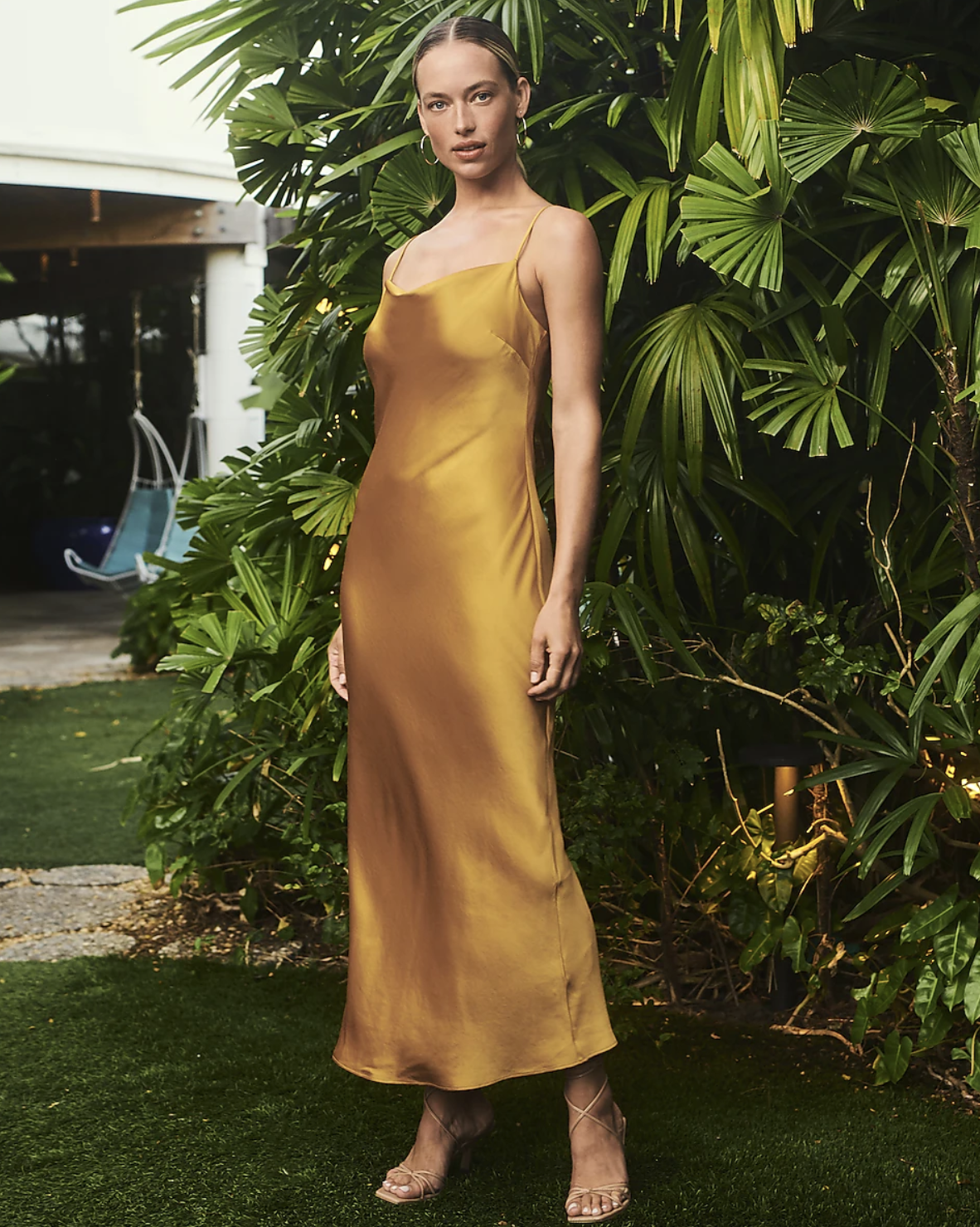 Go for chic elegance with a satin slip dress and slicked-back bun look. The beautiful mustard color makes this classic slip ideal for a summer bash.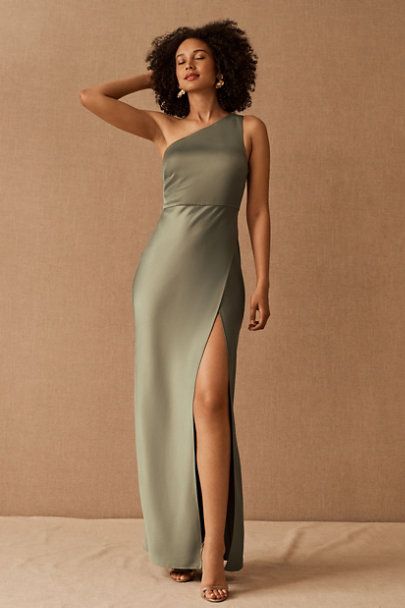 This satin maxi dress comes in moss, cinnamon, and champagne! Whatever color scheme you're feeling, you'll have something to wear to your next black tie wedding.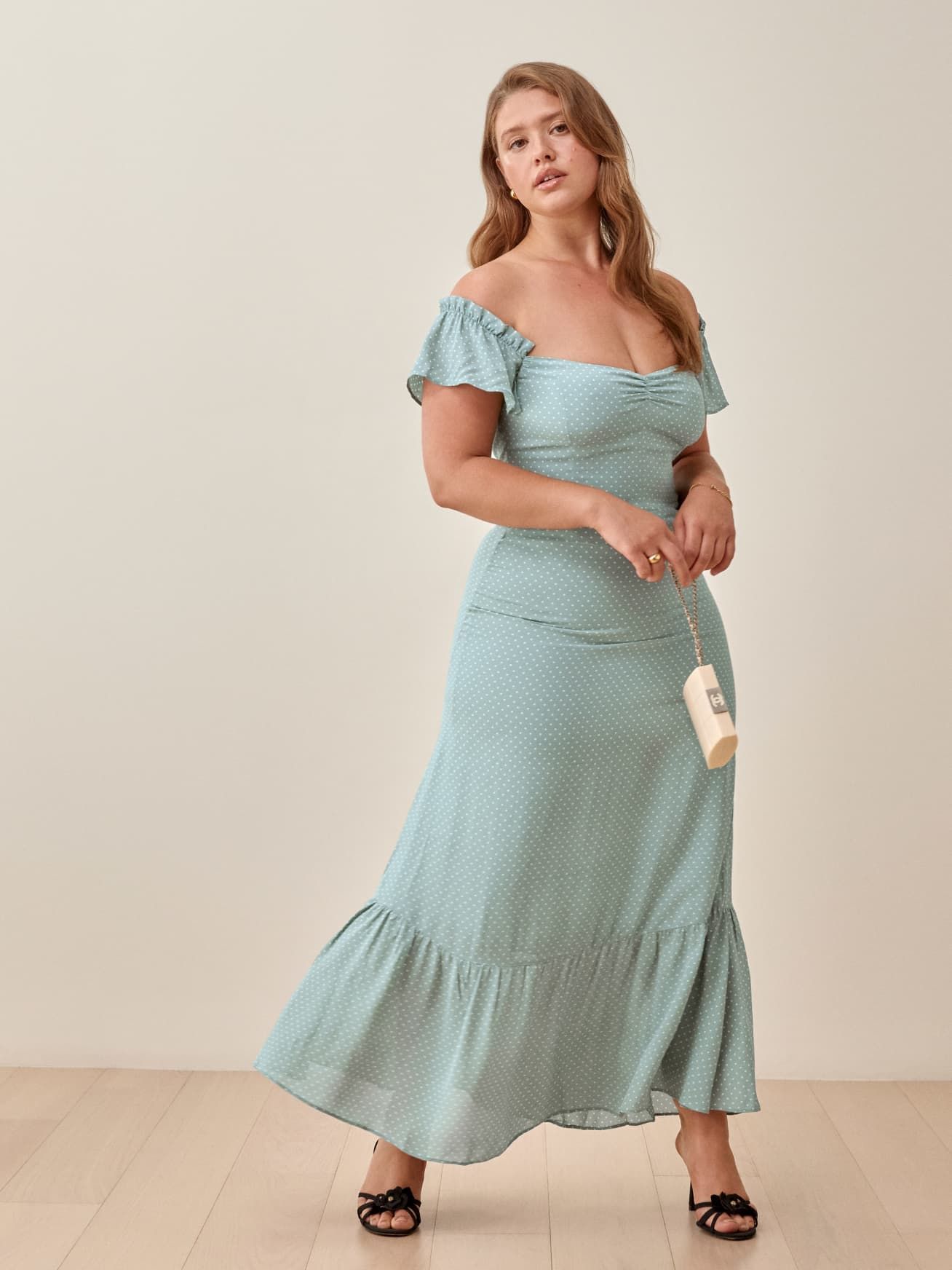 Okay, so yes this dress might a bit expensive, but just look at how gorgeous it is—those ruffled sleeves and that fitted bodice! I have no doubt that you'll dazzle your plus one in this dress at every single wedding you attend.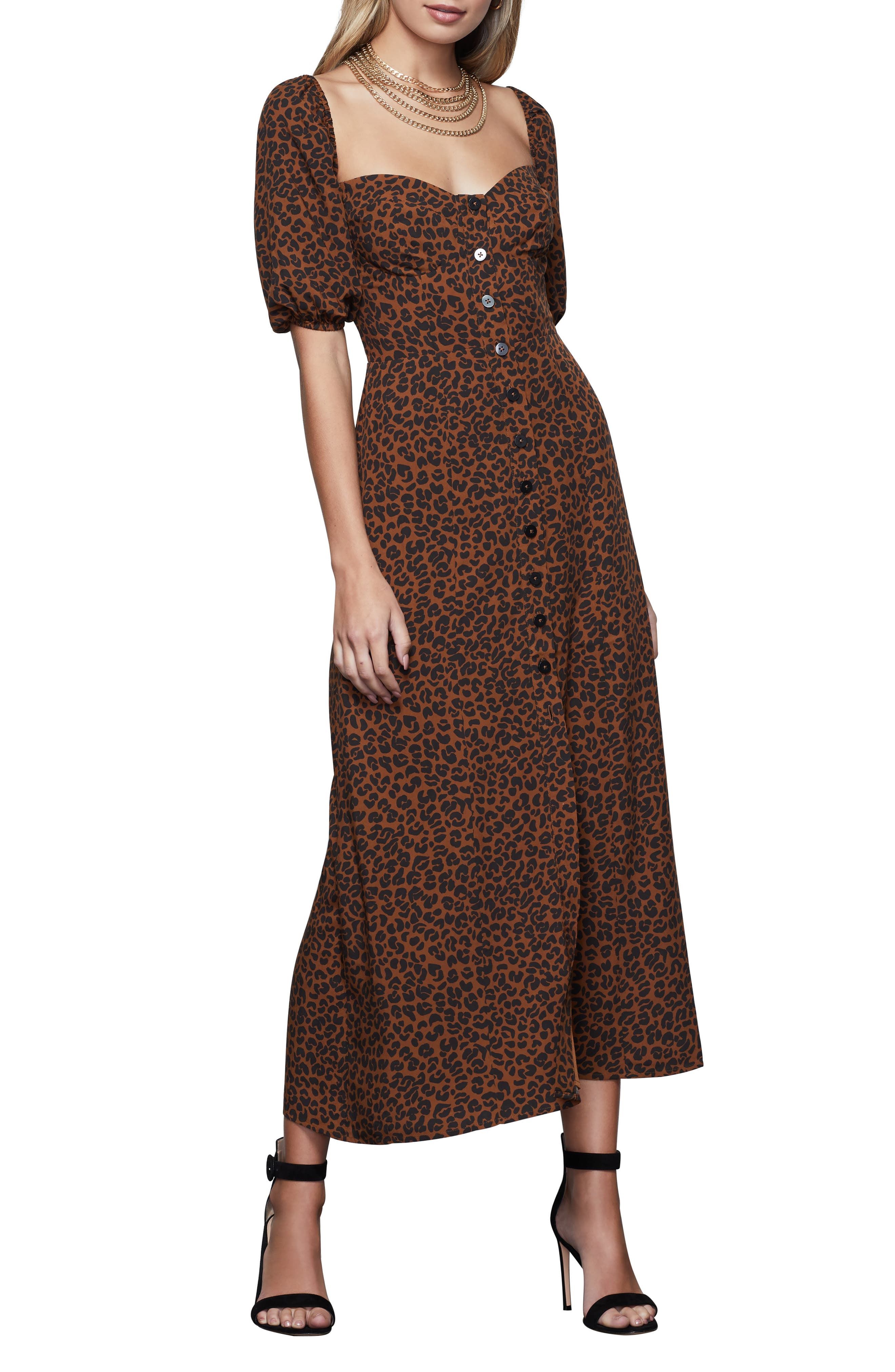 Who doesn't love a puff sleeve to elevate a look?! Best part: This Good American corset dress also comes in plus sizes!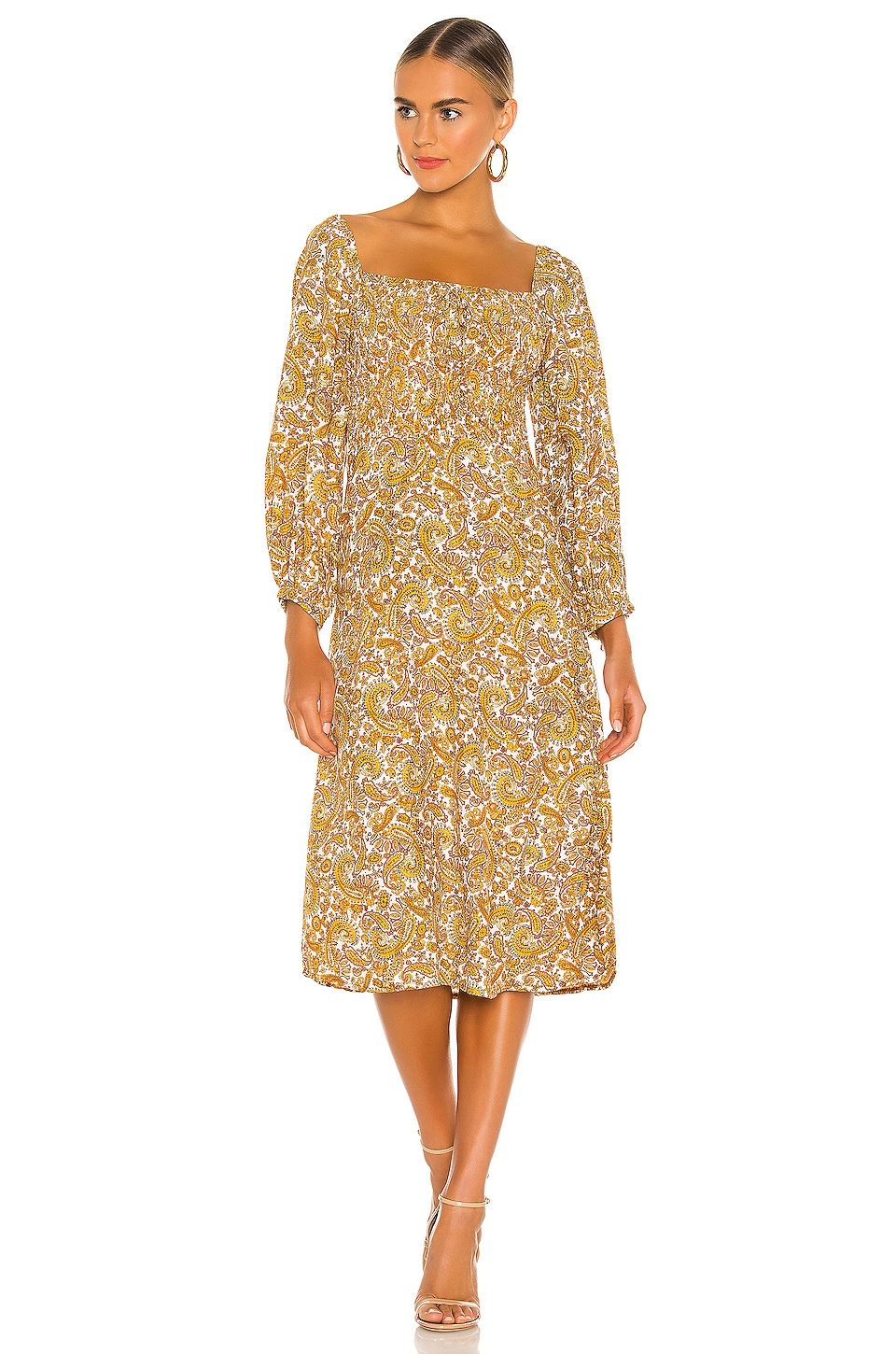 Take advantage of the fact that bold prints rule the summer, and show up in this cute paisley print midi dress. You'll look stunning next to all of the flowers.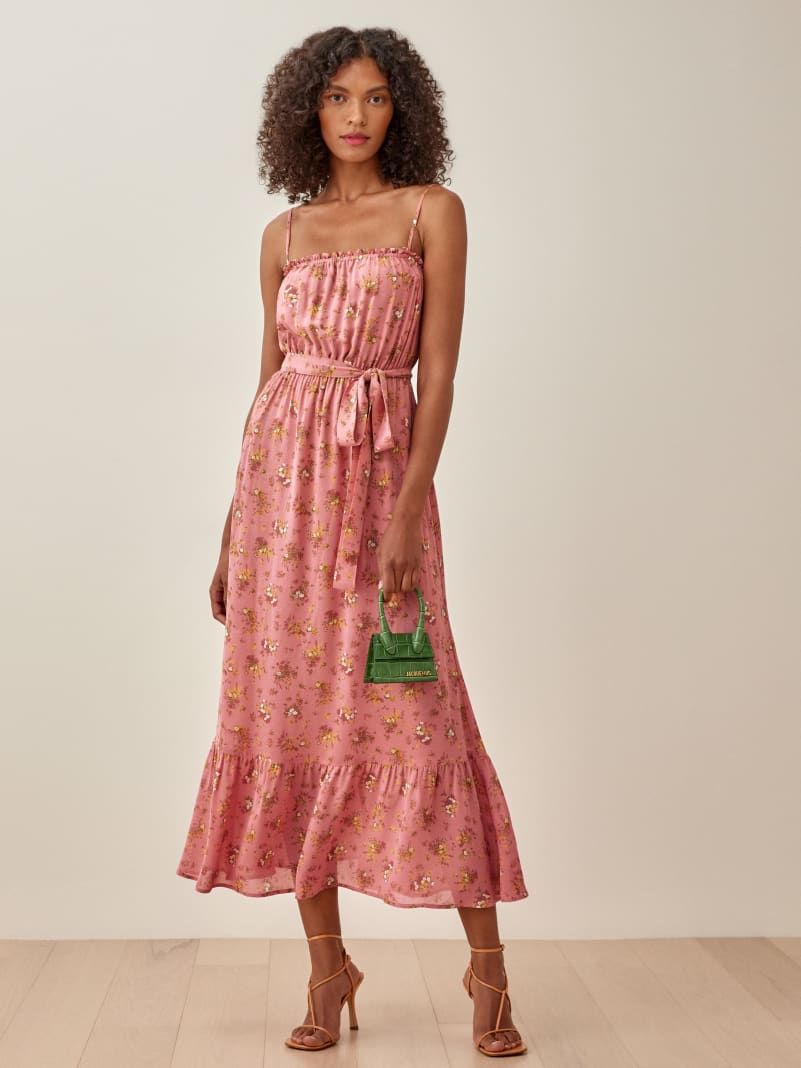 The Margaret Dress has a relaxed fit and adjustable tie to allow for an effortlessly chic wedding guest look. It also comes in white with a blue floral pattern.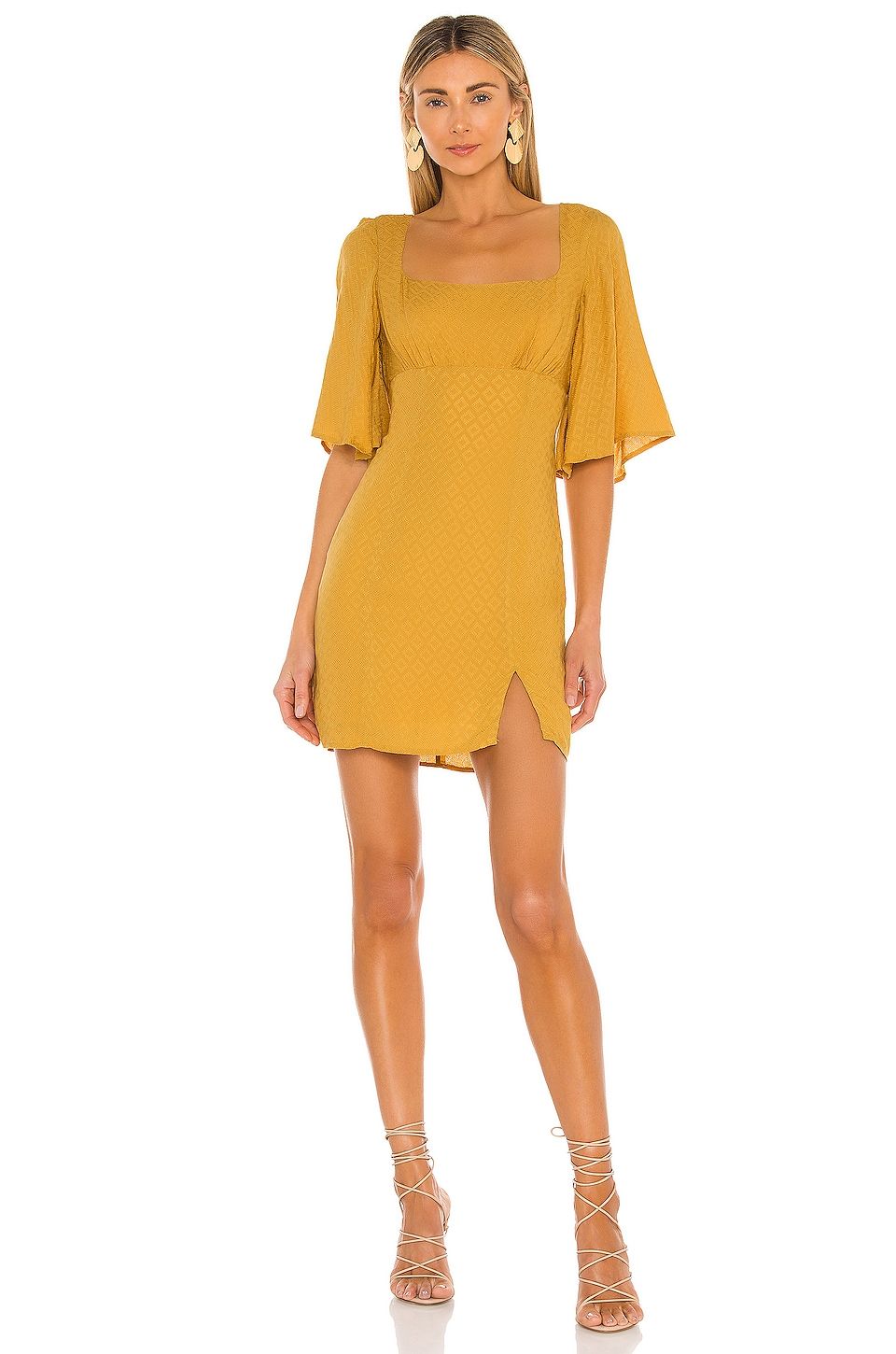 The keyhole back and flowing sleeves are the perfect small details to elevate an otherwise classic fit dress. The mustard color is ideal for summer, too.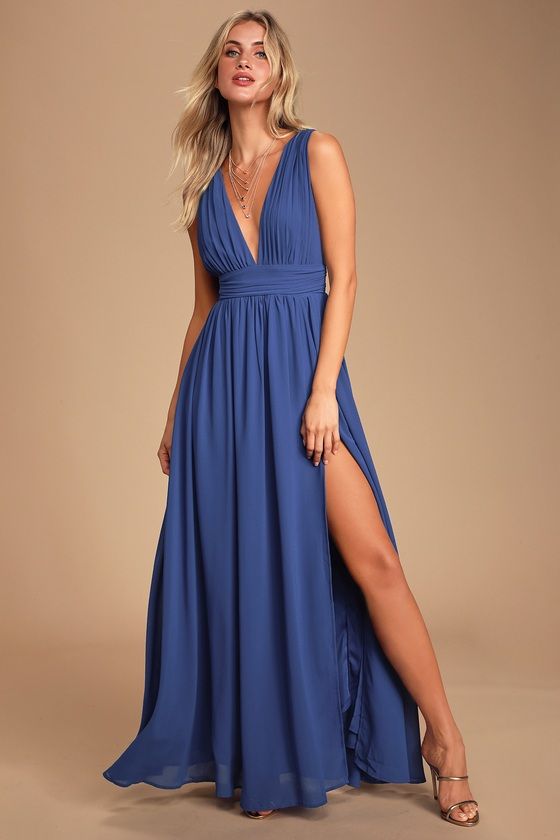 You'll be a goddess in this V-neck and back maxi dress (not that you aren't already)! Not only is it easy as pie to throw on, but you'll definitely be comfy all ceremony long.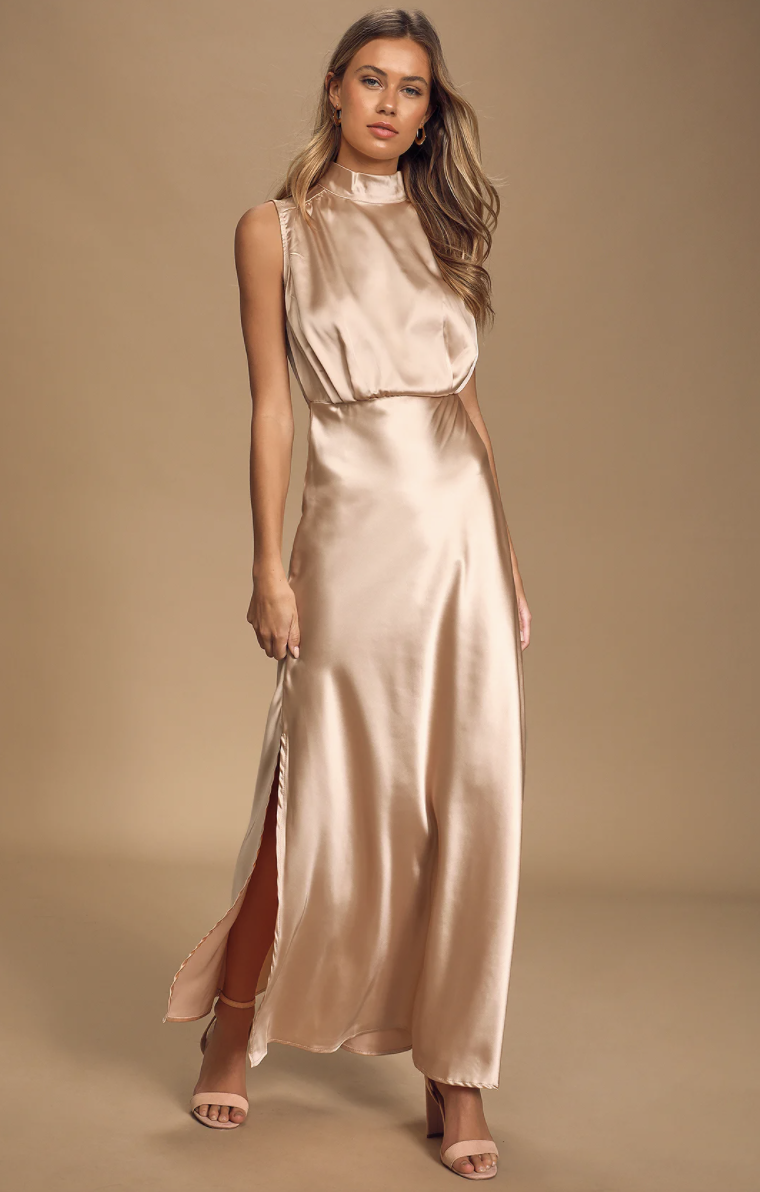 For a more elegant affair, this champagne satin dress will be your go-to. And the best part of all is that it's under $100. What a steal!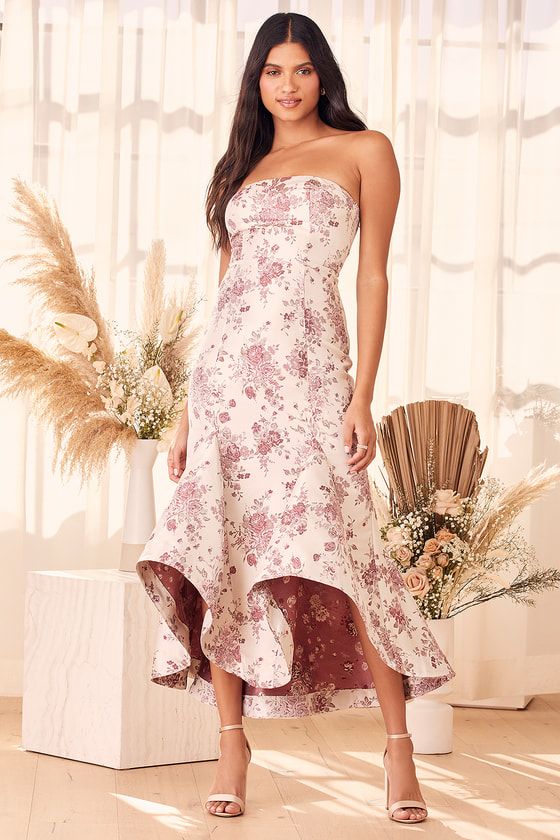 Another gorgeous dress for under $100. The fitted bodice, high waist, and lovely floral pattern are just some of the many delicate details to love about this dress.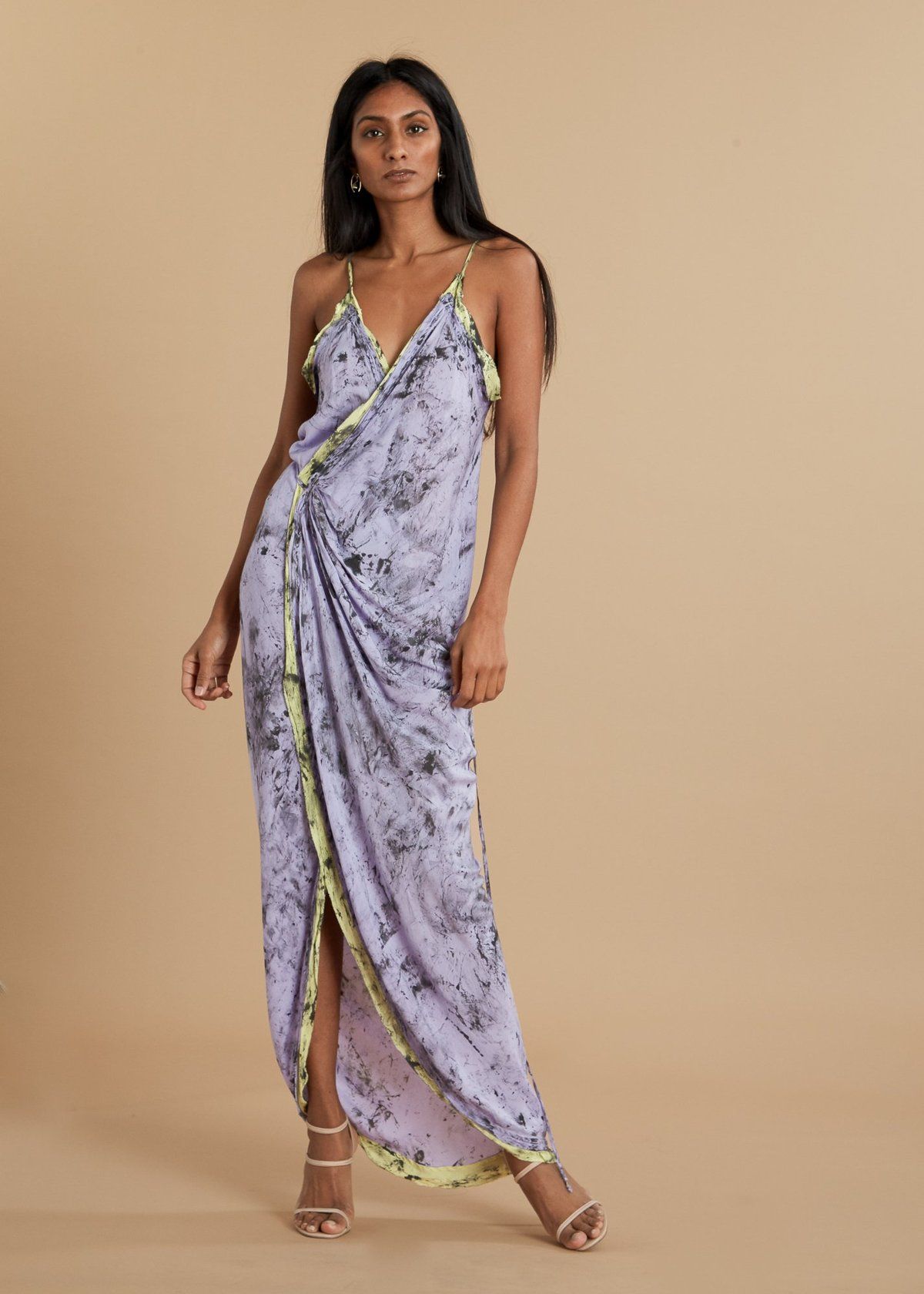 This beautiful purple wrap dress was handmade in South Africa and hand-dyed. (It pulls double-duty and can also be worn as an asymmetric blouse!)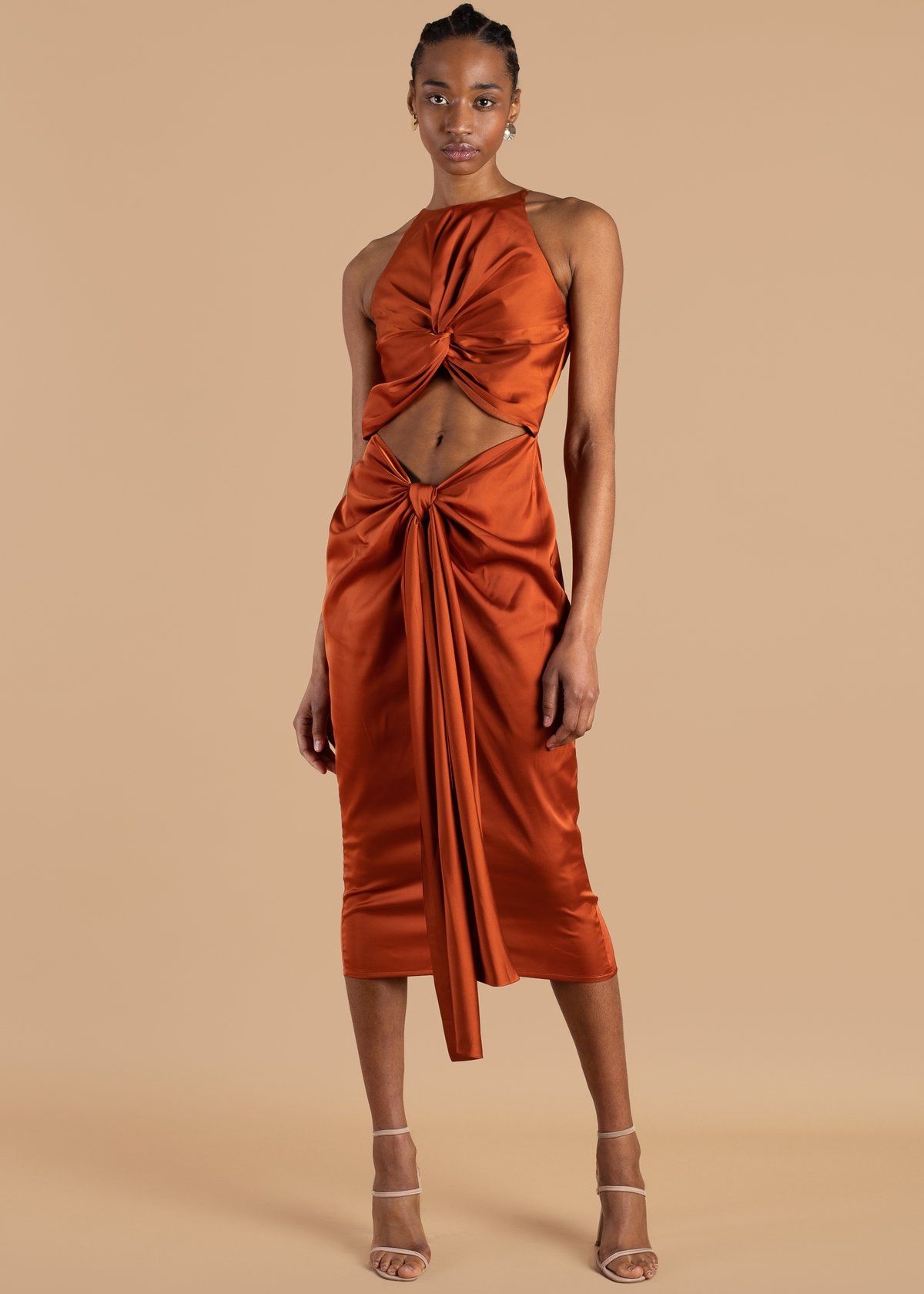 The only response is damn. But seriously, this dress with a silk finish is bound to impress with its statement cutout and metallic orange color.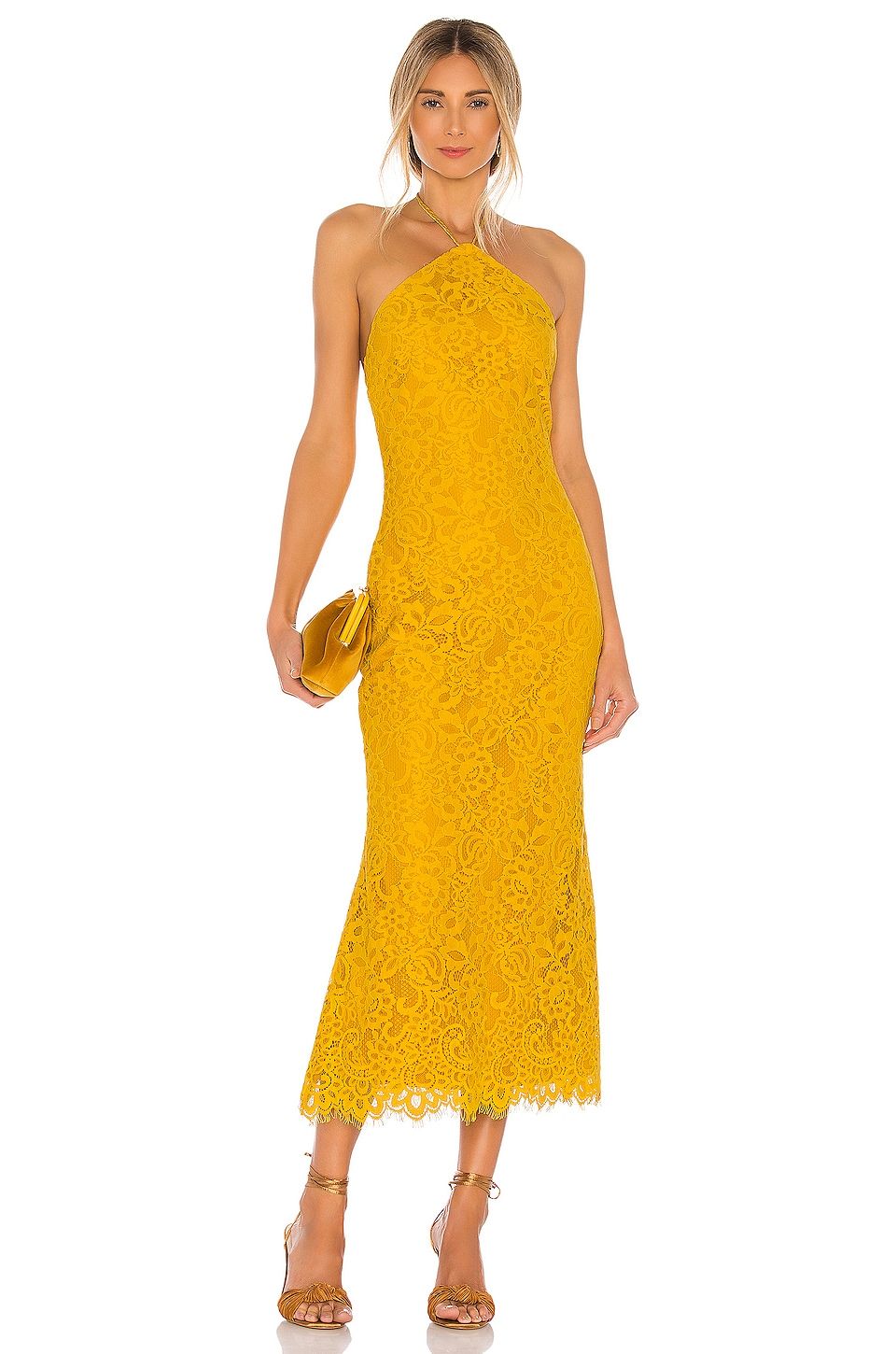 Summer = yellow. I don't make the rules—that's just the way it is. This fully-lined lace dress will fit any warm weather occasion. The detailing makes it fancy, but the halter neck and tassel accents make it suitable for a more casual affair, too.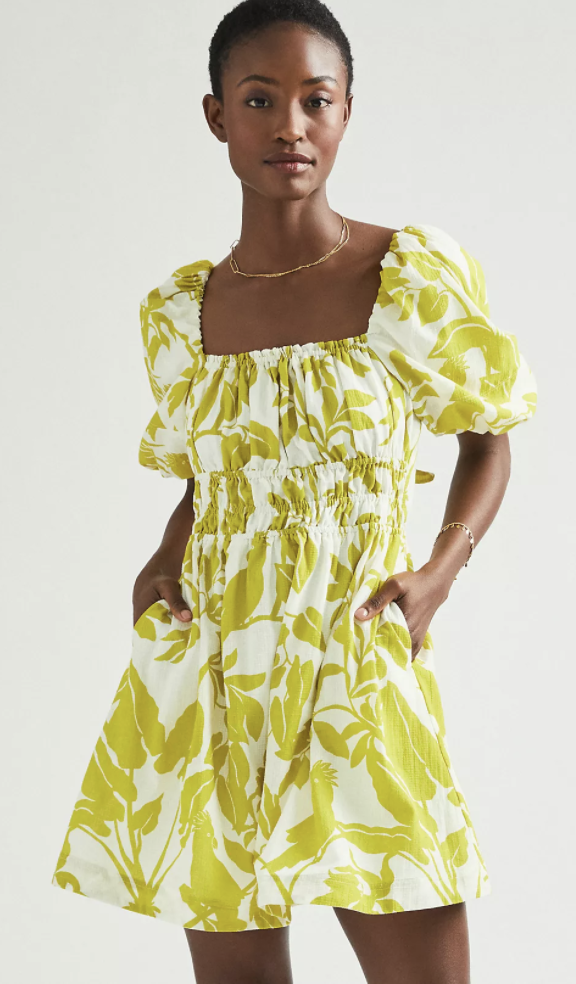 Anthropologie says this has a "twirl-worthy silhouette" and truly what more can you ask for? Well, pockets, and it has those, too.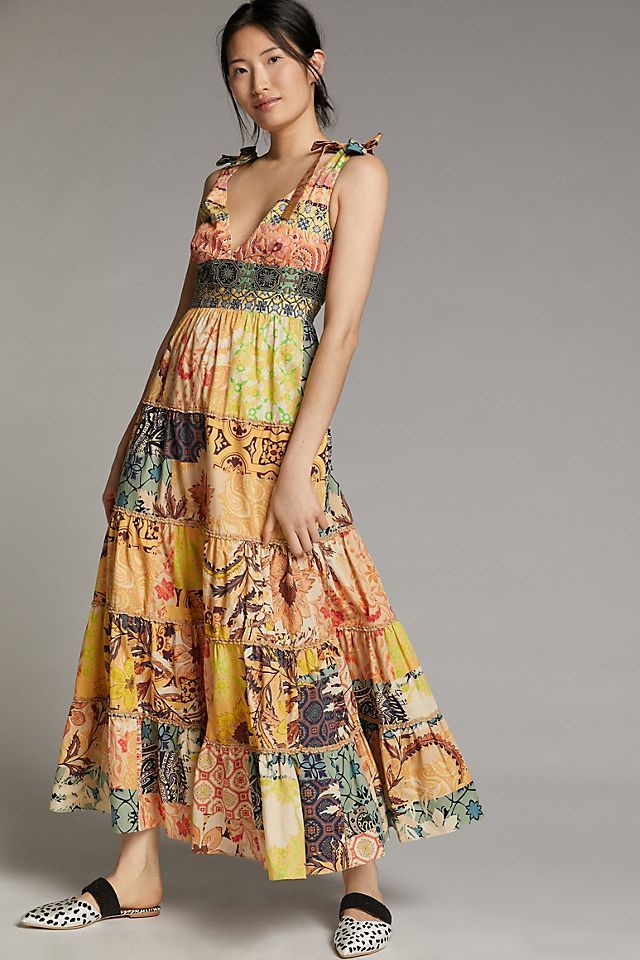 The patchwork design on this maxi dress will make you stand out in a good way! The tie straps are the cutest addition to an already lovely dress.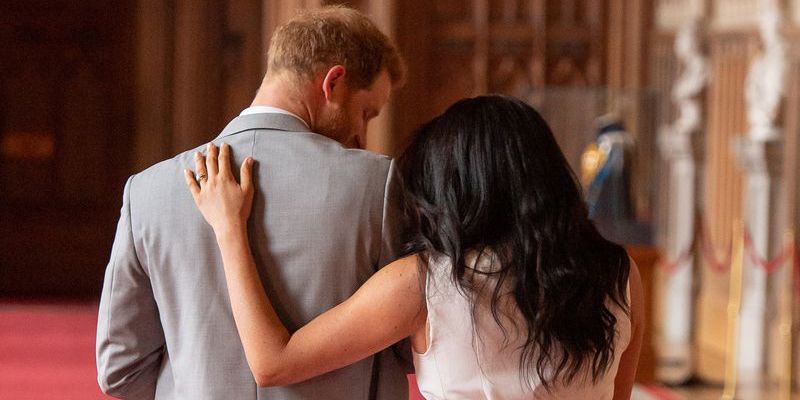 Source: Read Full Article