Where Do Exes Miley Cyrus And Nick Jonas Stand Today?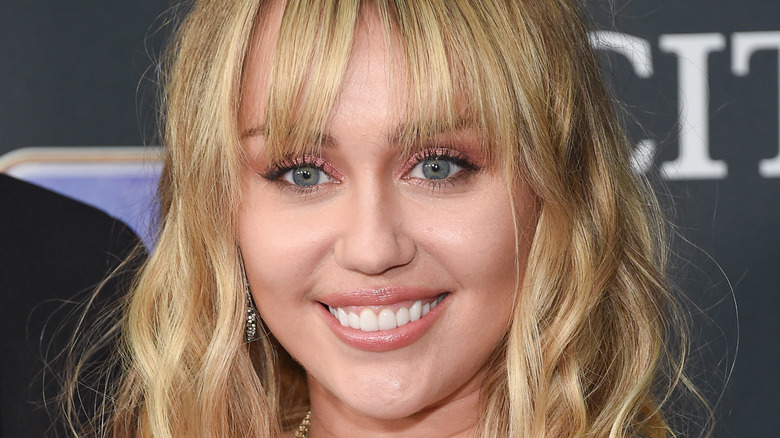 There's nothing sweeter than that very first puppy love. For Nick Jonas, the first girl he laid eyes on and felt that fluttery feeling for was none other than fellow Disney kid Miley Cyrus. The two were just teenagers when they met and it made a serious impact on Jonas. They ran the Disney circuit together for a few months, attending the same press events while getting to know each other.
"We got to be on the 'Hannah Montana' episode on the Disney Channel," Kevin Jonas recalled in the Jonas Brothers' Amazon Prime documentary "Chasing Happiness" (per Insider). "That changed girls for Nick forever. When he met Miley, I think that kid's head exploded."
In the episode, Nick Jonas falls for Cyrus after the two bump into each other in a recording studio. In real life, Jonas fell hard for Cyrus after appearing in the episode. "I started writing about love and I actually knew what it felt like," he said in the documentary. "For the first time, I was asking them the kinds of questions that only a younger brother could ask their older brothers."
Nick Jonas and Miley Cyrus first met in 2006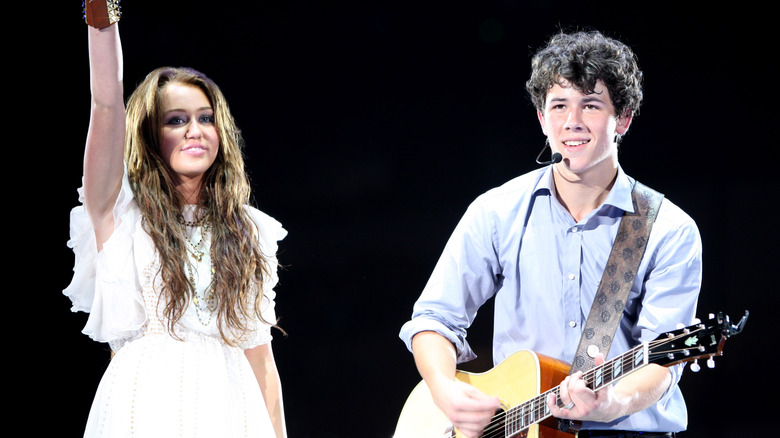 According to Miley Cyrus' autobiography, "Miles To Go," she first met Nick Jonas at the Elizabeth Glaser Pediatric AIDS Foundation charity benefit on June 11, 2006 (per PopSugar). By that summer, the two would be spotted together with Jonas' arm around Cyrus. It was around that time the brothers appeared on "Hannah Montana."
Things got a bit more public when Cyrus joined the Jonas Brothers on stage at the Teen Choice Awards to promote the Best of Both Worlds Tour, which started in October 2007. It was while they were on that tour that the two first split. "Prince Charming and I broke up on December 19, 2007. The hardest day ever," Cyrus wrote in her book. "My life felt like it had ground to a halt, but the rest of the world kept right on rolling. I was on tour. People were counting on me, but my head — no, my heart — was dizzy."
It was tense between the two as they completed the tour and promoted the 3D concert film that went with it. "I bawled for a month straight," Cyrus told Seventeen of the breakup (per E! News). "I was so sad. I just went into this weird funk. And I dyed my hair black."
Miley Cyrus wrote one of her most iconic tracks about Nick Jonas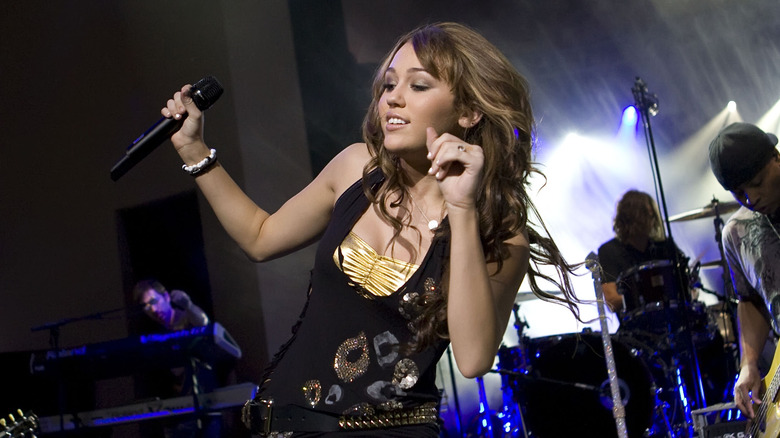 Miley Cyrus did what any artist struggling with tough emotions would. She poured her heartache into her work and wrote "7 Things," her first big single outside of "Hannah Montana." In the music video, she even hinted it was about Nick Jonas by wearing a medical dog tag her Type 1 Diabetic former flame gave her (per People). It would take Jonas 10 years to publicly comment and acknowledge he knew the song was about him. 
"I've heard that rumor, I've never directly heard that from Miley but she does wear a dog tag that I gave her when I was 14 (in the video)," he said in a radio interview (per Orangeville.com). I was actually kind of flattered to be honest because it's there forever and I know it's about me."
Fast forward to 2009 and the former couple seemed to work out being friends. She even appeared on the Jonas Brothers' track "Before the Storm," which is allegedly about their breakup (per PopSugar). Many fans hoped for a Niley reconciliation, but it wasn't in the cards as they both moved on with other people.
The two would find their way to friendship over the next decade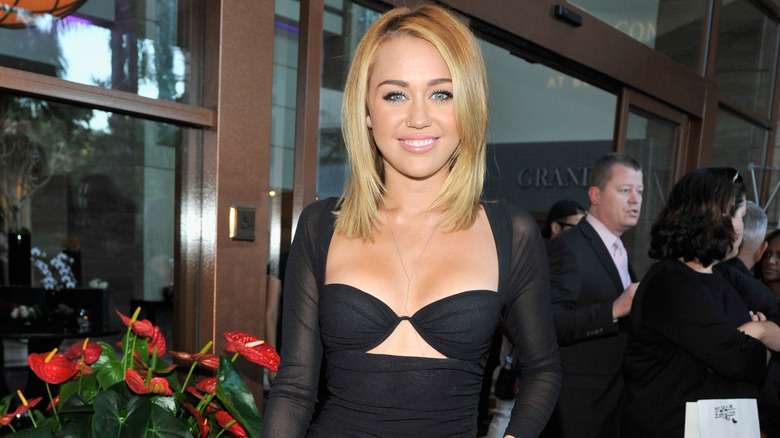 Miley Cyrus would meet on-again-off again love/first husband Liam Hemsworth in 2009. Nick Jonas reportedly struggled watching this relationship from afar. Cyrus and Hemsworth's engagement led Jonas to pen "Wedding Bells," a track about wanting a second chance with someone headed to the altar (per MTV). 
Cyrus commented on the song and said that hearing about your former relationships on the radio is kind of standard in the industry. "Like I said, everyone has to write songs that are about things that they felt and he even introduced that this isn't the way that I am," she told Ryan Seacrest on his radio show (per E! News).
"So, you can't ever hate on someone for writing about something you've been through. I think that you kind of get a fair warning when you date an artist and someone that's a writer — when you're going through things that you're going to end up hearing about it on the radio."
Miley Cyrus is even friendly with Nick Jonas' wife today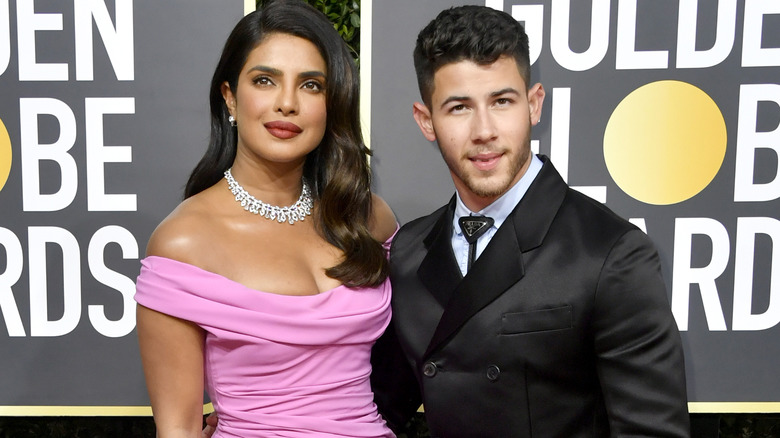 What a difference another decade makes. Fast forward to 2021 and things look very different for both Miley Cyrus and Nick Jonas. Cyrus and Liam Hemsworth did eventually marry, only to divorce a few months later (per People). 
Jonas married actress Priyanka Chopra in December 2018 (per Brides). It seems that Chopra and Cyrus are even friendly. Back in 2019, Cyrus shared some throwbacks from her Disney Channel days. Jonas messaged her to tell her he was loving the photos, which Cyrus later posted a screenshot of (per BuzzFeed). This led to the two following each other on Instagram again. "That moment when even your ex knows your socials have been 🔥🔥🔥🔥🔥🔥🔥🔥," she captioned the photo. 
Chopra commented adding, "Lol. Hahaha .. Hubby is right. These posts r 🔥," she agreed. For Niley fans all grown up, it was nice to see their favorites interact, all grown up, and secure in their own happiness.
Source: Read Full Article