"We Love You Taylor" Trends Worldwide on Twitter After Scooter Braun Sells Taylor's Masters for $300 Million
Remember when Taylor Swift called out celebrity manager Scooter Braun for purchasing her masters and bullying her in a lengthy Tumblr post? Well, Taylor went back for round two (and three)…and honestly, it's a lot.
Here's the lowdown on why Taylor Swift and Scooter Braun dislike each other and why trouble with Big Machine Records is trending on Twitter (again).
It all started with a fight over Taylor's music masters.
Taylor Swift and Scooter Braun's fight had legs beyond just the 2019 AMAs or her Netflix documentary, Miss Americana). In a nutshell, Taylor left Big Machine Records (where she recorded her first six albums), then Scooter Braun acquired them, which means he's now in control of most of her work. Taylor was NOT happy about that, especially since she had been trying to buy back her own masters herself.
Neither of them seem to agree on the series of events, though, and you can read all about that background here.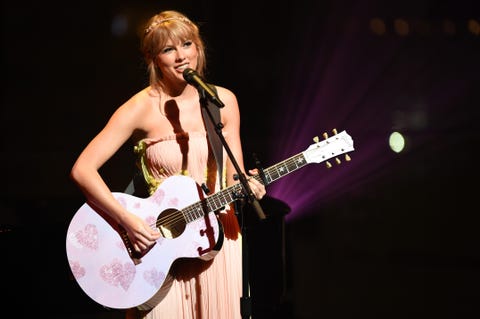 Things kicked into high gear with a Tumblr post.
In a November 14, 2019 Tumblr post (where else?) titled "Don't know what else to do," Taylor slammed Scooter and Big Machine Records CEO Scott Borchetta for allegedly preventing her from performing her old songs during a medley at the 2019 AMAs, where Taylor received the Artist of the Decade award.
She added that Netflix created a documentary about her and that Scott and Scooter declined the use of her older music and performance footage for the project. And apparently, the only way they would have let her have access was if she didn't record "copycat versions" of her old songs, and if she stopped talking about them altogether.
Taylor also asked fans to "let Scott Borchetta and Scooter Braun know how you feel about this," adding that they could lean on the other artists Scooter manages (Demi Lovato and Justin Bieber, to name a few!).
Big Machine Records then fired back in a lengthy statement of its own.
The feud only got nastier after that, you guys. The day after Taylor's Tumblr post went live, Big Machine Records, Taylor's former label, issued a very lengthy statement on its website and straight-up said, "Taylor, the narrative you have created does not exist," which eep!
The statement read:
Oh, and if this whole situation wasn't already messy enough, Big Machine also accused Taylor of "contractually owing millions of dollars and multiple assets to our company, which is responsible for 120 hardworking employees who helped build her career."
The statement continued and requested a private conversation with Taylor to sort the matter out: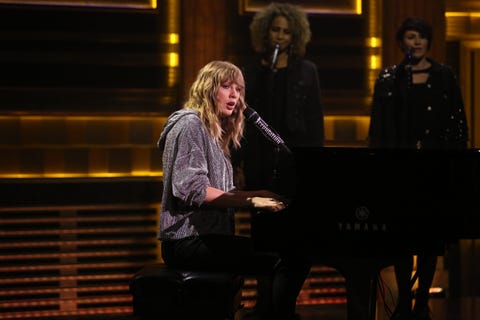 Team Taylor vehemently disagreed.
The same day Big Machine Records dropped their statement, Tree Paine—Taylor's representative—issued her own statement claiming that Big Machine indeed denied Taylor the opportunity to use her old music in her AMAs performance.
Oh! And that other part when Big Machine claimed Taylor owed them a million dollars? Yeahhh, Tree said that was a lie too, and Big Machine actually owes Taylor $7.9 million in unpaid royalties.
Tree posted this in an official statement to her Twitter page that had all the tea and BOY—it was hella dramatic. She wrote:
But then Taylor got the green light to play her music at the AMAs!
Justice was served! Nine days before the AMAs, a Big Machine executive told TMZ that "Taylor Swift can 100% perform all of her catalog, past and present, on the AMAs," which sounded great, but like…huh?
Apparently, the true holdup on Big Machine's end was that they weren't certain of what happens to a live AMAs broadcast after airing on television. So Big Machine, along with Dick Clark Productions, clarified that Taylor can perform any of her songs at the show—including re-broadcasts.
The companies reached out to TMZ to issue a joint statement and said:
Scooter said Taylor's fans were threatening his children and asked her to intervene publicly. She did not.
Scooter spoke publicly on the issue two days before the AMAS—after six months of silence, mind you— and called the entire thing a "miscommunication" at heart.
He added that he received some pretty horrible blowback for being involved. He also said some Swifties have gone as far as threatening the lives of his children.
https://www.instagram.com/p/B5KRVxYn4E3/?utm_source=ig_embed&utm_campaign=loading
A post shared by Scooter Braun (@scooterbraun)
Taylor performed her music at the AMAs with a hefty side of shade.
Once AMAs day finally arrived, Taylor performed some of her biggest hits from her catalog and of course, there was some shade thrown in for some good measure…but it was so quick honestly that you might have missed it.
As Taylor performed, the background lit up and literally looked just like the Big Machine Records logo. A coincidence? I think not!
Source: Read Full Article