Tori Spelling's daughter read about her dad's affair: 'It really upset her'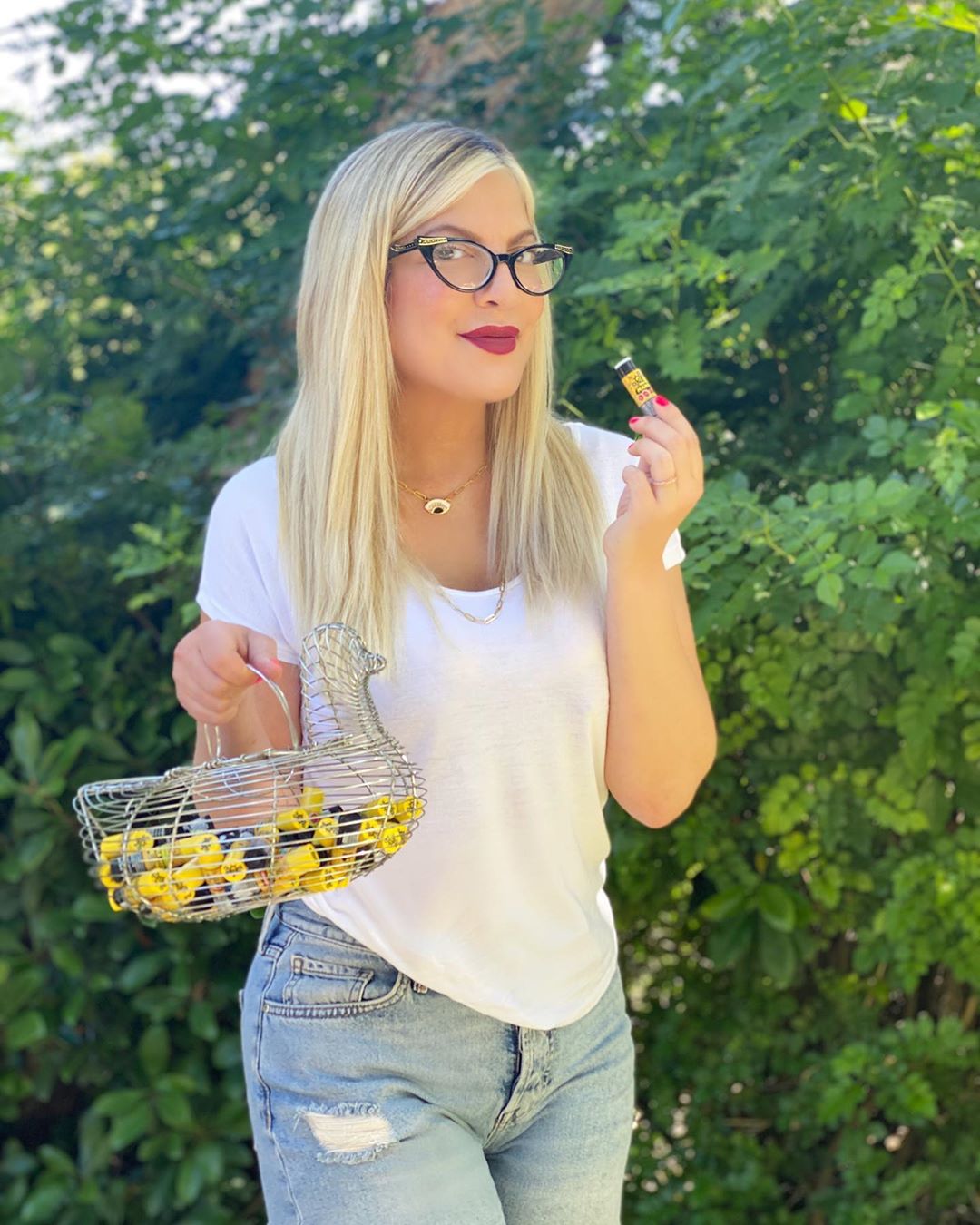 Tori Spelling was a guest on the Women on Top podcast, which I tried to listen to but found quite annoying. The hosts, Roxy Manning and Tammin Sursok, kissed Tori's ass when they introduced her and talked about what a great mom and person she is. There are certain things I will not do for this job, so I'm relying on People's reporting. Tori said on the podcast that her biggest fear was Dean cheating on her. When he inevitably did, and they conveniently made it into an entire storyline for their reality show, Tori didn't think about her children reading about it someday. She said that her daughter (I'm assuming it was Stella, 12) did and that it upset her.
During a recent appearance on the Women on Top podcast… Spelling explained that while she's proud she didn't hide her marital issues from the cameras, her young children have been given access to that information due to it being posted online.

"My kids have not seen clips, but they've seen something out there online and my daughter saw something," Spelling said. "It really upset her."

Spelling and McDermott share five kids: daughters Stella, 12, Hattie, 8, and sons Liam, 13, Finn, 7, and Beau, 3.

While Spelling said she is "so proud" that her story "lives online" and admitted "that's not something you think about in that moment," navigating their relationship after the scandal was difficult.

"My biggest fear in our relationship was I was like, he's going to cheat on me, he's going to cheat on me, he's going to cheat on me," she said. "So when it happened, I was like, 'See, I always thought from day one he was going to cheat on me,' and it wasn't about him, that was about me. I was like, 'Okay, I know I'm not good enough,' that's how I felt about myself and one day he's going to realize that and he's gonna find someone else."

Spelling said that before the affair took place, she used to tell her husband: "I'm so scared you are going to cheat on me."

"He [would be] like, 'Why are you? I've never given you a reason.' Then when it happened, I was like, 'Oh my God, see, you cheated on me,' so it was a hard thing to navigate," said Spelling.

Choosing to forgive, Spelling said she and McDermott have been able to move forward and she's happy she decided to stay in her marriage.

"I don't bring it up all the time, and when I do bring it up he listens and he understands," Spelling shared. "We did have a rebirth after that happened."

"This happened and rocked our foundation and we have no choice — we either start over or move on. … It was madness. Everybody out there was like, 'F— him … and I was like, 'I love this man and I have children with this man and everyone makes mistakes.' "

Spelling asserted that she didn't stay because she had to, but rather because she wanted to.
[From People]
The reason all this information about Tori's husband cheating on her is online is because Tori and Dean were doing a reality show at the time. Bedhead was working with us back when that story broke and I remember her coverage on it. I'm not even sure that story was true, the alleged mistress was named "Emily Goodhand" and she was from Canada. It all sounded so fake. I'm sure Dean cheated on Tori because he cheated on his then-wife with Tori when he met her (and Tori was cheating on her then-husband with Dean too), but I think they made up fake details to milk it for headlines.
Did Tori's daughter see anything about all the lawsuits against her after she failed to pay multiple creditors? Did she read about the fact that her parents had their assets seized by the IRS and the court? That's really what she should be ashamed about. Also, if Tori really cared about her daughter's feelings she wouldn't be telling this story to the public. That's like a double whammy to a teen.
A post shared by Tori Spelling (@torispelling) on
A post shared by Tori Spelling (@torispelling) on
I can't believe today is our 14 year anniversary! – This pic of @imdeanmcdermott and I was taken just 6 months after we got married on May 7, 2006. I was preggers with our first babe Liam. Now, 14 years later we have 5 beautiful kiddos together. Liam, Stella, Hattie, Finn, and Beau are true creations of our love and passion for each other. Beautiful blends of the two of us. And, I have my bonus son Jack who I love & adore! Also, 5 fur babies, 6 piggies, 2 bearded dragons, and a guinea pig. Our lives are chaotic but always fun and never boring! – Thank you @imdeanmcdermott for being my chosen human in this lifetime. My partner in crime and my best friend. You are an amazing papa bear and I love that you always have my back no matter what! Thank you for loving me and I promise I am still fun! Life just gets stressful sometimes but thru it all we have each other. One day we will get back to Fiji where we became husband and wife and started our journey of a lifetime. I love you with all my heart and soul. Always Your TT Girl xoxo #anniversary #14years #soulmate #happyaniversary❤️
Source: Read Full Article