The Transformation Of Vladimir Putin From Childhood To President
Vladimir Putin is arguably not only Russia's most prominent politician, but also its most recognizable face — at least in the West — since the collapse of the Soviet Union in 1991. After the end of the Cold War, Putin was the man who put Russia back in the game, so to speak, bringing the Eastern European country back to its previous place among the world's most influential powers in international relations. Since Putin acceded to power in December 1999, "Russia has changed beyond all recognition from the chaotic, open free-for-all it was under [former President Boris] Yeltsin," The Guardian's Alec Luhn argued. 
But, as we know, Putin's notoriety is up there with his historical relevance. He has been in power for 21 years as of this writing, including the four years he was technically prime minister between 2008 and 2012, a move that experts argue was engineered to work around the Constitution's term limits and still "left him the country's dominant politician, with a firm grip on power," as The New York Times reported when Russia's parliament approved him as the PM. Putin's insistence on remaining in power has put Russia's democratic status up for debate and drawn plenty of attention from scholars.
Regardless of where one stands on his governing style and political choice, it is undeniable that Putin has firmly cemented himself as one of the 21st century's most influential figures. While his public life is well known, Putin's early life was just as interesting and eventful. Keep scrolling to check out his journey. 
Vladimir Putin has an interesting link to Lenin and Stalin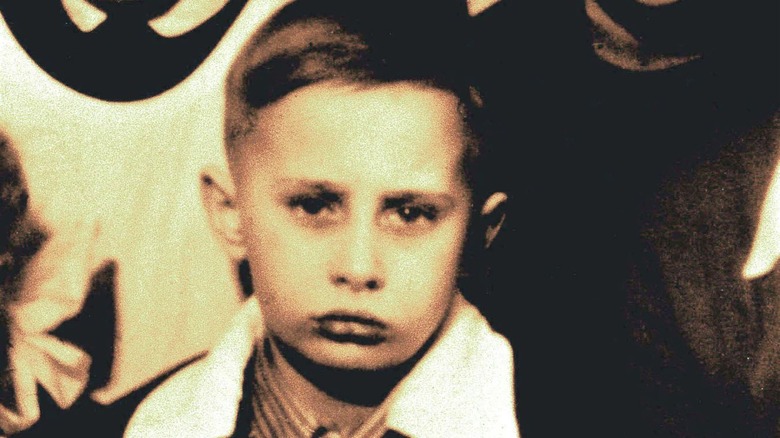 Born on October 7, 1952, Vladimir Putin grew up in the early years of the Cold War, meaning his family history is intrinsically linked to World War II, the Revolution and the subsequent formation of the Soviet Union. As such, it is unsurprising that Putin sometimes shares details from his links to Russia's turbulent recent history. In 2018, Putin revealed that his grandfather, Spiridon, was a cook for both Vladimir Lenin, the first and founding leader of the USSR, and Joseph Stalin, who led the bloc from 1927 until his death in 1953, as Reuters reported at the time. "[He] was a cook at Lenin's and later at Stalin's, at one of the dachas in the Moscow area," Putin said in a two-hour documentary, per Reuters. Spiridon continued to work for the Soviets almost up until his death in 1965, when he was 86.
As a native of Leningrad (now St. Petersburg), Putin's life was shaped by the Siege of Leningrad from 1941 and 1944, during which his older brother, Viktor, died after being taken from his mother when he was 1 year old, according to The New York Times. "My brother, whom I have never seen and did not know, was buried here, I don't even know where exactly," Putin said at a 2012 event at Piskaryovskoye Cemetery in his hometown. His parents had previously lost another infant, Albert, so Putin grew up as an only child. 
Vladimir Putin was a good student raised in the Communist tradition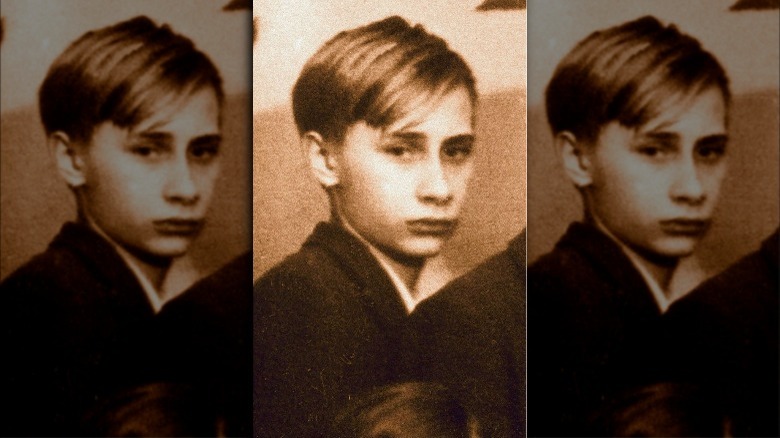 Vladimir Putin's parents, Maria and Vladimir Sr., lived through the dark days of Nazi Germany's occupation of Russia during 1941, which cost them a child and almost their own lives due to injury and starvation, Steve Lee Myers described in his book "The New Tsar: The Rise and Reign of Vladimir Putin" (via NPR's Here & Now). After the war, St. Petersburg and its citizens continued to waddle through hardship, deprivation, and famine — a reality that marked young Putin's childhood. 
After losing their home to the war, Vladimir Sr. and Maria moved into a one-room space in a communal building that lacked a kitchen and hot water, where young Putin was born, per the Los Angeles Times. "My parents didn't talk much about the past… People generally didn't, back then," Putin previously said, per Myers. Still, young Putin remembers chasing rats around the building, according to the Times. 
A member of the Communist Party, the elder Putin was "taciturn," "severe," and a fierce believer in "rigor, loyalty, discipline, and, most of all, caution," according to Myers — virtues absorbed by the younger Putin. He proved to be a good student who, in the ninth grade, was selected to attend the Leningrad School No. 281, reserved for the best pupils, per the Times. Two old classmates, Sergei and Yelena Kudrov, told the Times that young Putin was "an earnest, hard-working student who quietly stood his ground but never bragged."
Vladimir Putin was trained in martial arts and German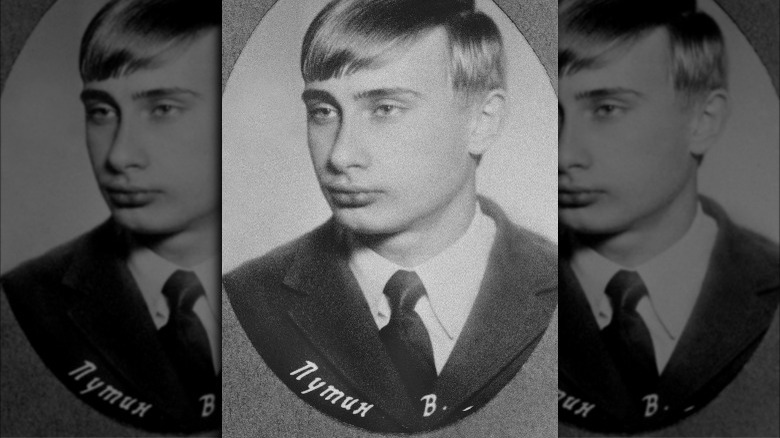 Standing at 5-foot-6, Vladimir Putin was shorter than most of his classmates, something he compensated for by being skillful in martial arts, according to the Los Angeles Times. Putin was trained in both judo and sambo, a Soviet wrestling combat sport. In an interview with the Times in 2000, Putin's old schoolmate, Sergei Kudrov, remembered how, in the ninth grade, Putin overpowered a much taller student who had bullied him prior. He did not brag about his triumph, and kids left Putin alone after that day, Kudrov said.
According to Steve Lee Myers (via NPR's Here & Now), martial arts helped subdue the rebellious nature Putin displayed as a young child. Despite being a bright student, Putin's unruliness prevented him from being accepted into the Communist Party's Young Pioneers, much to his father's dismay. His father initially wanted Putin to learn boxing, but the boy was too slight. Putin turned to sambo and judo and became enchanted with the disciplinary aspect of the sports, according to Myers. "It was a tool to assert myself in the pack," Putin said.
At Leningrad School No. 281, Putin also studied German with similar dedication, his former teacher Mina Yuditskaya Berliner told Haaretz. "He was disciplined and wasn't a chatterbox," she said. Even when he had to miss classes to train, he still showed up for class prepared, Berliner told the publication. His former teacher said Putin later bought her an apartment to show her his appreciation.
As a teenager, Vladimir Putin became interested in being a spy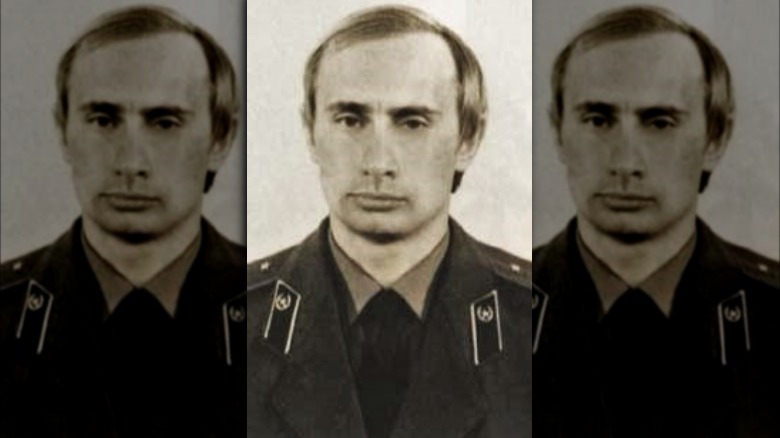 Vladimir Putin may have been an unruly child who had to turn to martial arts to learn discipline, but he proved he had the talent for it. His father's worries about Putin's lack of interest in the Communist Party proved unnecessary. When Putin was in the ninth grade, he started to show interest in working for the KGB, the Soviet Union's security agency, per the Los Angeles Times. That's right — the slight and intelligent boy from impoverished Leningrad wanted to be a spy. According to Russia The Great, Putin became interested in the notorious agency thanks to popular spy movies of the time, particularly the characters portrayed by Georgiy Zhzhonov and Vyacheslav Tikhonov, whom the BBC described as the "Soviet James Bond." "My impressions of the KGB were based on romantic stories about spies," Putin said, per the Times. 
Putin joined the KGB in 1975, the same year he graduated from Leningrad State University's law school. According to the Times, he already had his eyes on the KGB when he enrolled. According to the Times, Putin had asked for a job at the agency's office in Leningrad, but was informed the KGB picks its officers, not the other way around. Still, an agent told him that earning a law degree could be an advantage. His uninvited visit proved useful after all. He was selected shortly after graduation and sent to Moscow to study at the agency's foreign intelligence institute. 
Vladimir Putin transitioned into politics following the collapse of the USSR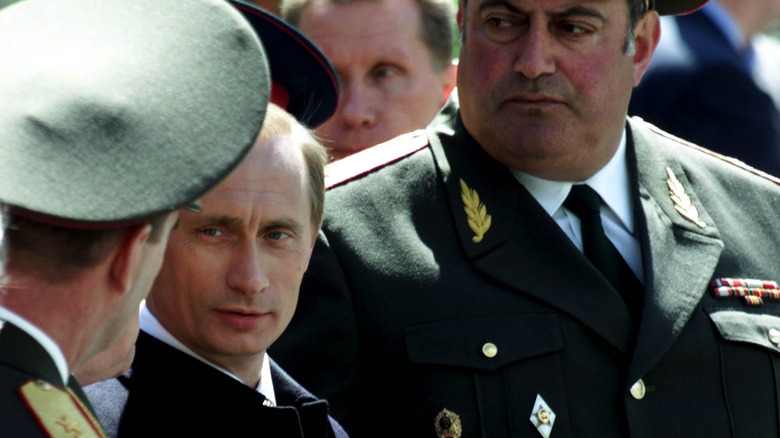 During his time at the Yuri Andropov Red Banner Institute in Moscow, Vladimir Putin met Lyudmila Putina, whom he wed in 1983. In 1985, the pair welcomed their first daughter, Mariya, shortly before he was sent to Dresden, East Germany, as a KGB officer under the guise of translator, according to Gulf News. In Dresden, he had a second daughter, Yekaterina, and worked until 1989, when the Berlin Wall fell, per the Los Angeles Times.
Putin returned to Russia in 1990 amid widespread uncertainty. He held a few different jobs in the weakened KGB until he met the chairman of the city council, Anatoly A. Sobchak, who offered him a job as an aide, per the Times. Putin was crucial in Sobchak's successful bid for Leningrad mayor. Putin quit the KGB on the heels of the 1991 Soviet coup attempt that dissolved the USSR, and was named Sobchak's deputy mayor. When Sobchak lost reelection in 1996, Putin moved to Moscow, where he worked at the Presidential Property Management Department under Pavel Borodin. 
But in 1998, President Boris Yeltsin himself appointed Putin to the Presidential Staff. Yeltsin announced he wanted Putin to succeed him, and so the largely unknown Putin became acting-president when Yeltsin unexpectedly resigned on December 31, 1999. Putin had to immediately address the escalating events of the Second Chechen War, applying an iron-fist attitude that quickly won over the public, per the Times. The Putin era had officially begun. 
Source: Read Full Article