The Stunning Transformation Of Julianne Moore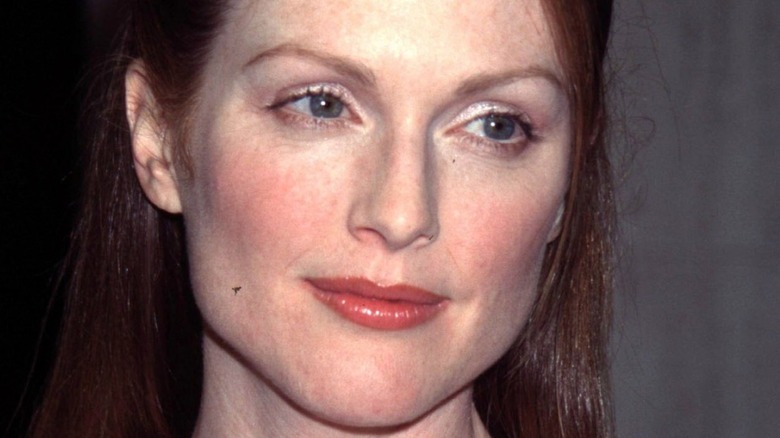 Ever since her first appearance on the screen, Julianne Moore has captivated audiences with her titian hair and her sophisticated performance. Director and designer Tom Ford once said to the Evening Standard, "She is actually luminous and I instantly understood what 'star quality' really is." And we're sure anyone who has seen Moore's performances would agree. Her impressive CV includes unforgettable performances in films that include "The Hours," "Still Alice," "Far From Heaven," "The Kids Are Alright," "Magnolia," and the list goes on and on (via IMDb).
Not only is the actress an icon of the screen, she's also, by all accounts, a wonderful person. Moore leads a private, low-key life with her long-term partner and her two children. The family prioritizes spending time together and participating in activism for their chosen causes. Known for her poise, intelligence, and groundedness, it's hard to imagine Moore was even just a child with a dream of acting. Curious to find out more about her journey? Here is the stunning transformation of Julianne Moore.
Julianne Moore traveled around as a kid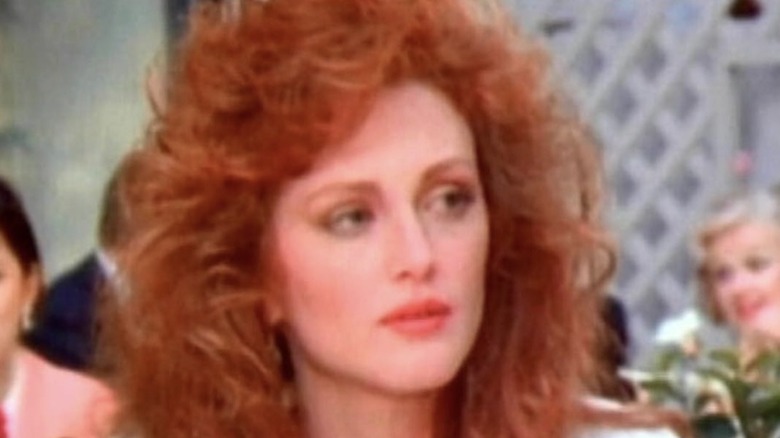 Julianne Moore was born to a military judge and a psychiatric social worker in North Carolina. She and her two siblings were constantly on the move as kids due to her father's job, according to The Guardian. Over the course of her childhood, Moore attended nine different schools. "It's not something I'd recommend but it made me who I am," she told The Guardian. "You get very close to your family." By traveling a lot as a kid, she quickly developed a sense of the wider world — a sense of perspective.
Not only did her constant change of scenery teach her about the world, it also made her place a greater value on having a sense of stability. "When you are not from anywhere, you have to try to find what's universal," she said to iNews. "You are always trying to fit in." When she eventually settled down as an adult, it's no wonder she prioritized home and family above everything.
Julianne Moore learned a lot about life from her parents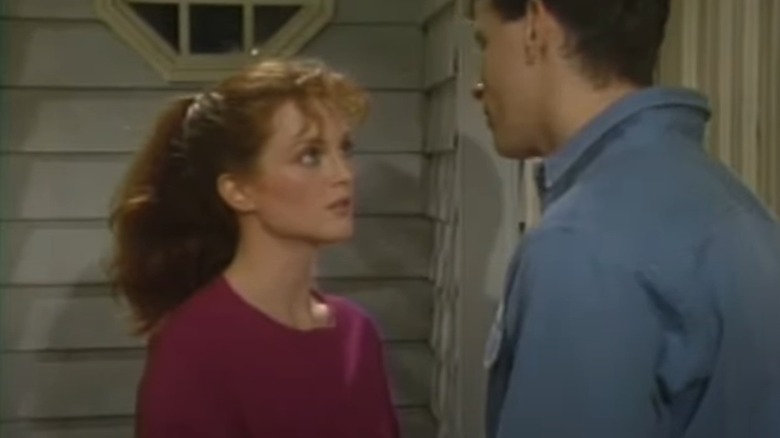 Julianne Moore owes a lot to her parents. As she told The Guardian, her mother was a psychiatric social worker who "was interested in people." She and Moore would try to understand the people they knew. "That's what I like about acting," Moore said.
Not only did Moore get her interest in the human condition from her mother, but she also learned about the importance of living a happy, fulfilling life. As Moore told the Evening Standard, her mother always taught her that "you need love and work to be happy." She added that the work doesn't need to pay well; it just has to be meaningful to you. Clearly, her mother's philosophy for a happy life has paid off — Moore chose a career that continues to fascinate her to this day and has settled down with a long-term partner to raise a family.
Julianne Moore spent her teen years in Frankfurt, Germany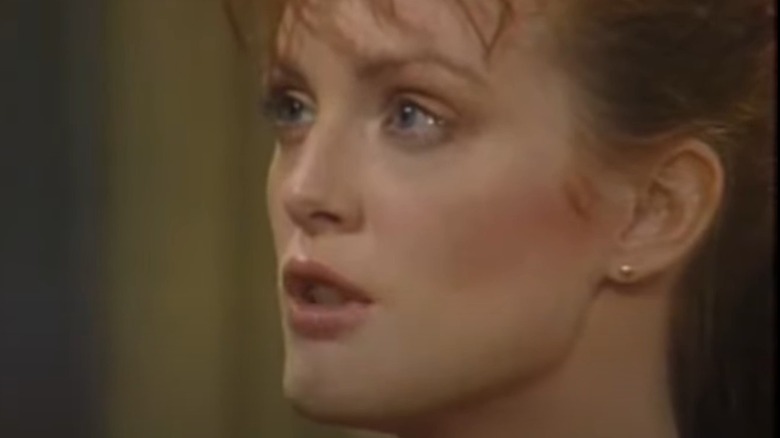 When Julianne Moore was 16, her father was relocated to Frankfurt, Germany, as the Mirror noted. While she was used to change, this change was certainly pretty drastic. Although Moore attended an American high school, she still speaks incredibly good German as she demonstrated while receiving the Goldene Kamera Award in 2016. In her speech, Moore joked, "I am a German actress," referring to her time in Germany as a teenager.
When Moore returned to the U.S. after her time in Germany, she realized that she had learned a lot that would stay with her for life. "I'd come back to the U.S. and people wouldn't know a thing about European culture; they hadn't travelled. I saw the world at a very young age," she told The Guardian. Moore moved back to the states for university, leaving her family behind in Germany. When her own children and her friends' children began to think about university, she would always say (via People), "Make sure you can drive home or take the train home, because if you have to fly, it's too far!"
Julianne Moore almost went into medicine before settling on acting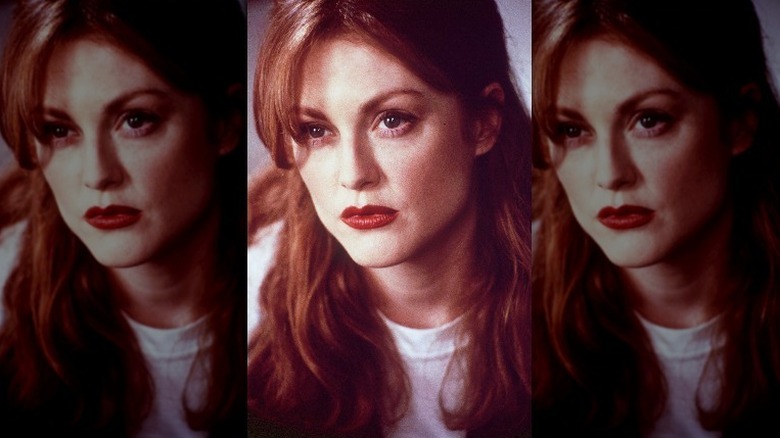 While Julianne Moore was living in Germany, she was preparing for her life after high school. She initially thought that she would pursue a career in medicine, as she told The Guardian. However, her experience watching the film "Three Women" by Robert Altman changed her mind. "I went to high school in Germany and only saw whatever was on at the local movie theater," she explained to AnOther Magazine. When she saw "Three Women," she immediately knew: "I want to do that kind of acting."
After getting a bachelor's degree in acting from Boston University, Moore began working. In the early days, her career took a little while to get going. She landed a few roles on television, including a recurring role on the soap opera "As the World Turns," making her one of several celebrities who surprisingly got their start on soap operas. She also appeared in several plays (via Britannica). However, it wasn't until director Robert Altman spotted her on stage that everything finally fell into place for Moore.
Julianne Moore landed her first big role in the film Short Cuts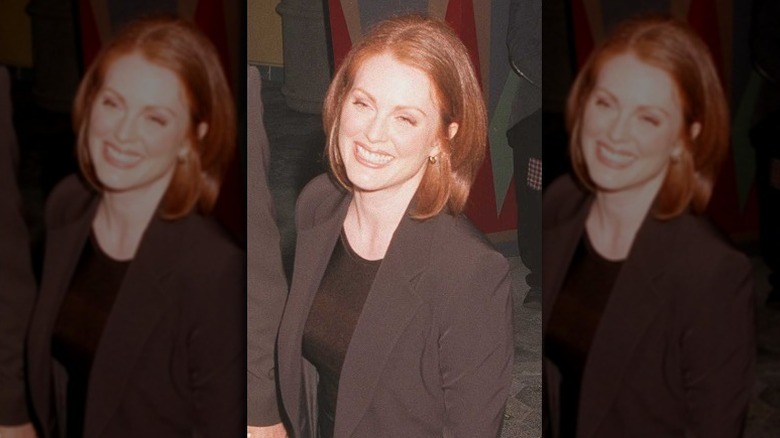 After several years in the industry without a big break, Julianne Moore struck gold with the role of Marianne in the 1993 film "Short Cuts." She was cast by the director Robert Altman after he saw her in a production of "Uncle Vanya." As AnOther Magazine noted, it was her first big role — and it got her noticed. At the time, Rolling Stone called it a "star-making showcase" for the up-and-coming actress.
Soon after making this film, Moore was in high demand. Throughout the rest of the '90s, she appeared in dozens of films (via IMDb).
She was certainly busy, but for Moore, it wasn't her happiest time. She told InStyle, "I was spending a lot of time building my career but not my personal life." From then on, she began to turn her focus to her personal life.
Julianne Moore met her future long-term partner, Bart Freundlich, on set in 1996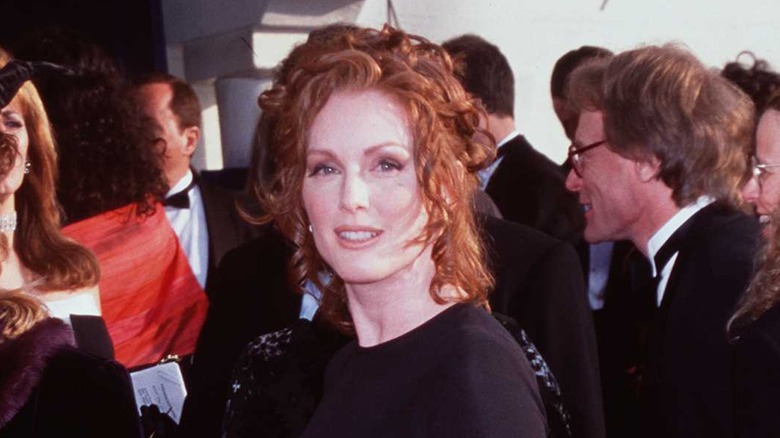 Just as Julianne Moore's career was picking up steam, she found the one thing that had been missing — a partner. While filming the 1997 movie "The Myth of Fingerprints," Moore struck up a romance with the director, Bart Freundlich. They have been together ever since. As she told InStyle, "Twenty-three years with the same guy. It's pretty amazing." The pair continued working together over the years, making another four films together. As she told the Evening Standard, she felt lucky to make films with her partner, so that they could spend time together. "If you go away for a year to make a movie," she said, "your relationship's not going to survive."
The pair didn't marry at first. Instead, they had two children, Liv and Caleb. Eventually, though, they tied the knot in 2003. As Moore explained to The Guardian, the marriage was really for the kids. "I had a therapist who said marriage is really a container for a family and that made sense to me," she said.
Julianne Moore developed a reputation for her range and impeccable performances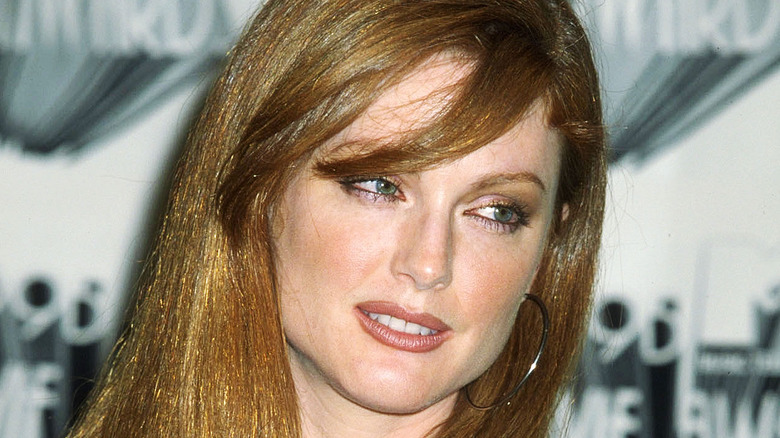 Julianne Moore was quickly becoming one of the stars of the '90s, with role after role that blew critics and audiences away. In "The Lost World: Jurassic Park," Moore had her first brush with Hollywood blockbuster. Then, in Paul Thomas Anderson's "Boogie Nights," she gave an Oscar-nominated performance as a adult film star. "It was really crazy because my son was born [in] December 1997 … and then all this nomination stuff came out, and I was like, 'What?'" she told Today of her Oscar nomination, explaining that she was a little overwhelmed by how much her career was taking off.
And even with a new baby, she kept on churning out amazing performances, such as "The Big Lebowski," which eventually became a cult favorite. That was followed by roles in a remake of "Psycho" and a role in "Hannibal." She continued to demonstrate her range as her career progressed as a depressed housewife in "The Hours" and then as another housewife whose life falls apart in "Far From Heaven" (via Biography).
Julianne Moore had two children, achieving a lifelong goal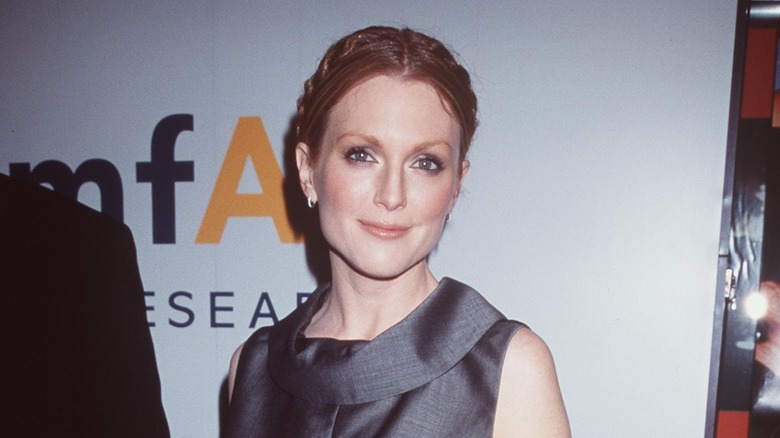 Julianne Moore had a son, Caleb, in 1997, and her daughter, Liv, in 2002 (via The Guardian). In an interview with the Associated Press (via HuffPost), Moore explained that marriage had never been a goal, but kids had been hugely important. Funnily enough, her dream had been to have one boy and one girl. "You know, all those ridiculous fantasies that you have when you're 10 years old -– for me, the fact that that came true, it's kind of unbelievable," she said.
Moore threw herself into motherhood and learned a lot on the way. As she explained to Redbook, patience was one of the key lessons. "Children's pace is glacial, and you can't change that. Literally, just walking down the street with them, I thought I was going to tear my hair out, but that's where they are," she joked. The other thing Moore learned was that tidying up after the kids is much harder than actually taking care of them. Sounds like Moore has had a seriously relatable experience when it comes to motherhood!
Julianne Moore made changes to her career for the sake of her family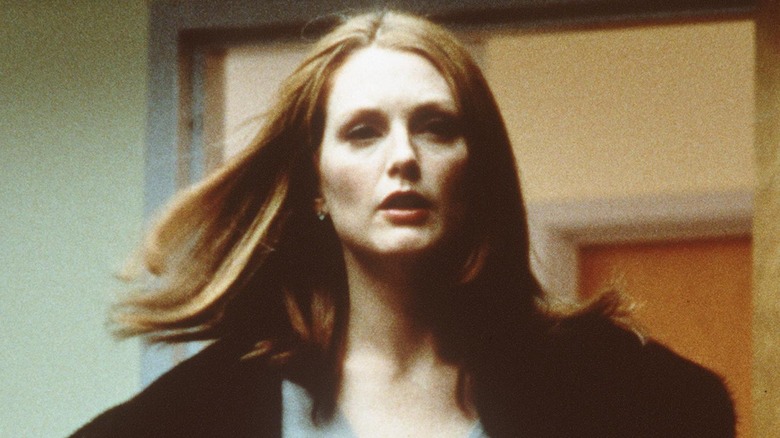 Once Julianne Moore became a mother, she realized that she would have to change some things about her career. As she told Redbook, it became much harder to travel for work. "I try to work in the summer, or shoot in New York City," she said. "I'll try to come back every weekend, or schedule around school breaks." As she explained, her husband also had a hectic schedule, but somehow they managed to keep their kids' lives fairly normal.
As she told The Guardian, she always put them first when making her decisions. "They've both gone to the same school since they were in kindergarten." She added, "It's, erm, challenging. You know, we've managed it." It's pretty impressive that Moore and her husband managed to make so many concessions for their kids and still managed to create such fabulous work between them!
Julianne Moore won her first Oscar in 2015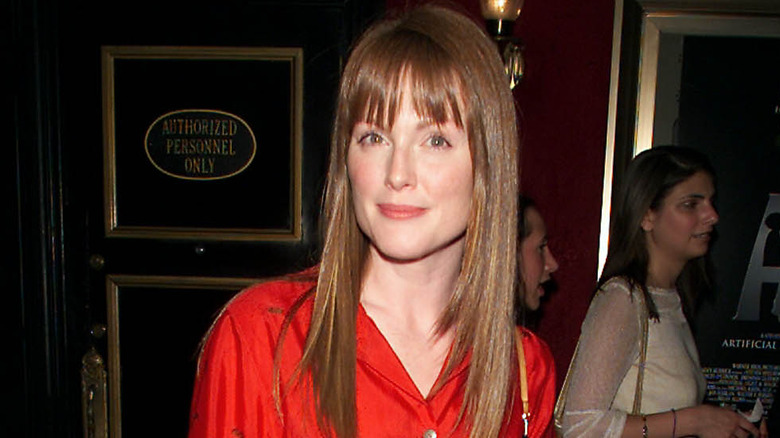 Despite receiving four nominations throughout her career, it wasn't until her fifth nomination in 2015 for "Still Alice" that Julianne Moore won her first Oscar for Best Actress. For Moore, winning was a significant moment in her career. As she had told The Guardian, not winning on four occasions hadn't been easy. "Oh, of course I care," she had said. She had won other awards for her role as Sarah Palin in the film "Game Change." She said, "It always feels more fun to win."
When Moore finally did win her Academy Award, she was, understandably, over the moon to be honored for her work, though the evening was tense for Moore. Her category came after three hours of other awards, so she geared herself up for another loss. "I remember winning. I do remember hearing my name. I was like … " she said to Variety, giving a surprised, happy look as she remembered the life-changing moment.
Julianne Moore has written several children's books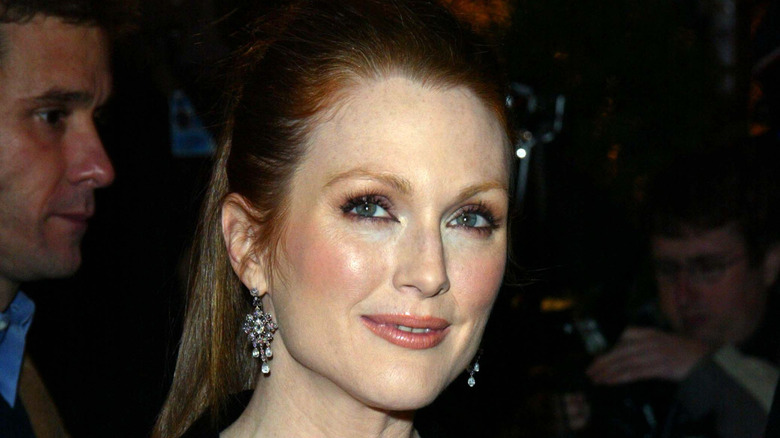 Not only is Julianne Moore a talented actress, she's also a successful children's author. Over the years, she has written a series of books about a redheaded character named "Freckleface Strawberry," and a book called "My Mom Is a Foreigner, But Not to Me," which highlighted and celebrated America's immigrant culture. As Moore explained to Elle, she had never really made the decision to write for children. "It sort of happened. I wasn't really planning it," she said.
In an interview for Reading Rockets, she explained that she started writing "Freckleface Strawberry" when her son was 7 years old. "I remembered when I was 7, the same age," she said. "That was really when I first noticed my freckles and started hating them." So, she wrote the book to help children learn to love the unique things about themselves. It's clear that Moore has been inspired by her own childhood and her own children to write some pretty special kids' books.
Julianne Moore moved into the production side of movie-making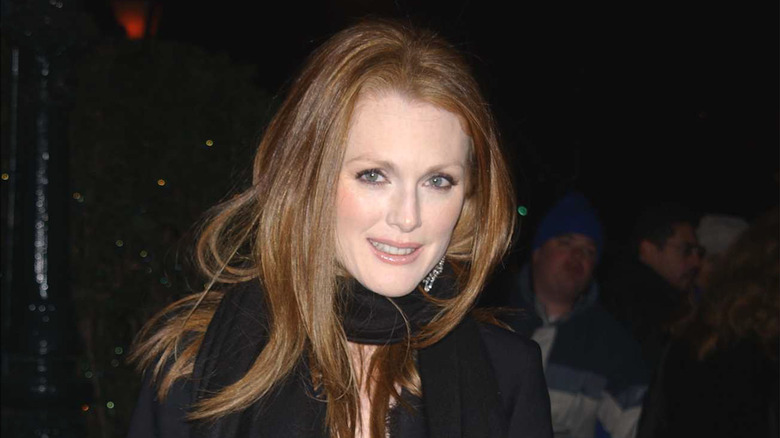 As Julianne Moore's career has progressed, she has begun to venture into the world of production. Though she's credited as an executive producer on 2004's "Marie and Bruce," she's been focusing on production since producing the 2018 project "Gloria Bell." As Moore told Harper's Bazaar, being an executive producer was a whole new world for her: "I'm really in the very beginning stages of it. It's not like I'm sitting here building an empire!" She went on to explain that she had made the decision to start producing because it felt like a natural next step after spending so many years in front of the camera. Plus, she hopes that taking on a producer role in more projects will help to balance out gender inequalities in the industry. "When you have female producers, you have a tendency to hire more women," she said.
In another interview with Firstpost, Moore explained that it wasn't actually "that difficult" to balance both acting and producing on one single project. Being a producer just meant that she was in the room to help make certain choices before and after the shoot. During filming, she said, "you just flip to being an actor where my primary responsibility was to deliver." We can't wait to see more projects produced by Moore!
Julianne Moore isn't worried about aging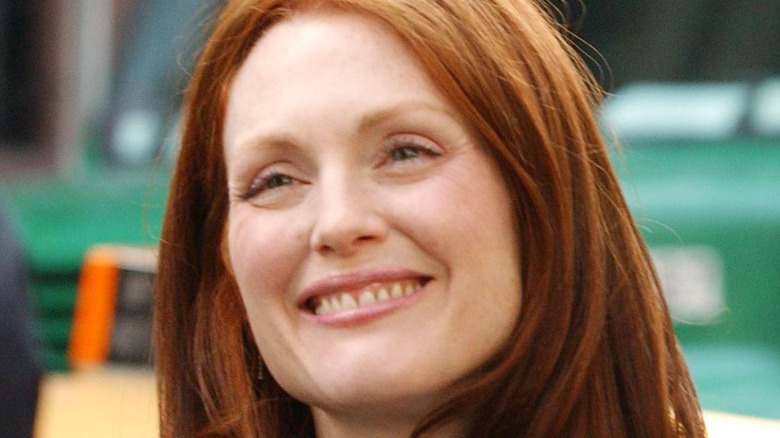 As Julianne Moore has gotten older, she has often been complimented for her youthful looks. As Kate Phelan, an editor at Vogue, told the Evening Standard, "Julianne is the ultimate ageless woman. I don't know how old she is, I don't need to know."
For Moore, the idea of being ageless isn't actually all that appealing. Instead, she's keen to embrace her age. In reference to the term "aging gracefully," she told As If magazine (via ET), "No one has an option about aging, so it's not a positive or a negative thing, it just is. It's part of the human condition, so why are we always talking about it as if it is something that we have control over?" She went on to explain that she still felt that she had lots of "life left" and wanted to have many new experiences, no matter how "old" she became.
As for the cliché about women becoming "invisible" as they age, Moore is also fighting against that. "Invisible to whom?" she said to Harper's Bazaar. "If you think of yourselves as an object in any kind of situation, then it's going to be important for you to be visible to that person if you're being objectified."
Julianne Moore is focusing on using her platform for activism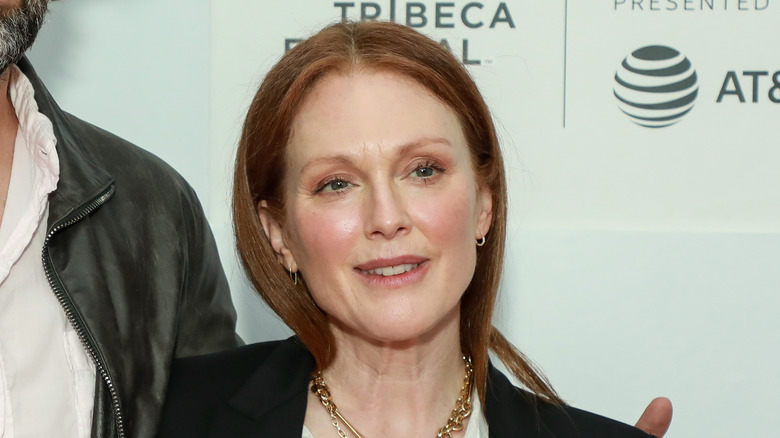 Not only is Julianne Moore focusing on writing, producing, and acting, but she's also spending much of her time as an activist for her chosen causes. As she told WWD in 2019, one of her biggest concerns is the climate crisis. "My husband and I have been trying to eliminate plastic in our lives, not buy anymore plastics, reuse anything we have in our house," she said. Apparently, the family has been working on consuming less and using their belongings sustainably.
Another cause that Moore is passionate about is gun violence. As she wrote for Literary Hub in 2019, she began to speak out about her views on guns after telling her daughter about the Sandy Hooks shooting. "I began speaking out in interviews. I read as much as I could about gun violence, and I started following people on Twitter who were speaking out about this epidemic," she wrote. She even volunteers for the ground Moms Demand Action with her daughter "to change the culture of gun violence in the United States."
It's clear that Moore is just as busy, passionate, and engaged as ever — and we can't wait to see what she does next.
Source: Read Full Article