The Queen Shut Down Prince Harry and Meghan Markle's First Plan So They Signed a Deal With Netflix As a Backup
Meghan Markle and Prince Harry are officially done with their royal duties. However, just because they moved to California and are hoping for more autonomy over their lives doesn't mean the Queen won't still have a say.
According to royal experts Roberta Fiorito and Rachel Bowie, Meghan and Harry had to consult the Queen about their post-royal career plans. Unfortunately for them, Queen Elizabeth rejected their original plan to form a global SussexRoyal brand. It's unclear why Queen Elizabeth didn't give them the green light for this plan, but perhaps it has something to do with how they previously complied with her wishes for them to avoid using the word "royal" in their branding.
So because the Queen allegedly didn't approve of the SussexRoyal brand, Meghan and Harry went with their backup plan: a multimillion-dollar deal with Netflix. Big whomp, I know. As part of their partnership with the streaming giant, Meghan and Harry will produce documentaries, docuseries, feature films, scripted shows, and children's programming.
Talking on their Royally Obsessed podcast, Roberta and Rachel explained:
Like the hosts said, nobody knows how long Meghan and Harry worked with Netflix to secure a deal, but the Queen's reaction to their original plan definitely played a role in how they announced their new venture.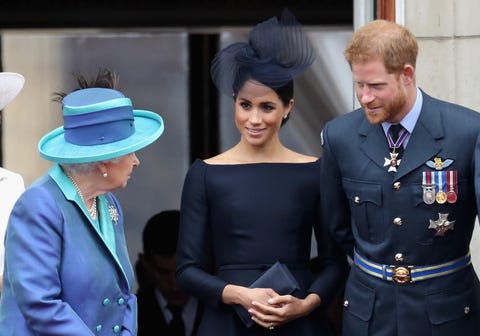 According to The Sun, Meghan and Harry went with the ol' "better to ask for forgiveness than for permission" saying and didn't tell the Queen before making the news public because they didn't want her to thwart their plans with Netflix. The outlet's source added:
Welp! That last bit is certainly correct. Clearly, if Harry and Meghan are passionate about something, they're going to go for it.
Source: Read Full Article