'The Bachelorette': Tyler Cameron Answers Whether He Is Dating Hannah Brown in a Zoom Call
It seems Tyler Cameron finally gave fans an answer on whether he is dating Hannah Brown. Cameron recently crashed a Zoom call with fans of The Bachelorette, and he spilled the tea on his relationship status with Brown.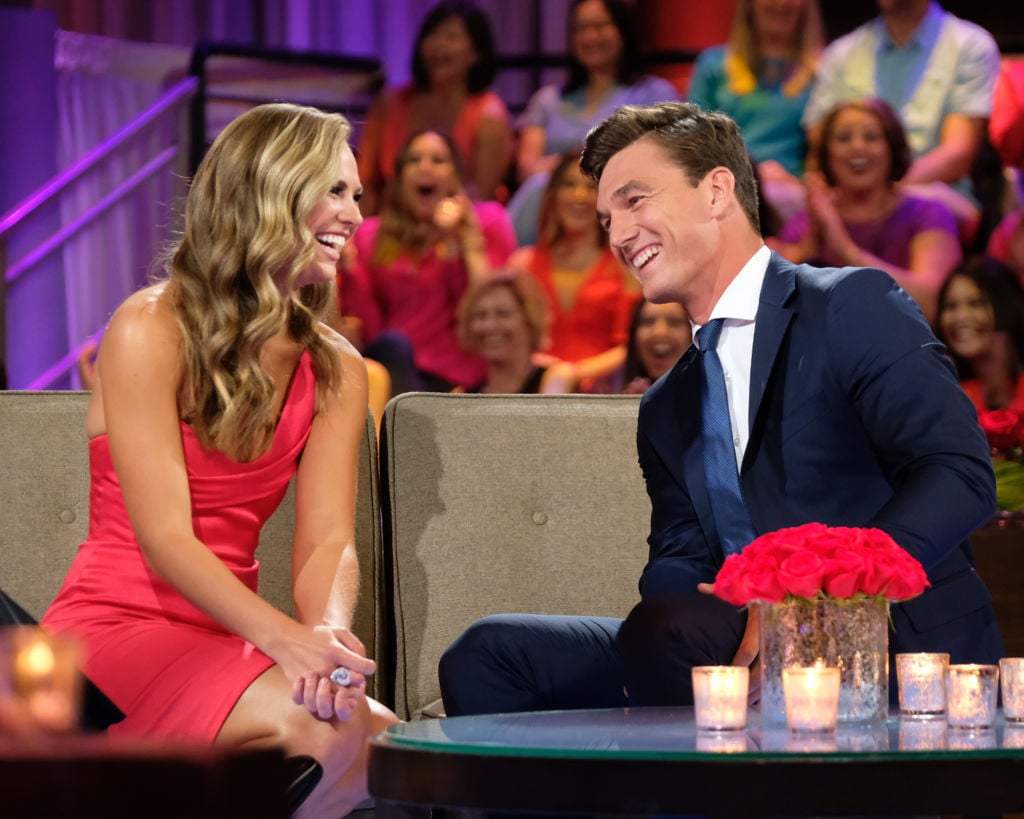 Tyler Cameron and Hannah Brown quarantined together
At the start of the coronavirus (COVID-19) outbreak, Brown flew to Florida to visit Cameron. Dating rumors about the exes started when Cameron was seen picking up Brown at the Palm Beach International Airport. Fans knew Brown was flying somewhere because earlier that day Brown posted on her Instagram story about missing a flight.
"I just missed my plane by maybe five minutes," she said on her Instagram story. "So now I'm stuck at the airport for a little bit." She posted another video with the caption: "Airport is empty. But there is wine. So I'm fine." In a third video, she showed a box of Girl Scout cookies with the caption "And @girlscouts cookies. I'm fine."
The two trolled fans with TikTok videos
For several weeks, Brown hung out with Cameron and his friends in Florida. The group of friends posted TikTok videos under the name "The Quarantine Crew." In some of the videos, Brown and Cameron referenced their past relationship on The Bachelorette.
These videos kept fans guessing about their relationship status, and some fans made it clear on social media they wanted Brown and Cameron to get back together.
"I'm supposed to believe that Hannah Brown and Tyler C are not falling in love again in quarantine #TheBachelor#BachelorNation," tweeted a fan.
"Not to be dramatic or anything but knowing that Hannah brown and Tyler Cameron are hanging out during quarantine is the only thing holding my emotional stability together," one fan tweeted.
In one TikTok video, Cameron and Brown played a game of Spin the Bottle. At the start of the video, they were the only two people circled around the table. Cameron spun the bottle, and looked on excitedly while Brown looked nervous. The bottle landed on an empty cushion on the couch, and then Cameron's friend Jacob Laham came out from around the corner.
Tyler Cameron revealed his relationship status with Hannah
Recently, Cameron appeared in a random Zoom call and gave details about his relationship status with Brown. A fan on the call recorded the conversation and posted it on TikTok.
When asked about Brown, Cameron said "The tea is we are friends. She's a good friend."
What Chris Harrison has to say about it all
Back in March 2020, Harrison said he also thought Brown and Cameron were just friends.
"Yeah, it wouldn't shock me. I think they'd be great together," he told Entertainment Tonight. "But they're probably just friends."
In an interview with People, Harrison and Lauren Zima revealed they are rooting for Cameron and Brown to get together.
"We both love Hannah and Tyler. We think they're both great," said Zima. "If they can come together and support each other at a time when the whole world needs to come together and support each other, we couldn't stan and ship that any harder."
Source: Read Full Article