Savannah Guthrie Had the Best Response to a Troll Calling Her "So Old"
We don't talk about Bruno? Yes, true. But we also Do! Not! talk about Savannah Guthrie, aka a national treasure. Yet one person following Savannah on Instagram seemed to miss the meeting where we collectively decided this as a nation. Said troll hopped in Savannah's comment section and wrote, "You look so old Savannah what happened to you." Is? Kindness? Not? Free???
Savannah, who is 50 years old, took a screenshot of the comment and posted it to her Story, sarcastically writing "I love my fans" underneath it. Of course, because Savannah is a woman of ~class~, she lovingly scribbled out the troll's Instagram handle so they could not be identified.
Nevertheless, Savannah then answered the commenter's question! She plainly said, "I aged!" At some point, she even laughed it all off, adding a "bahahaha" to her response.
In the past, Savannah has been super open about aging while having an extremely public career. Back in 2018, she told Today.com, "I'm like anyone—when I see a picture where my wrinkles are apparent, I don't love looking at that, and I'll try to put the good Instagram filter on there to make it look better. But I'm not going to not put the picture up… Sometimes people say, 'I can see your wrinkles.' Well, that's true. I do have some wrinkles. I call them smile lines. They're from smiles and laughing, and those are the best kind of wrinkles."
But Savannah hasn't shied away from a beauty regimen or two either. "We did a segment on the show where I got a little Botox," recalled Savannah. "I'm definitely not above it. Whatever it takes to make you feel your best."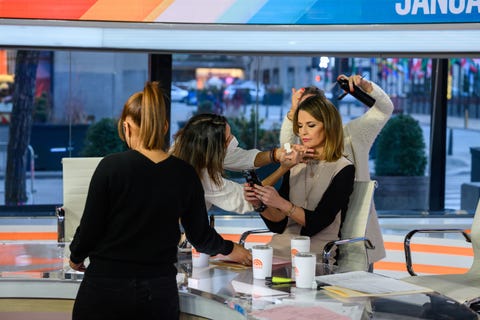 Savannah reads her comments every now and then but generally has a positive outlook on folks taking the time to engage with her. "Any time someone writes and comments, I'm just honored and flattered they're paying attention to me," she told Today. "The good ones make you feel good for a second, but you don't dwell on them. But the ones that are mean… I try to be careful, how much I expose myself to that. I don't have a thick skin. There certainly is a lot of criticism out there. Fair criticism, I'm open to. But criticism about your looks or hair? If you absorb it too much, it can get to you."
All in all, today's meeting action items are (1) mind your business and (2) be nice!
Source: Read Full Article