Prince Harry has had a years-long friendship with Joe & Jill Biden, oh no!!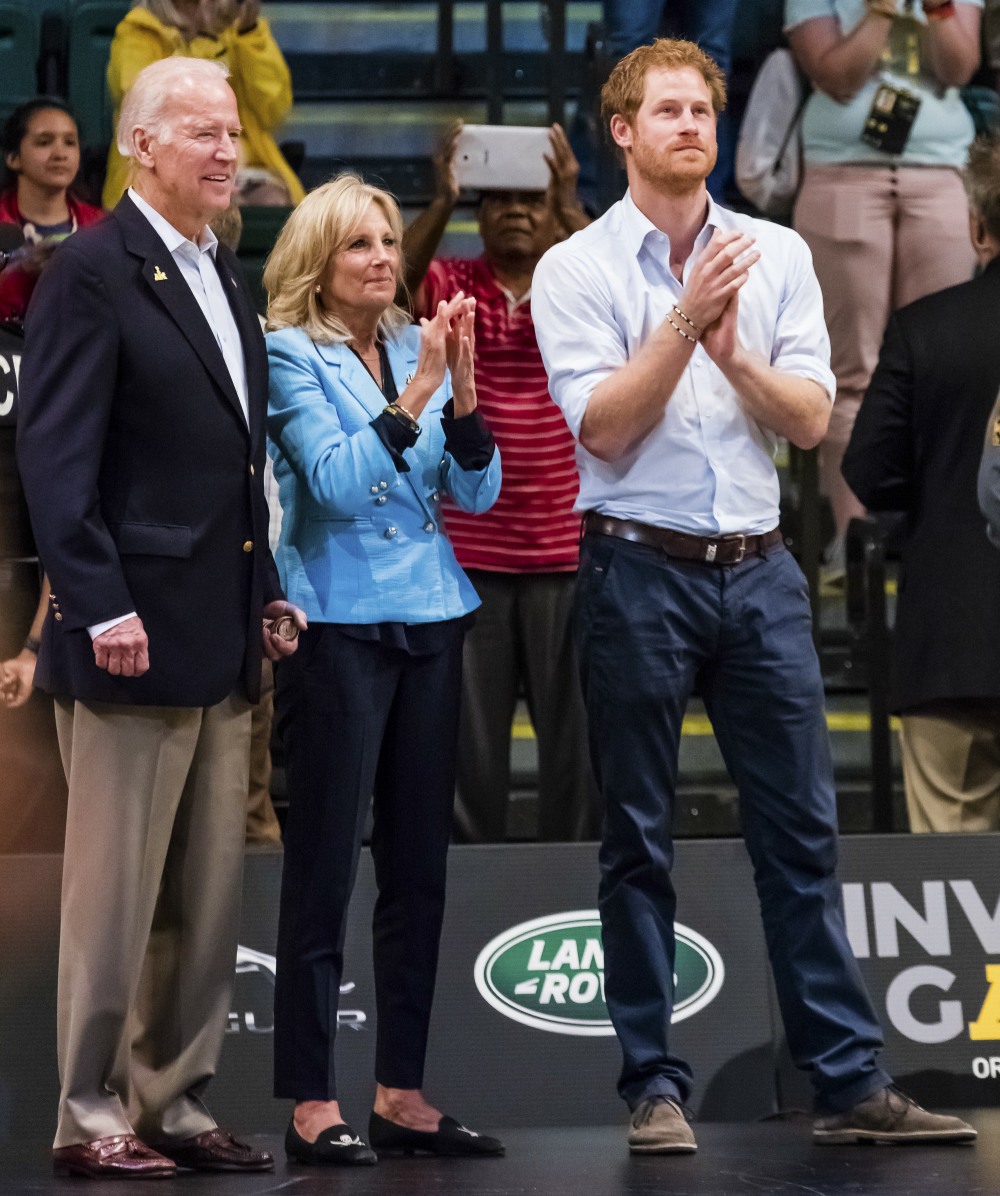 It took several days, but some genius at the Daily Mail finally had the bright idea to look through their archived photos of Prince Harry and the Biden family! Now the Mail has a big story about how awful, how terrible it is that Prince Harry is quite close to Dr. Jill Biden. How political! Such protocol-breaking! I guess those same geniuses didn't realize that all of the old photos of Harry with Joe and Jill Biden are from his work launching the Invictus Games, and the Bidens' attendance at the Games and more. How dare he! How dare he be one of the best soft-power diplomats the Windsors ever produced! So political!
Fresh controversy is brewing over Prince Harry's decision to wade into US politics after his close friendship with Jill Biden emerged. The Prince has a firm friendship with Dr Jill Biden after the pair met seven years ago when he was still representing Britain as a prominent Royal. The Democrat President-elect has even joked that his wife had spent 'spent too much damn time' with him. But the cosy relationship adds to concerns in Britain about Harry 'poking his woke nose' into US politics – and comes months after he and Meghan released a video urging Americans to 'reject hate' and vote in the Presidential election.

That was widely interpreted as an attack on Donald Trump, who responded to the video by saying he was 'not a fan' of Meghan and wishing Harry 'a lot of luck' with her 'because he's going to need it'.

Traditionally, members of the Royal Family are expected to remain politically neutral at all times, and Buckingham Palace distanced itself from the video. It said the Duke is 'not a working member of the royal family' and described his comments as being 'made in a personal capacity'.

Despite their 33-year age gap, Jill and Harry are said to have bonded over their shared military links; the Duke spent 10 years serving in the British Army, while Jill's late son Beau was a major in the US Military. Harry and Jill's longstanding friendship stretches back to May 2013 when they met at a reception for US and British wounded soldiers in Washington, D.C.

They appeared to strike up an immediate bond and the following year Jill travelled to London for Harry's inaugural Invictus Games, where they were pictured beaming together during several of the events. Joe joked he was 'a little worried' about how much time Harry and Jill were spending together, a gag the then vice president repeated in 2016 when his wife again met the royal at the Games in Orlando. 'Jill went to London for the last Games. She spent too much damn time with Prince Harry,' he said.

The Bidens further attended the Games in Toronto in 2017 – the same year that Harry stepped out in public with Meghan, 39, for the first time.
[From The Daily Mail]
You know if it was William who had a decade-long friendship with the Bidens, it would be presented as Powerful Future King Nurtures Strong American Allyship. But because it's Harry, it's presented as a negative that he has a long-standing friendship with the incoming First Family based on mutual respect and the shared interest of veterans' issues. Besides, both Dr. Jill AND Michelle Obama were sweet on Harry. They both adored him and he adored them right back. I wonder if the Bidens have already extended an invitation to the Sussexes? LMAO. Please, I hope the Daily Mail continues to report on how Harry is super-close to the Bidens, because I'm desperate to use ALL of the photos we have of Harry looking so chummy with the Obamas and the Bidens.
Well well well how the turntables!
Embed from Getty Images
Embed from Getty Images
Embed from Getty Images
Photos courtesy of Avalon Red, Backgrid, Getty.
Source: Read Full Article