Out Of Every Kamala Harris Mike Pence Diss, One Stands Above The Rest
President Joe Biden made a historic choice when he formally named California Sen. Kamala Harris as his running mate in the 2020 presidential election. As the "first Black woman and the first Asian American to appear on a major-party ticket," per Washington Post, Harris became an inspirational symbol for people everywhere. In this way, she appeared in direct contrast to ex-Vice President Mike Pence, who, as an older, white male, was more emblematic of the traditional party representatives. Because the duo differ in almost every way (across gender, race, and party lines), there was additional interest heading into their vice presidential debate in October 2020 — during a year that saw incredible tension around the presidential election.
Shortly after Biden named Harris as his VP pick, Pence wasted no time in addressing his opponent. Speaking at an August rally in Arizona, Pence told the crowds that Biden and "the Democratic Party have been overtaken by the radical left," per the New York Post. "Given their promises of higher taxes, open borders, socialized medicine, and abortion on demand, it's no surprise that he chose Sen. Harris," Pence continued, adding that he was looking forward to seeing his opponent in Salt Lake City. It's a slight diss Harris' way, but it's far from the only barb Pence has launched at her (and vice versa). 
With that in mind, keep reading to learn what may have been Harris' worst diss toward Pence.
Kamala Harris scolded Mike Pence for interrupting her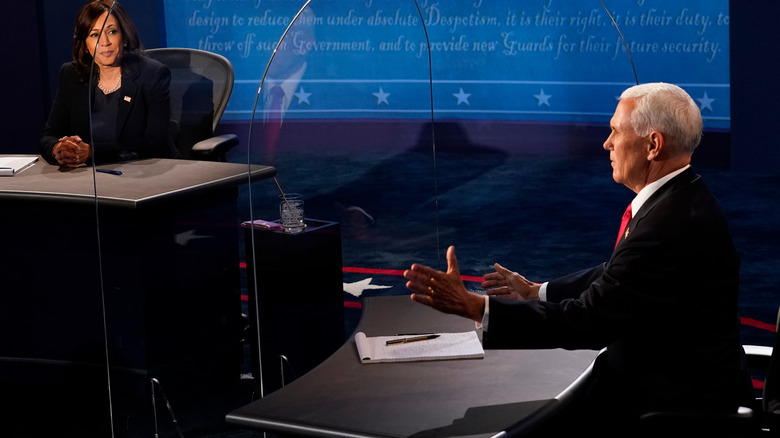 In the wake of an extremely chaotic presidential debate that left Americans emotionally exhausted, ex-Vice President Mike Pence and California Sen. Kamala Harris faced off in a much more civil style. On October 7, 2020, the candidates went head-to-head on a number of issues that included the COVID-19 crisis, healthcare, climate change, international trade with China, and the Supreme Court. Unsurprisingly, Harris criticized the current administration's COVID-19 response, while Pence alluded to the Democrats' "radical green energy plan" that would eventually ban fracking, per the Los Angeles Times. And while a fly may very well have stolen the show by landing on Pence's head, in the end, it was a very pointed remark by Harris that lit up Twitter.
As Pence attempted to talk over Harris, she refrained from the "Shut up, man" that Biden used in his debate against Trump, but she did counter by saying, "Mr. Vice President, I'm speaking." The line called out his behavior and highlighted her own agency on a national stage, and women everywhere can likely relate. Research shows that women are interrupted much more than men, making for a source of workplace tension. The problem is so prevalent that it's become integrated into pop culture with a plethora of memes, and Pence's behavior onstage only underscored the fact. By NBC News' count, Pence interrupted Harris 16 times, as compared to her nine interruptions, so make of that what you will.
What did Twitter think of Kamala Harris' line?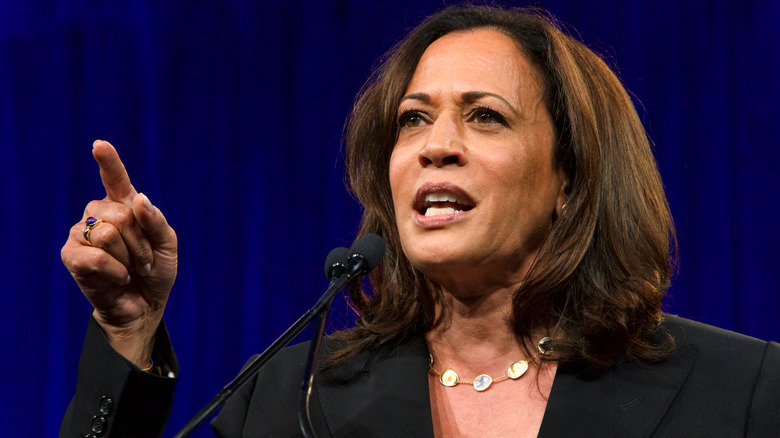 The flow of conversation between Kamala Harris and Mike Pence may have been fairly conventional, but Twitter still had a lot to say, especially about Harris' rebuke to Pence. People were quick to point out the fact that women get interrupted so often, they sometimes don't even realize it. "IM SPEAKING!!!! MEN LOVE TO SPEAK OVER WOMEN ALL THE DA** TIME!!! KAMALA SAID NOT TODAY," one enthused viewer tweeted. Another agreed that when "Kamala said #IMSPEAKING … every single women felt THAT." A third put in her two cents with the tweet: "the fact that senator harris just said 'excuse me mr vice president im speaking.' i love to see women standing up for themselves. don't let that dumb white boy interrupt you ladies. what you have to say is important."
As the debate closed, Mashable reported that the hashtag #IMSPEAKING was trending with over 44,000 tweets. And while it may seem silly that such a phrase made it into social media memes at all, let's remember that Harris is a woman of color speaking to an older, white male. Her line sounds like a tame knock at Pence, but it was heard and felt around America.
Source: Read Full Article