Madison Beer Troll Actually Plays The Victim After Attacking HER For 'Getting Fatter'! WTF?!
Madison Beer is shutting down toxic trolls in her comments.
On Sunday, the Good in Goodbye singer graced her Instagram followers with a stunning carousel of mirror selfies as she posed in a short white dress and knee-high black boots.
https://www.instagram.com/p/CvDXZ8bSAM5/
A post shared by Madison Beer (@madisonbeer)
However, not everyone was in agreement on how fantastic she looked (she did look fantastic, BTW)…
Related: Raven-Symoné Can See Visions IRL Like On That's So Raven?!
Shockingly, some hateful troll took to her comments section to suggest the 24-year-old is "getting fatter" and needs to "do some cardio" — because "men only like skinny girls."
WTF?!
The commenter audaciously wrote:
"hey madison i've noticed that ur legs and ur arms are getting fatter.. please do some cardio because we men only like skinny girls. ur face is already perfect, but please we love a thin waisted girl."
That's absolutely SHOCKING! So much wrong with that statement. The ignorance is just beyond wild.
Especially after everything the All Day and Night singer has gone through in the past with nasty comments… But don't be mistaken — Madison can handle herself.
The Baddest singer wasn't about to let the disgruntled IG user get away with dropping such atrocious hate on HER page, so she let him know exactly what's up. She replied to his comment:
"i wouldn't touch you with a ten foot pole if you paid me a million dollars"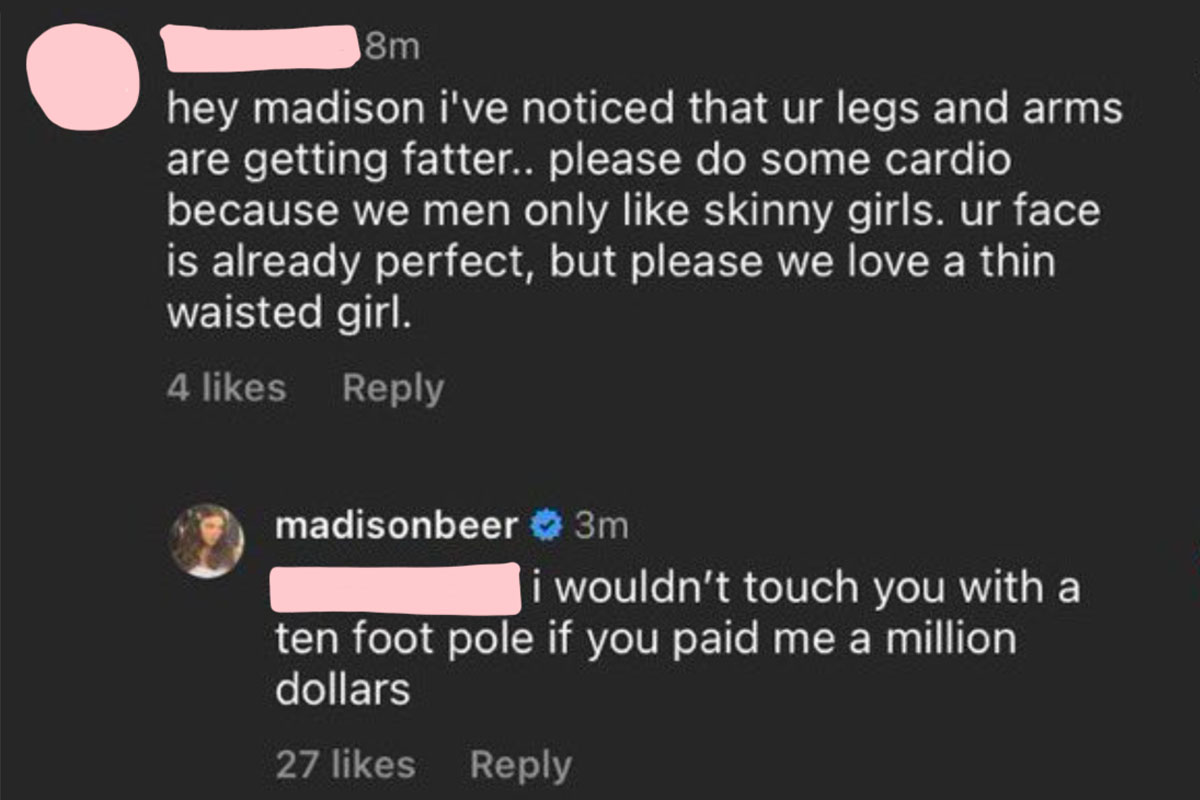 Mic drop moment!
The social media user then seemingly tried to portray himself as the victim of the situation, taking to his Story to share a few extra thoughts:
"hey madison maybe you should know that im already depressed. i am bipolar, and im extremely depressed and my biggest crush saying this to me has broke my heart. i always supported u even tho ur songs arent that good. i Thought u were a good human being. u cant just say this to your fans. thanks for making me more sad, madison. thanks a lot."
Aw, boo hoo! Bullying a girl out of nowhere didn't work out for ya, huh??
Seriously, where does this guy get off?? How is he going to say Madison can't talk to him like that after what he said in her comments, and while he CONTINUED to diss her while trying to get sympathy?! Wow.
The user also shared a screenshot of direct messages he'd sent to the singer over the past year. See (below):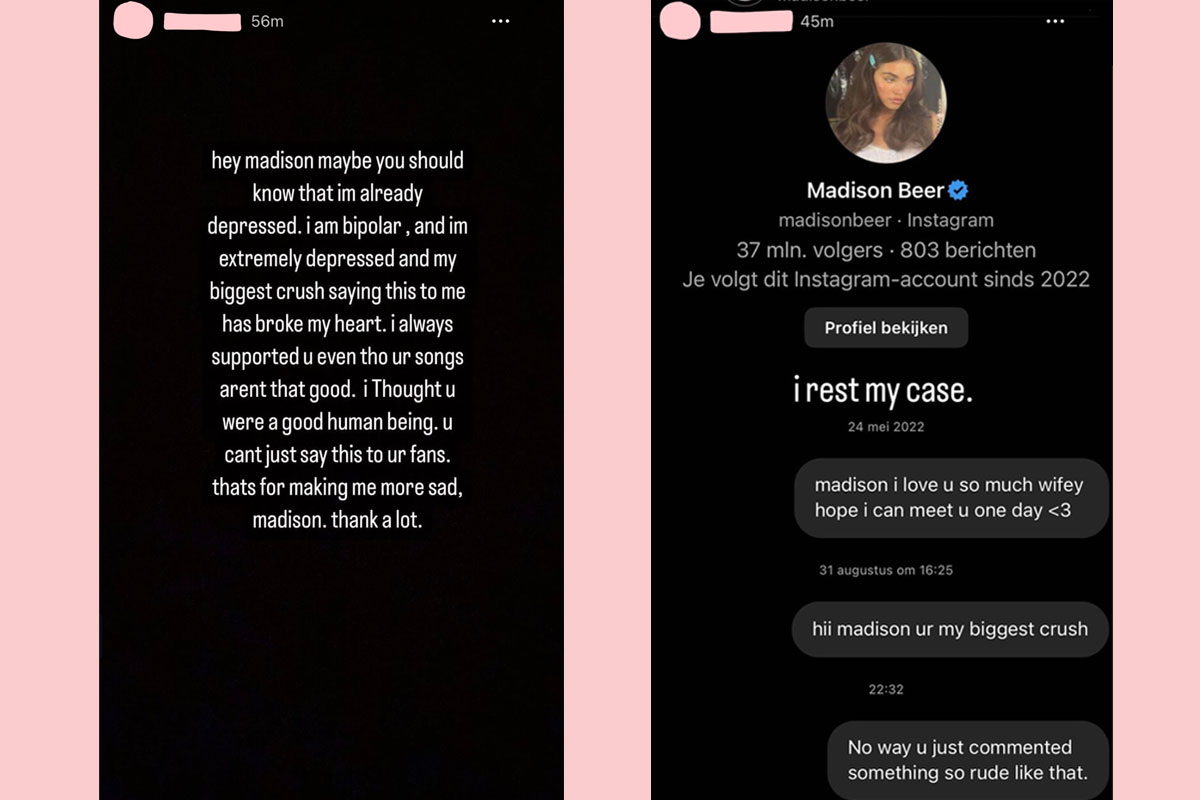 One Twitter user couldn't believe her eyes while seeing the uploads, writing in response:
"men are so f**king annoying"
Back on IG, TONS of Madison's fans came barreling in to defend her, writing things like:
"Can't believe some dudes feel they have the right to comment on someone else's appearance. Keep slaying."
"Stay healthy & take care of you. we love you."
"Cutest person eva"
"Madison beer you are gorgeous no matter what."
The IG user eventually deleted his comment and later his entire page. Hopefully he learns a lesson in social media etiquette and, you know, generally being a decent human being!
What are your thoughts on the situation, Perezcious readers? Let us know in the comments down below!
Source: Read Full Article