Kris Jenner Shares Rare PDA Pics With Corey Gamble on Their 8th Anniversary
The 'Keeping Up with the Kardashians' alum pays a sweet tribute to her boyfriend on Instagram Stories while sharing throwback photos from their time together.
AceShowbiz –Kris Jenner is still head over heels for Corey Gamble after dating for years now. Marking their 8th anniversary, the momager posted a sweet tribute to her boyfriend while also sharing throwback pictures.
The reality TV star took to her Instagram Stories on Monday, August 1 to celebrate their milestone. "Happy anniversary to the most amazing man @coreygamble !! I can't believe it's been 8 years!!! I love you babe !" she wrote along with montage of their PDA-filled photos.
The clip quickly transitions from one to next, with the first slideshow featuring a picture of the couple sharing a smooch. Another footage shows them acting silly and dancing on a private jet. The next slideshow, meanwhile, features a snap of Corey grabbing her behind while on a boat.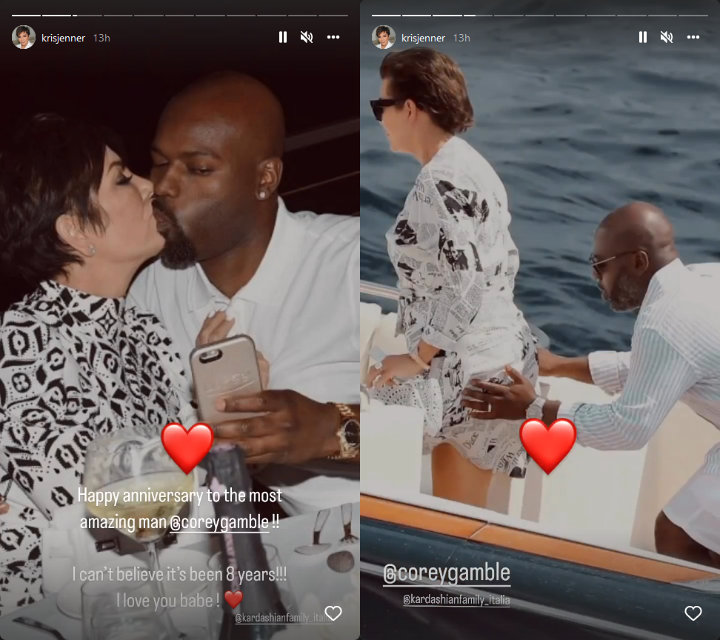 Kris Jenner celebrated 8th anniversary with Corey Gamble.
Fans had different reactions to the anniversary post. "Damn they've been together for 8 years??? I forgot he was around for that long," one fan wrote on Reddit. Another was amused by Corey's handsy gesture, "Corey lmao."
A third wrote commented, "It does look like they have fun together." Another fan remarked, "Kris and Korey look like they have a better time than any of these other couples in the family." A fifth person also supported the couple as saying, "They truly look like they're just vibing off of each other and Kris hasn't changed her personality around him."
While Kris and Corey are not as into PDA as her daughter Kourtney Kardashian and her husband Travis Barker, the older couple is never shy to show their love to each other. Back in June, the 41-year-old talent manager was caught getting handsy with the Safely co-founder during a trip to Italy.
In snapshot taken from the pair's vacation, Corey was seen reaching for Kris' backside as she smiled at the gesture while they were on board a yacht. Corey also shared pictures from the trip, showing him hugging her from behind and the two sharing a kiss.
Source: Read Full Article