Kim Kardashian West Reveals She and Tristan Thompson Have Bonded Since Cheating Scandal, Says She Loves Him "Like a Brother"
It looks like there's nothing but love between Kim Kardashian West and Tristan Thompson.
Though she wasn't the biggest of the NBA player following his alleged cheating scandal with Jordyn Woods, it appears that the KKW mogul has had a change of heart and no longer wants to feud with her sister's ex.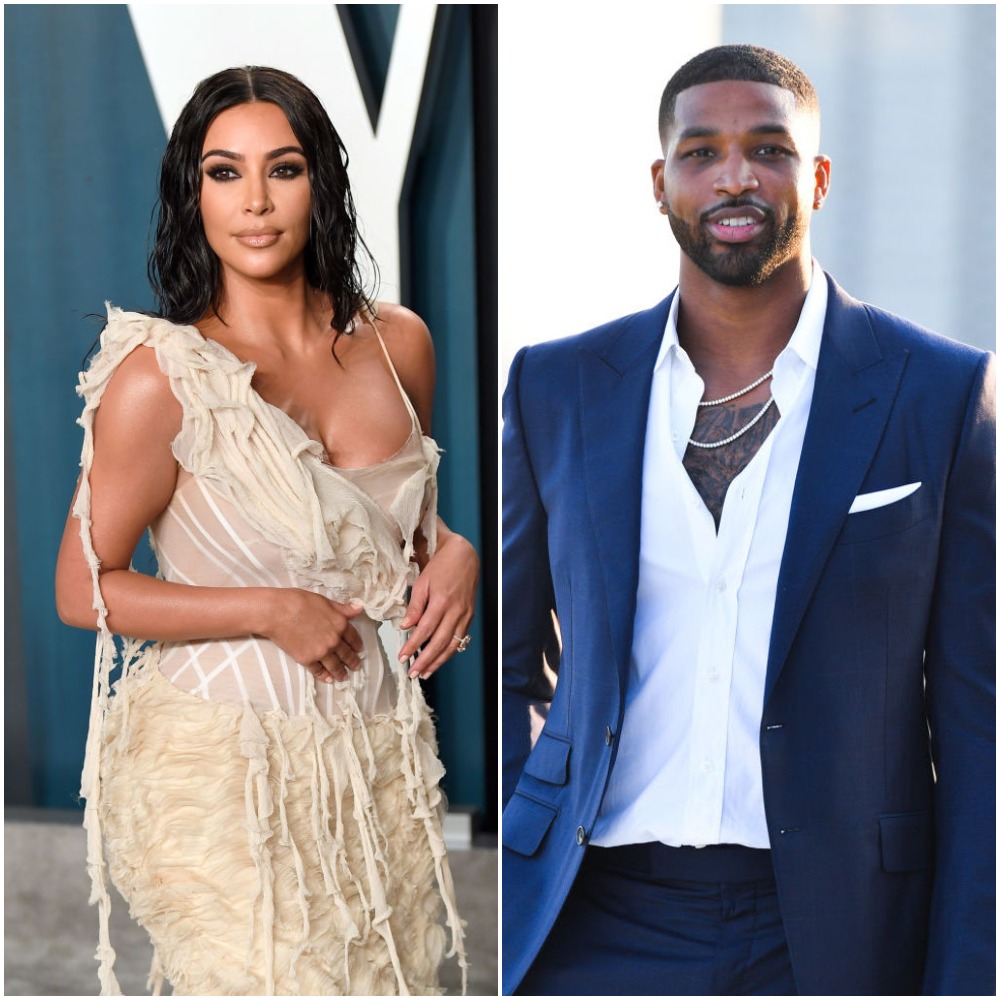 Kardashian's ill-feelings for Thompson are now a thing in the past
There are many people Kardashian West has feuded with in the past, but there's only been a few she's actually made an effort to get back on good terms with. One of those people being Thompson.
Following his alleged cheating scandal with Kylie Jenner's former BFF, Jordyn Woods back in February 2019, sources close to the Kardashians, revealed that they were "livid" with Thompson and "100 percent on Khloé's side."
While their ill-feelings for the NBA player continued for months, it appears that the family — especially Kardashian West — has finally put their vendetta against him to rest.
The SKIMS founder proved that her bad blood with Thompson is now a thing in the past during the Season 18 premiere of Keeping Up With the Kardashians when she invited him out to dinner with some friends as sort of a peace offering.
Though Kardashian's crew wasn't too thrilled Thompson was joining their dinner, she explained to them, "Tristan is True's dad. So regardless of whatever, he's connected for life, we can't change that."
The dinner ended up going surprisingly well, and to further prove that all is forgiven, Kardashian tweeted during the episode, "I actually LOVE Tristan now like a brother FR! We totally bonded and worked through our issues and love him."
Kardashian's tweet comes a few days after she shared her love for the athlete on Instagram in honor of his 29th birthday.
"Happy Birthday @realtristan13!!!! Cheering loud for you today! Can't wait to celebrate soon!" she wrote on her Instagram Story alongside a photo of herself cheering Thompson on at a game back in January.
Though we never thought we'd see the day Kardashian and Thompson would get along, it seems like they now consider each other friends, despite their past drama.
Khloé Kardashian felt awkward watching the episode
While Kardashian West seemingly enjoyed watching her casual dinner with Thompson back on the new episode of KUWTK, Khloé Kardashian found doing so to be uncomfortable for her.
During the Season 18 premiere, the Good American founder was live-tweeting her reactions on Twitter and revealed that watching this episode came with some awkwardness as she was viewing it back with Thompson.
"I love that tristan is watching this premiere with me and he is now seeing what they say when he's not around lol AWKWARD!! #KUWTK," she tweeted.
While watching the episode back seemingly made Kardashian cringe on the inside, seeing Kardashian West and Thompson bond during their casual dinner made for an even more unpleasant experience.
"The most uncomfortable dinner EVER lol #KUWTK" the mom of one added in another tweet.
Though the Good American considered that dinner to be very cringe-worthy, Kardashian West admitted during the episode that her meetup with Thompson wasn't awkward at all.
"I love that Kimberly says nobody was awkward. Because I was tense watching that #KUWTK," KoKo wrote. 
Despite it being awkward seeing her ex and her sister getting along, Kardashian revealed that the KKW mogul isn't the only one in the family making an effort to remain on good terms with Thompson.
During her live-tweet session, Kardashian shared that she and Thompson have been focusing on maintaining a civil relationship for the sake of their almost 2-year-old daughter.
While Koko admits that getting to the place she's in now with Thompson was "hard," she couldn't be happier with the co-parenting relationship they currently have.
"Let me just give around of applause for all the healthy coparenting is out there," she praised.
Keeping Up with the Kardashians airs Thursdays at 8 p.m. ET on E!
Source: Read Full Article