Kim Kardashian West Is Legitimately Hiding From Her Own Kids
Kim Kardashian West has a pretty hectic schedule. Between parenting four kids, running three companies (KKW Beauty, KKW Fragrance, and skims), studying for the bar exam, and starring in her reality tv show Keeping Up with the Kardashians, the 39-year-old has admitted she often has to plan her days down to the minute. But, despite all that she has to balance, it seems that being a mom is truly giving her a run for her money.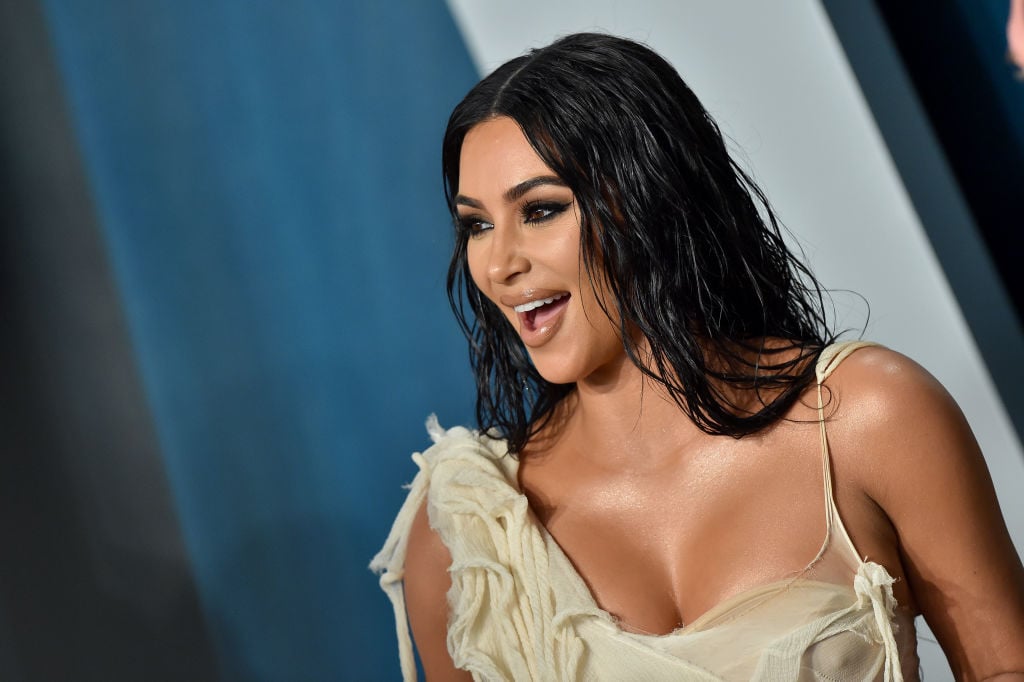 Kardashian West, along with her husband, Kanye West, are parents to four young children. North (aka Northie) West, who is six, Saint (aka Sainty) West, who is four, Chicago (aka Chi Chi) West who is two, and Psalm (aka Psalmy) who is just a few days shy of 11 months. Kardashian West has been candid about the fact that her kids all have wildly different personalities which can be difficult to navigate at times. In fact, her two oldest kids just started getting along recently.
Kim Kardashian West has been confined to her house with her kids
With so many kids, things in the Kardashian/West household are always fairly hectic. However, things have been even crazier than usual because of the Coronavirus (COVID-19) pandemic. All Californians have been issued a stay-at-home order and thus Kardashian West and her kids have been confined to their mansion.
Despite having massive amounts of space, Kardashian West admitted that she was running out of ideas for things to do with her kids. Recently she took to her Instagram page to ask her 164 million followers for suggestions. "What is everyone doing to keep your kids entertained??? As a family we are social distancing but need some fun ideas of what to do! Any suggestions would help!" the Keeping Up with the Kardashians star questioned.
The makeup guru is hiding from her kids
But, even fans have been hesitant to give the reality TV star advice. In a recent interview on The Tonight Show Starring Jimmy Fallon, Fallon asked her if she'd gotten good ideas for things to do with her kids she shared that she had not. Kardashian West revealed that fans declared, "You have everything at your house. They shouldn't be bored," the mom of four shared. But, Kardashian West admitted the despite the massive amounts of space, she was having trouble keeping them entertained. In fact, she admitted that she was currently filming in her mom's glam room. "I had to get away from my kids," she declared.
Kardashian West also revealed that she'd tried tons of things to keep her kids entertained, from making forts to making edible slime. She stated that staying home with four kids had eliminated any lingering desire to have another one. In addition to that, she found the homeschooling aspect particularly challenging. "To be a teacher to four young kids…well two are in school, it's just insanity. I'm hiding from them," the KKW Fragrance owner confessed.
Fans react to Kardashian West's complaints
Kardashian West may be having a hard time, but people are not at all sympathetic to her plight. Many people, and even some fans, find her complaints to be completely tone-deaf. "It's unbelievable the levels of disconnect these 'celebrities' have with the regular folk. Their 'stories' of confinement make me sick to my stomach while we know there are other people who literally don't know if they will be able to pay for their utility bills or have what to eat or feed their children next week," one person wrote.
"She can f*ck right off. I rather my kid be bored in a mega-mansion with a pool, playrooms, etc. than in my tiny 2 bedroom apartment. And they're obviously still going out and about if she's at her mom's house for this show and had her sister come do her make up. Like….? Your house is big enough and do your own makeup," another person added about Kardashian West. Maybe this time social-distancing will give Kardashian West her a better appreciation for nannies and teachers at the very least. But, we won't hold our breath for her ability to read the room.
Source: Read Full Article