Khloé Kardashian Says She Could Easily "Demolish" Kourtney Kardashian in a Fight
Happy Friday! Now that we're on the final day of the work week, it means we have yet another episode of Keeping Up With the Kardashians to discuss, because let's be real—it's the only show you're really watching on Thursday nights. On this week's episode, we *finally* got to see Kourtney and Kim Kardashian's epic fistfight in full, which as predicted…was a lot.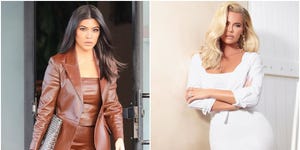 Though Khloé Kardashian wasn't the one sparring with Kourtney—who, by the way, accused Khloé of behaving differently when cameras aren't rolling—she was of course tuned in because a large part of that heated scene involved her too. And for the record, Khloé's letting it be known that had Kourtney tried *her*, the fight would have ended a very different way. "I would demolish Kourt's ass lol don't play. I'm 5'10," she wrote while watching the episode. "She's 5 feet on a good day." Alright, Koko!
I would demolish Kourts ass lol don't play. I'm 5'10". She's 5 feet on a good day #KUWTK
For those of you that don't have cable rn or access to streaming, here's a quickie rundown of what happened between Kim and Kourt: Kim was ripping a new one into Kendall Jenner about always flaking out on events, and then turned the conversation onto Kourtney's lack of work ethic and not wanting to film the show anymore. Kourtney then put her hands on Kim, and then before we knew it…they were actually fighting. It was so bad, Kourtney actually drew blood.
After the fight went down, Kourtney went to do a confessional and revealed that she and Kim were surprised things got that ugly. "I think Kim and I both are really surprise how things escalated this quickly. We don't know where all of this has come from," she said. "We know that there's friction recently, but I didn't think any of us knew it was this bad and heavy. It's really surprising that it's gone this far."
The amazing news here is that this fight saga is finished, the girls are on somewhat better terms these days, and that Kourtney took a much needed break from the show like she wanted to. Now only six more days until next week's episode!
Source: Read Full Article