Gleb Savchenko's Wife Elena Accuses Him of "Ongoing Infidelity" as Chrishell Stause Denies Affair
Yikes, where to even begin?! Over the weekend, Dancing with the Stars pro Gleb Savchenko announced his split from his wife of 14 years Elena Samodanova, and it took approximately two seconds for everyone to assume he was having an affair with Selling Sunset's Chrishell Stause (who was his partner this season on DWTS).
https://www.instagram.com/p/CHQsSv9pqCm/
Chrishell immediately shot down the speculation in an Instagram story, writing in part, "As you can imagine, the countless hours of training, and dance rehearsals has created a strong supportive friendship, but nothing more. I wish nothing but the best for both Gleb and Elena during this unfortunate time."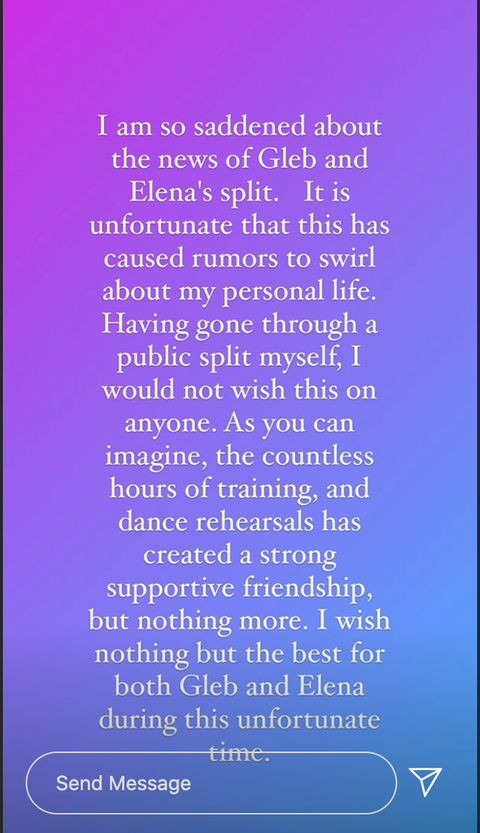 But, uh, since then Elena decided to talk to People directly, accusing Gleb of past and current infidelity:
After this !!!! statement, Gleb released a musing of his own, saying in part "I will not stand by and allow false accusations and internet rumors go unaddressed. My relationship with Chrishell was and remains strictly platonic. Our friendship during our season on DWTS was not the reason for our split."
And now, on top of ALL! OF! THIS! Chrishell's rep has weighed in, saying "Any insinuation or accusation that Chrishell is in any way involved in the dissolution of Gleb and Elena's marriage is 100% categorically false. To be clear: Chrishell and Gleb are in no way, and have never been in any way, romantically involved."
Wow. Truly, this is all so much for a Monday.
Source: Read Full Article