Gigi Hadid Clarifies Post About Sister Bellas Comeback After Treatment for Lyme Disease
The 28-year-old blonde beauty explains that her previous post didn't mean her younger sibling was ready to return to the runway after she finished a 'long and intense' treatment program.
AceShowbiz –Gigi Hadid is "so proud" of her sister Bella Hadid after she recently underwent a "long and intense" treatment program. The 28-year-old model was keen to clarify a recent throwback post she'd shared featuring herself and her younger sibling, and explained she hadn't intended for fans to take her message about a "comeback" to mean the brunette beauty was ready to return to the runway because she's been receiving specialist care in her ongoing battle with Lyme disease.
When she posted the photo on 26 July, Gigi wrote, "Can't wait 4 the comebaccckkkkkk." And on Tuesday, August 1, she shared it again on her Instagram Story and wrote, "Just wanna touch on this post from last week. Bella just finished a long and intense treatment for Lyme disease. Didn't want some to take my post as a promise she'll be back for shows this next season. I'm so proud of her and excited for her comeback whenever she feels ready."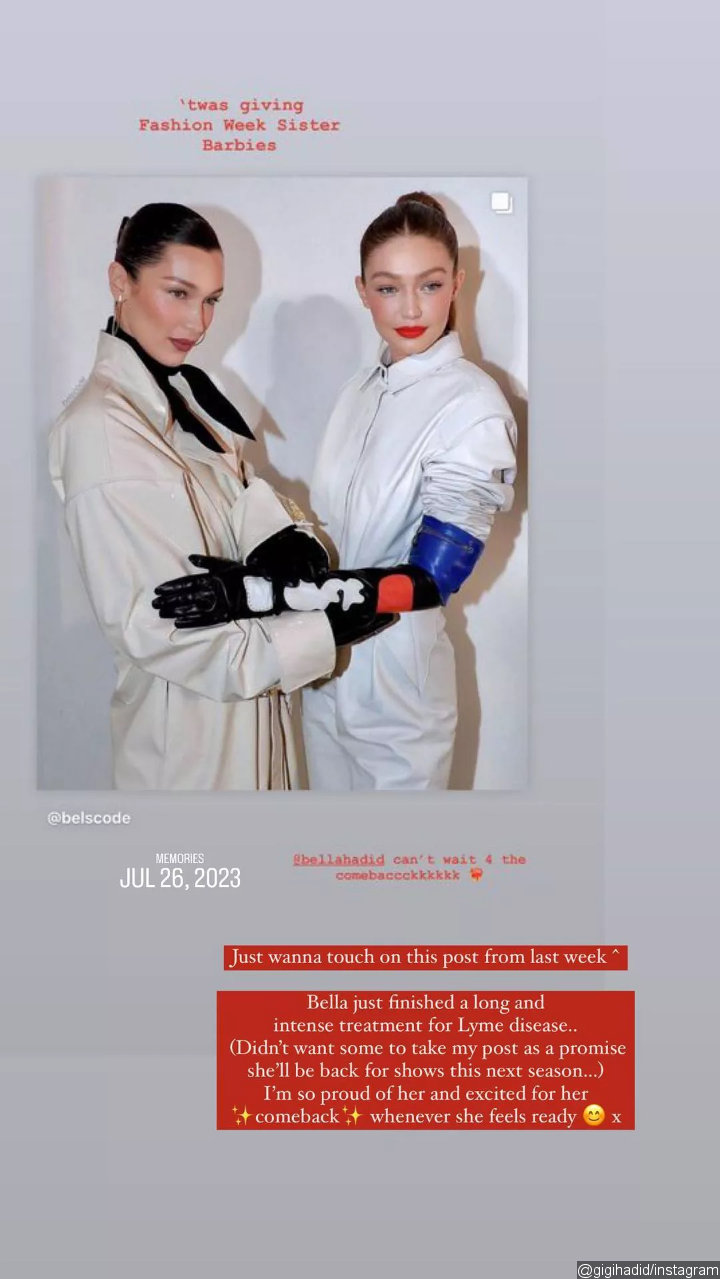 Gigi Hadid is 'proud' of her sister Bella Hadid after she underwent a long and intense treatment for Lyme disease.
It was revealed last month Bella had been "on medical leave" and was receiving treatment for her condition following speculation she was in rehab. A source told Entertainment Tonight, "Bella Hadid has been on medical leave for the past four months, and is in daily treatment for Lyme disease. Nine months ago, Bella decided she wanted to stop drinking, so she stopped. She has been sober for nine months and has never had an alcohol or drug problem. Bella is not in rehab."
Bella and her brother, Anwar Hadid, were both diagnosed with Lyme disease back in 2012. Common symptoms of the disease include fever, headache, fatigue and a rash, and Bella has been candid about her health struggles over the years. In 2022, Bella confessed to suffering bouts of anxiety and depression that were linked to her Lyme disease diagnosis.
Speaking to WSJ Magazine, the model added, "I haven't had a stylist in a long time, maybe two years now. I was in such a weird place mentally that it was really complicated for me to get out of the house and put an outfit together, especially with the anxiety of [cameras] being outside and all that. In the last year, it was really important for me to learn that even if people talk about my style or if they like it or if they don't, it doesn't matter, because it's my style. When I leave the house in the morning, what I think about is: Does this make me happy? Do I feel good in this and do I feel comfortable?"
You can share this post!
Source: Read Full Article