Disney Characters That Need Their Own Live-Action Movie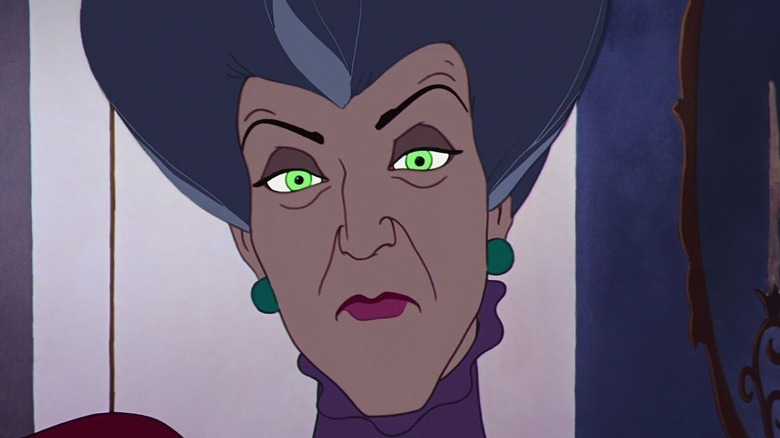 One thing Disney has always been good at is recycling and reusing its most beloved characters. Whether it's sequels, prequels, or spinoffs, the company never shies away from giving fans more of their favorite princesses, villains, or goofy sidekicks.
In the past few years, Disney has branched out from animation and made some incredible live-action remakes and origin stories. There have been many enjoyable remakes, but the live-action origin stories have proven to be a little more interesting. In 2014, the stunning Angelina Jolie took on the role of Maleficent (making for a Disney character who is totally dateable), the evil queen in "Sleeping Beauty," and in 2021, Emma Stone portrayed a young Cruella de Vil, the villain in the film "One Hundred and One Dalmatians."
We have to admit — it's pretty fun seeing these iconic villains from a new perspective. And as far as we're concerned, there are tons of other Disney characters who also deserve their own live-action makeovers. Here are all of the Disney characters who we think really need their own movie.
Disney's Scar definitely needs an origin story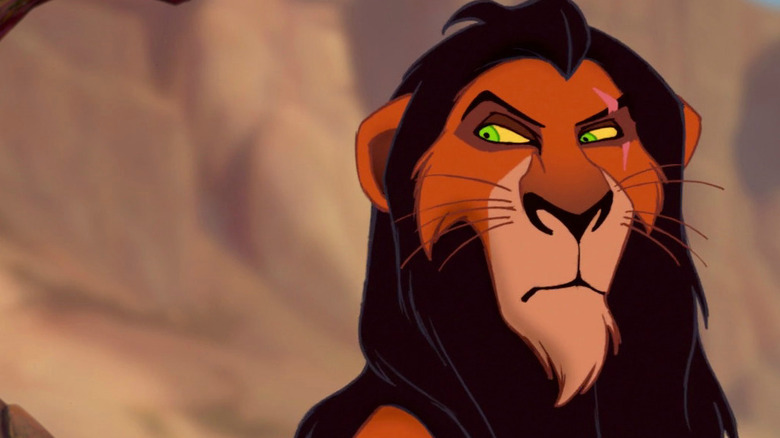 There's already been a live-action remake of "The Lion King," with Chiwetel Ejiofor taking on the role of Scar in 2019. However, we would love to see a live-action movie about Scar's childhood. After all, in "The Lion King," Scar was portrayed as an irredeemable villain; he was power hungry, murderous, and disloyal. It would be fascinating to take a look at things from his perspective and find out why he was the way that he was — and also, where he got that ominous scar. And by the looks of things, we may just get this film in the future.
In an interview with HeyUGuys, Ejiofor discussed playing the Disney character in the 2019 film version of "The Lion King." "It was in that idea of realism I thought, 'Well, maybe there's something to uncover or to think about in terms of Scar and his psychological damage and … why he operates in the way that he does." He went on to explain that he used the idea of having an obsession with power to portray the character.
According to Inside the Magic, a live-action "Lion King" prequel is already in the works. We just hope we learn more about Scar.
Ursula is one of the coolest Disney characters out there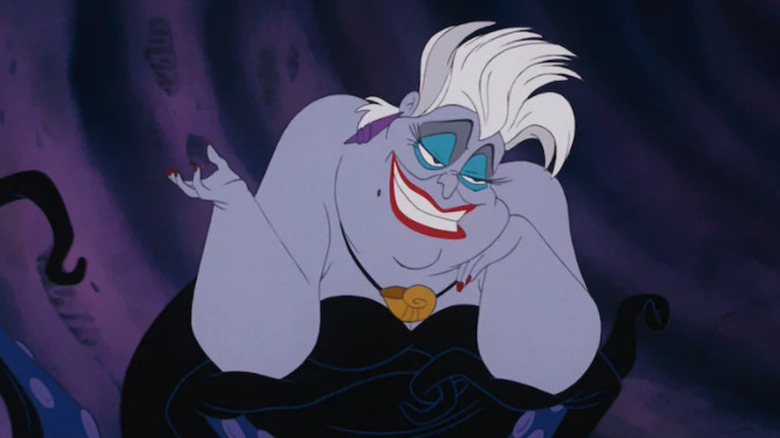 One of the best Disney animated villains off all time has to be Ursula from "The Little Mermaid." Ursula was campy, self-assured, and — as it turns out — a little more complex than you may have realized.
In the original animated film, the character of Ursula the sea witch was actually based on the famous drag performer Divine. As Smithsonian Magazine reported, Ursula's song "Poor Unfortunate Souls" is like a drag act in which she teaches Ariel about getting a man by being overtly feminine. "The overall lesson: Being a woman in a man's world is all about putting on a show," the publication wrote.
We would love to see Disney tackle all this in a live-action origin story — and we aren't the only ones. In fact, Emma Stone, who played Cruella de Vil in her origin story, told Variety that she would love to see Ursula's backstory explored on the big screen. "She's an octopus and the world you would get to live in, like Ursula's parents and what happened there," she said. "You've never really seen a non-human Disney villain be explored in that way." Let's hope Disney producers take note!
Tinker Bell deserves some justice with her own live-action Disney film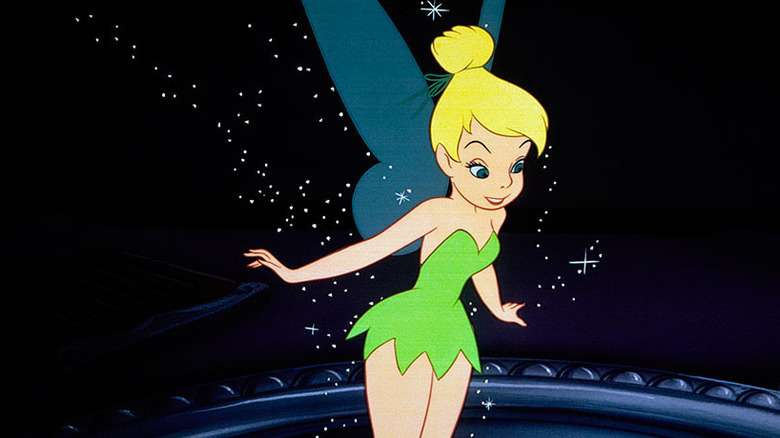 Over the years, there have been numerous portrayals of Tinker Bell. Obviously, we've seen her as the adorable blond cartoon in the original "Peter Pan" film. We also saw her portrayed as an endearing and sometimes annoying mime by Ludivine Sagnier in 2003's "Peter Pan." And in the 1991 film "Hook," she was played by Julia Roberts as a feisty, tomboyish character.
We think it's time we got a more nuanced live-action portrayal of Tinker Bell that showed us how she ended up becoming Peter's fairy. And, it turns out, Disney once had the same idea. Back in 2015, The Hollywood Reporter announced that Reese Witherspoon had been cast in a live-action origin tale that told "the story you don't know." However, not much has been heard about this film since. Instead, Disney seems to have focused its attention on a live-action remake of "Peter Pan," and, as reported by Deadline, "Grown-ish" actress Yara Shahidi was cast as Tinker Bell. We just hope this film gives us a little more information about the character.
Yzma's live-action origin story would be seriously cool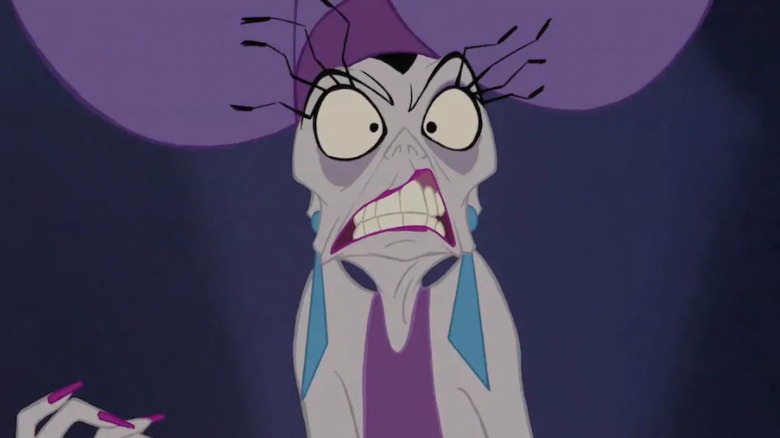 You have to love Yzma from "The Emperor's New Groove." This fabulous, magical villain was manipulative, over-the-top, and wonderfully evil. As Walt Disney feature animation president Thomas Schumacher said in an interview for the film, "She's a classic Disney villain, big-scale villain and she's operatic. She's over-the-top." And as "The Lion King" director Roger Allers, who had once been attached to an early incarnation of the film, explained to Vulture, "I thought up the character of Yzma, the high priestess who wants to take over and regain her lost youth and beauty. … She was funny, and long, and skinny, and angular, and you could do lots of physical humor with her." It's true — Yzma may have been the villain, but she was also hilarious.
We would love to see a live-action origin story about Yzma before she "lost" her youth and beauty and find out why she eventually became so set on regaining it. We just hope this origin film would be as big, bold, and brilliantly over-the-top as the Disney character was in the original movie.
Hades was pretty scary, but his live-action film would be really interesting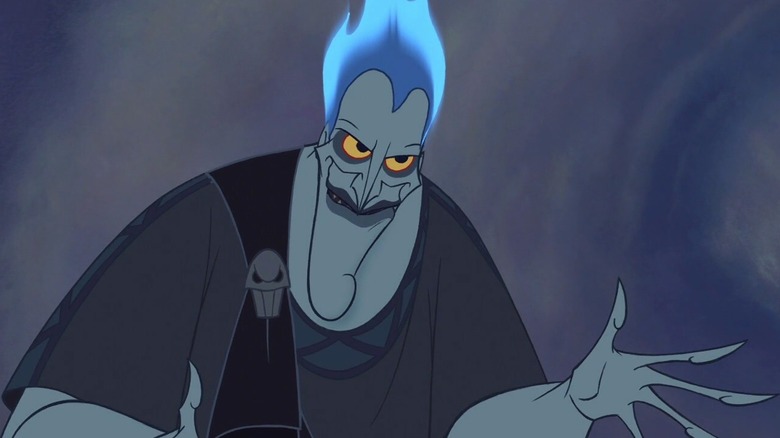 When it comes to Disney villains, Hades from "Hercules" might have been one of the scariest. While the likes of Cruella, Ursula, and Yzma were campy and fun, Hades was just plain terrifying. Of course, he was pretty funny, too. This is Disney, after all! However, with this unpredictable temper and his powers, he was one villain you would not want to mess with.
It turns out, the character came to life thanks to the voice actor, James Woods. As he told Den of Geek, the animators created the character based on his readings of the lines. "Almost every line I did in that over the next year and a half was adlibbed," he shared. "I came up with the idea of the hair being on fire." Sounds like Hades would have been pretty different without Woods.
For a good origin story, Disney would probably need to find a comedic actor who could improvise like Woods did for the cartoon. They'd also need to create some CGI fire hair. But with those two ingredients, we can definitely imagine the start of an amazing live-action origin story for this character.
We want to learn all about the Evil Queen's origins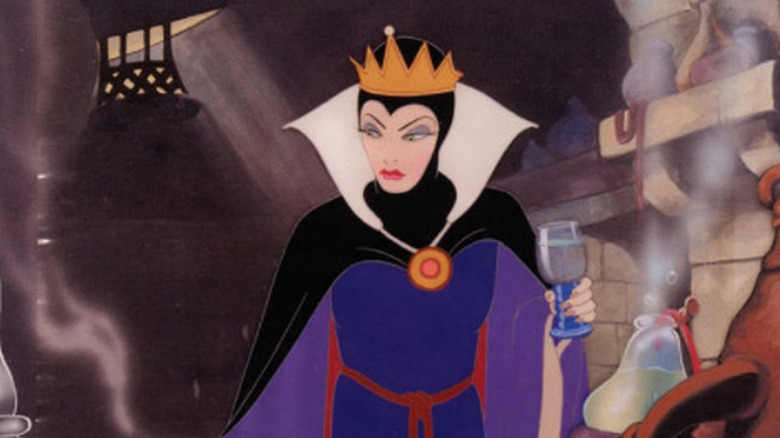 The Evil Queen in "Snow White" was ominous and a little terrifying. Unlike Yzma, she wasn't over-the-top in her demeanor. Rather, she was calm and strategic, and as News.com.au reported, the character was based on the jealous stepmother of real-life noblewoman Maria Sophia von Erthal (who had her own special mirror!). With all this in mind, we think getting to know her with a live-action origin story would be truly fascinating. Move over, Snow White — it's the queen's turn!
After all, maybe the Evil Queen wasn't really as evil as we thought. It would be interesting to find out why the Disney character was so determined to hold onto her youth and good looks and why the young Snow White's beauty was such a threat. In medieval times, beauty was often a woman's only source of power, so we can totally see this live-action story being a feminist retelling of the classic tale.
Cinderella's stepsisters could feature in a live-action comedy showing their perspectives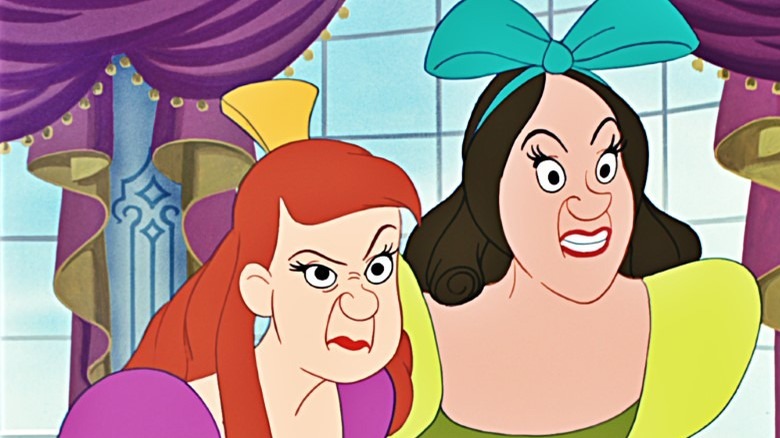 The two evil stepsisters in "Cinderella," Anastasia and Drizella Tremaine, definitely have a poor reputation. They were cruel, a bit dumb, and — God-forbid — ugly. We think it would be wonderful to see a movie that tells the classic story from their point of view. After all, it couldn't have been easy for these two sisters to feel the constant pressure of their mother to find a husband and always look their best. We imagine a live-action origin story could redeem these characters and show that it wasn't easy being plain if you were a woman of their time.
By the sounds of things, Disney has already had the same idea. According to Deadline, Kristen Wiig and Annie Mumolo are working on a live-action film about the stepsisters. It's unclear whether this film will show the girls in a more positive light, but it will reportedly focus on their backstory, much like 2021's "Cruella."
We want a live-action film about odd couple Lumière and Cogsworth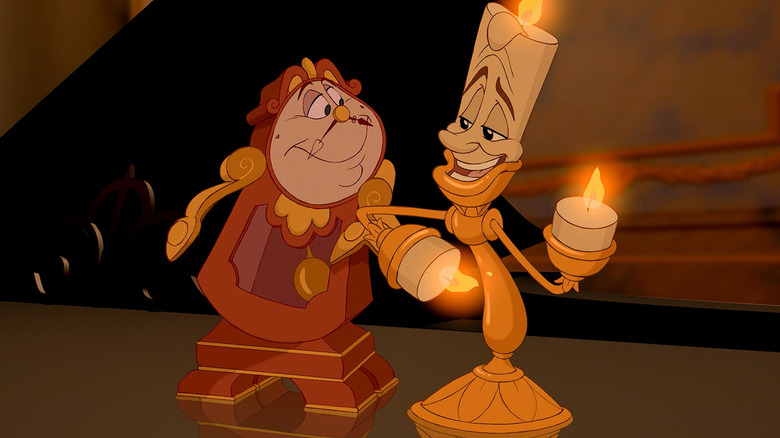 "Beauty and the Beast" has tons of amazing Disney characters. Two of the most likeable, colorful characters were Lumière and Cogsworth, the candelabra and the clock. While Lumière was extravagant and excitable, Cogsworth was an understated rule-follower. This made them the perfect odd couple who played off each other's energies perfectly. We would love to see a live-action flick about these squabbling servants before the magical transformation that turned them into household objects.
According to Vanity Fair, the bickering colleagues were actually based on the real-life Disney animators who drew the characters for the film — Nik Ranieri and Will Finn. The pair would argue about food in the office, decor choices, and work habits. As Ranieri said, "The knowledge of our feud definitely played a small part in casting us on those two characters." Finn added, "I think the directors secretly thought that the already-legendary personal friction between us would influence the animation."
Maybe this pair could help Disney come up with some funny situations and plotlines for a full-length live-action film — we can only hope!
Disney's Flynn Rider deserves his own live-action adventure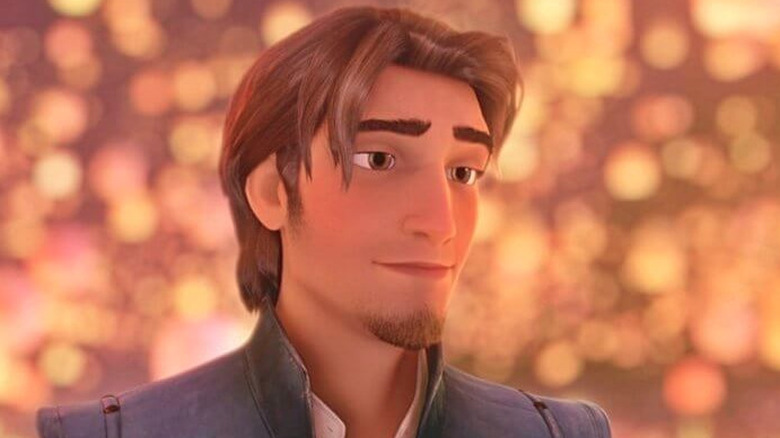 When "Tangled" was released in 2010, critics praised the characterization of Flynn Rider. For once, we got to see a flawed, dynamic leading man who was more than just a knight in shining armor. As one writer for The Guardian wrote in an article, "I particularly like Flynn Rider, the swaggering, insecure thief who gatecrashes Rapunzel's castle." While we got to see a lot of Flynn in the movie, we want more! We think a live-action origin story about this dashing rogue would be seriously amazing.
It turns out, Disney would already have some material to go off if they decided to make this movie. In 2021, Nerdist announced that Disney was releasing a book, "Lost Legends: The Rise of Flynn Rider," that tells Flynn's origin tale. The plot goes something like this: A young 12-year-old Flynn (or Eugene) grows up in an orphanage dreaming of his favorite storybook thief, Flynnigan Rider. He joins a traveling circus with his best friend and so begins his adventure. As far as we're concerned, this sounds like an epic plot for a new live-action Disney film!
Meg from Hercules deserves to take center stage with her own Disney film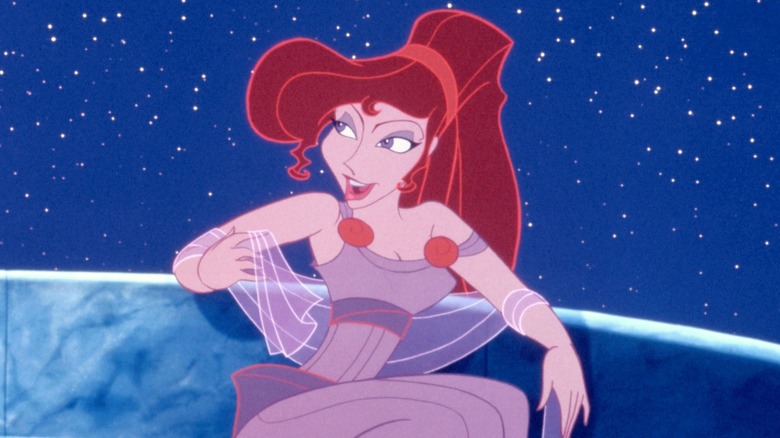 Many Disney films focus on the female lead. However, in "Hercules," Megara took a secondary role, as Hercules was the main focus. Nevertheless, she was a pretty special character. As PopSugar noted, "It's Meg's personality that immediately distinguishes her from a legacy of earnest Disney princesses." Apparently, Meg was based on the femme fatales of 1940s comedies. She was sultry, mature, and super smart. In other words, she is a pretty unique character in the Disney universe, so we would love to see her own live-action film.
There's even some material to base a potential film on, as in Greek mythology, Megara was Hercules' first wife. We know that, before she met Hercules, Meg sold her soul to Hades to save a boyfriend who later left her. Perhaps a live-action film could dig into this story of how Meg got her heart broken.
We would love to see a Disney film from Gaston's point of view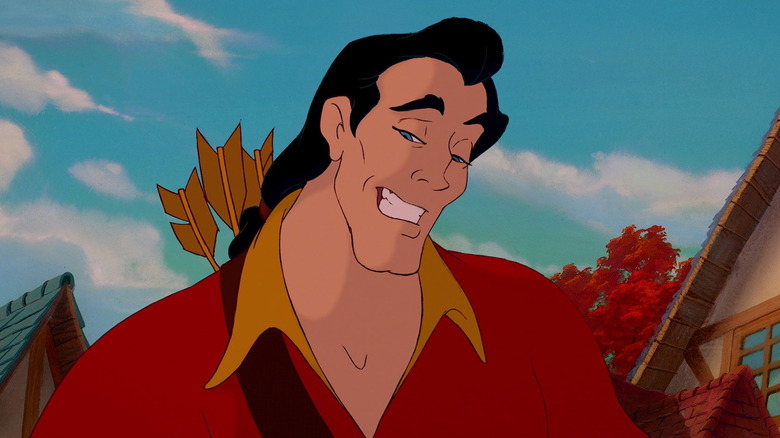 Gaston was by far one of the most treacherous Disney villains ever. Not only was he set on ruining Belle's romance with the Beast out of jealousy, he was also able to get the entire town on his side thanks to his looks.
Of course, we already got to see Gaston as a live-action character in the 2017 "Beauty and the Beast" live-action movie. In the film, he was portrayed by Luke Evans. As Vulture noted at the time, Evans' larger-than-life portrayal of Gaston made him just a little loveable. "He's so charming that [Emma] Watson can never manage to be thoroughly repulsed by him (she usually lands somewhere around mild irritation), and so it's hard to buy him as that atrocious," the publication wrote. "He's just a jerk, too self-centered to be really rude."
We have to agree that seeing Gaston as a live-action character got us eager for more. Luckily, as The Hollywood Reporter announced, Disney already has a Gaston musical prequel mini-series in the works, with Evans set to reprise his role. While Gaston will always be a bad guy, we have to say that we can't wait for this series. Hopefully, a live-action film will follow!
Sally from The Nightmare Before Christmas deserves some time in the spotlight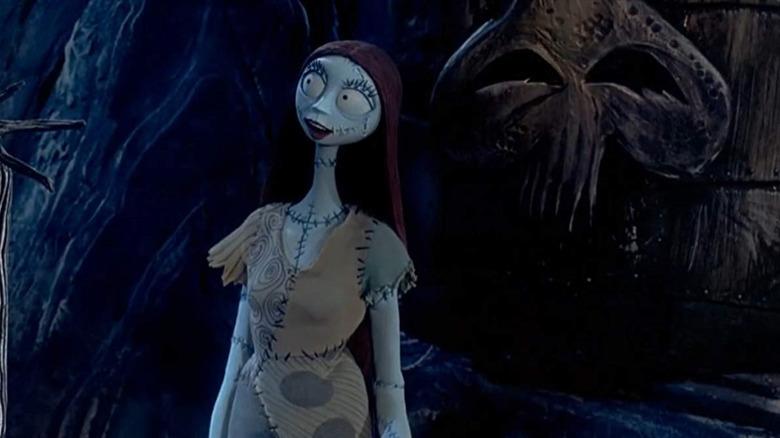 Sally from "The Nightmare Before Christmas" is definitely an iconic Disney character, but sadly for fans, she wasn't the main focus of the film. Sally, who is basically a patchwork rag doll come to life, lives imprisoned with Dr. Finkelstein. Fortunately, she eventually escapes and presumably marries Jack, according to the epilogue in the film's soundtrack.
In 2021, Gizmodo reported that a new novel about Sally's life after the events of the film was soon to be released. Apparently, the novel will begin with Sally and Jack's married life and will include Sally accidentally setting free a new Halloween Town villain. Unlike the original film, this book will be all about Sally, and we think this would make a fantastic plot for a brand new live-action flick. After all, Sally is a pretty amazing character and we would love to see what she looks like as a live-action character.
Kida was an amazing character and she needs her own live-action Disney story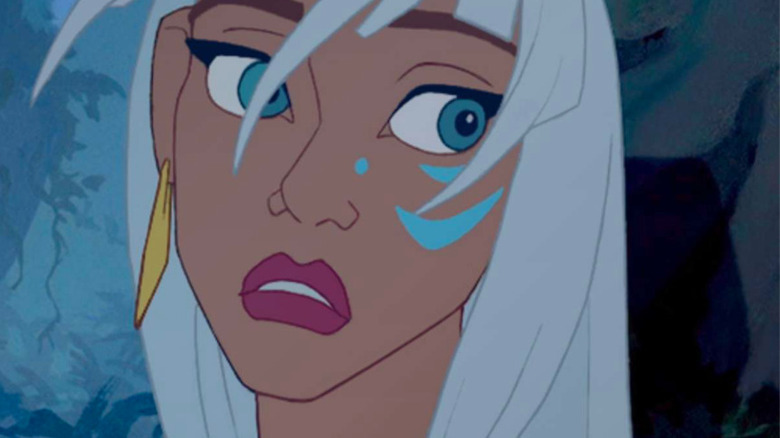 There's a stereotype that female Disney characters are naïve, sheltered, or girly, but Kida from "Atlantis" defies all of these labels. In fact, she might be the most overlooked Disney character ever. As SyFy noted, she was the company's "first warrior princess of color." Not only was Kida a new type of Disney princess, but her tribe relied on the female royal bloodline. 
It's a shame that this feminist icon is largely forgotten about in the Disney canon, and we think it's time that changed. Just imagine how epic a Kida-centric live-action movie could be! We already got a glimpse of the young Kida in the opening scene of the film when she lost her mother. We would love to see what happened to the young princess in the years between the fall of Atlantis and the events of the original film.
We want to know why the stepmother in Cinderella is so evil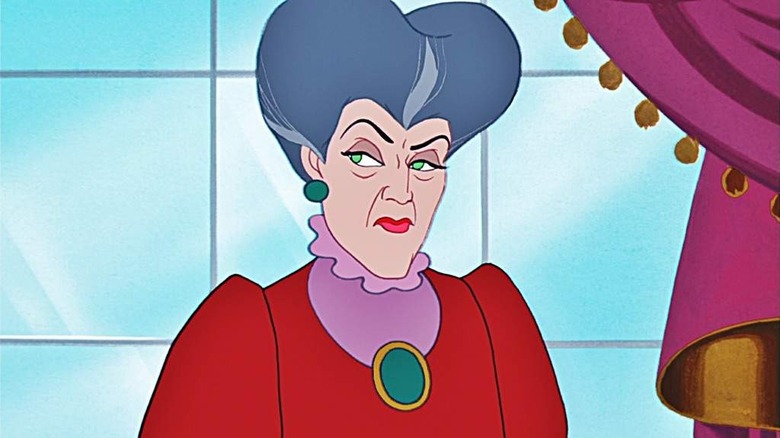 The Wicked Stepmother in "Cinderella" was uncompromisingly cruel, forcing her stepdaughter to work in her home as a servant while her biological daughters reaped the benefits. Could there be any rational explanation for this behavior? We think a live-action origin story could help to shed some light on this character and her despicable actions.
As The Atlantic pointed out in a review of the live-action remake of "Cinderella," Cate Blanchett's portrayal of the stepmother didn't show her as "evil" or "wicked" — rather, she was "cruel." "Lady Tremaine's abuse of Cinderella is not the result, her performance makes clear, of some sui generis malevolence; it is instead the direct result of the cruelties her own life has heaped upon her," the reviewer wrote. "And those, in turn, are the direct result of her being a woman."
We wonder what happened to the stepmother earlier in her life to make her who she ultimately became.
Source: Read Full Article