A DJ Just Credited Kanye West for Being a Better Music Producer Than Quincy Jones and Fans Are Not Having It
Quincy Jones does not like being compared to Kanye West, and neither do his fans.
In the past, the famed music producer has called out people who've voiced similarities between himself and the award-winning rapper. While it's been a few years since someone has noted a comparison between the two, DJ Green Villian, a person we're not very familiar with, recently made himself famous by doing so.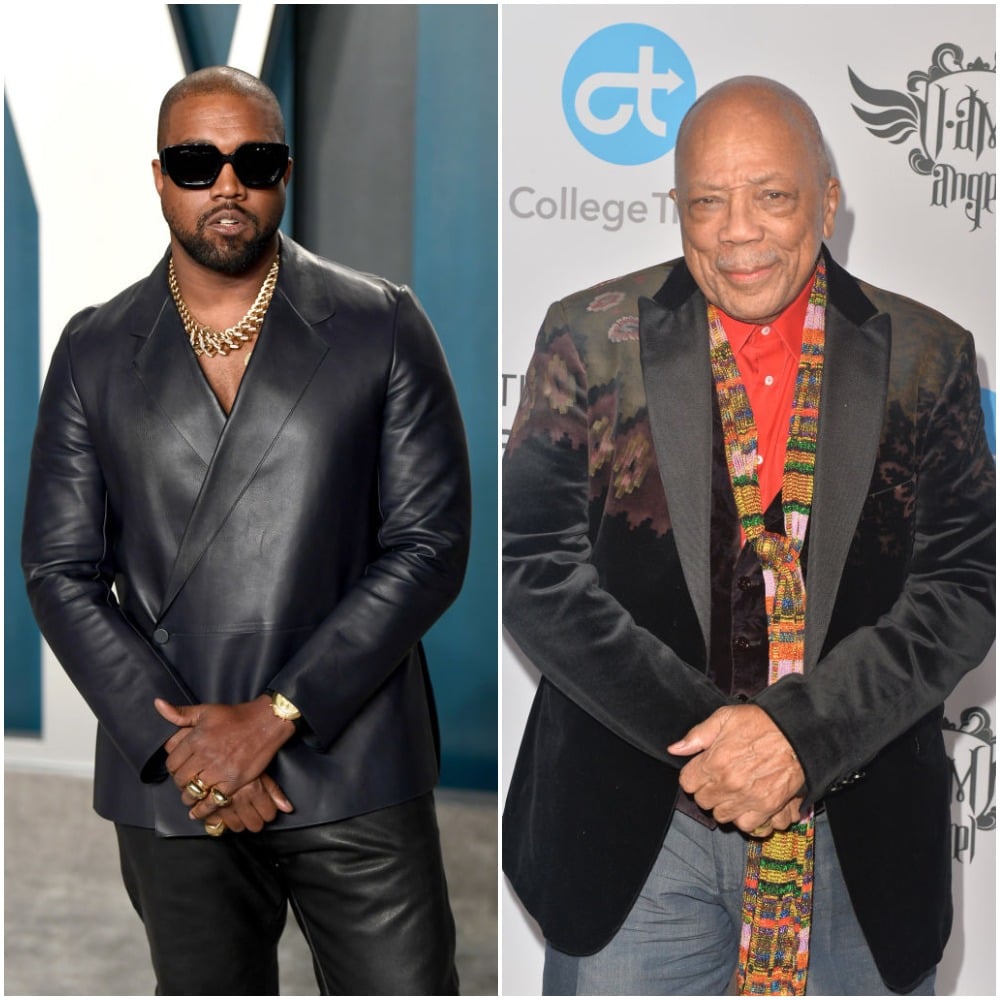 After the DJ made a comment that praised West for being a better music producer, Twitter erupted with a flurry of responses defending Jones's many accomplishments and slamming Green Villain for not appreciating the composer's musical impact.
Twitter has been relentlessly roasting the DJ
Jones has achieved a lot in his more than 60-year career in the entertainment industry.
Not only is he a famed American record producer, multi-instrumentalist, songwriter, composer, and film and television producer, he's also one of the most successful music arrangers in the industry, with a record number of awards and countless other honors for his work.
All that Jones has accomplished over the years proves that he is one of the most influential and successful music producers in entertainment history, which is why fans were quick to come to his defense when someone tried to downsize his musical impact on Twitter.
It all started when DJ Green Villain attempted to disparage the composer's work when talking about producers he thought were the best in the industry.
In a now-deleted tweet, the DJ scaled-down Jones's many musical accomplishments by writing, "what else did quincy jones do other than michael jackson albums?" which ignited a series of responses.
Following his initial tweet, Green Villian took to Twitter again to defend his comment by writing, "With all the good music Quincy has made, i prefer Kanye music. What's so hard to grasp? I don't care if that n**** samples. Guess what, i love samples. Lol."
It wasn't long after the DJ posted his tweets that people began roasting him for lacking musical knowledge and belittling Jones' music catalog.
"I find it hilarious that some musically illiterate DJ had the nerve to say that Kanye West is better than QUINCY JONES! Who tf you think Kanye has been sampling?!" one person tweeted.
"Some DJ is claiming Kanye is better than Quincy Jones?! The Quincy Jones who produced such classics as Michael Jackson's 3 biggest albums, The Color Purple score, Soul Bossa Nova, etc. Not to mention worked in every genre from classical to jazz to new jack swing? That Quincy?," another fan questioned.
Jones previously called out a reporter for comparing him to West
Although West has made waves in the entertainment industry with his award-winning albums and producing skills, many people do not believe that he is on a higher level than Jones.
In addition to producing three of Michael Jackson's most successful albums — Off the Wall (1979), Thriller (1982), and Bad (1987) — Jones has also worked closely with well-known musicians such as Frank Sinatra, Miles Davis, Ray Charles, Aretha Franklin, and many more.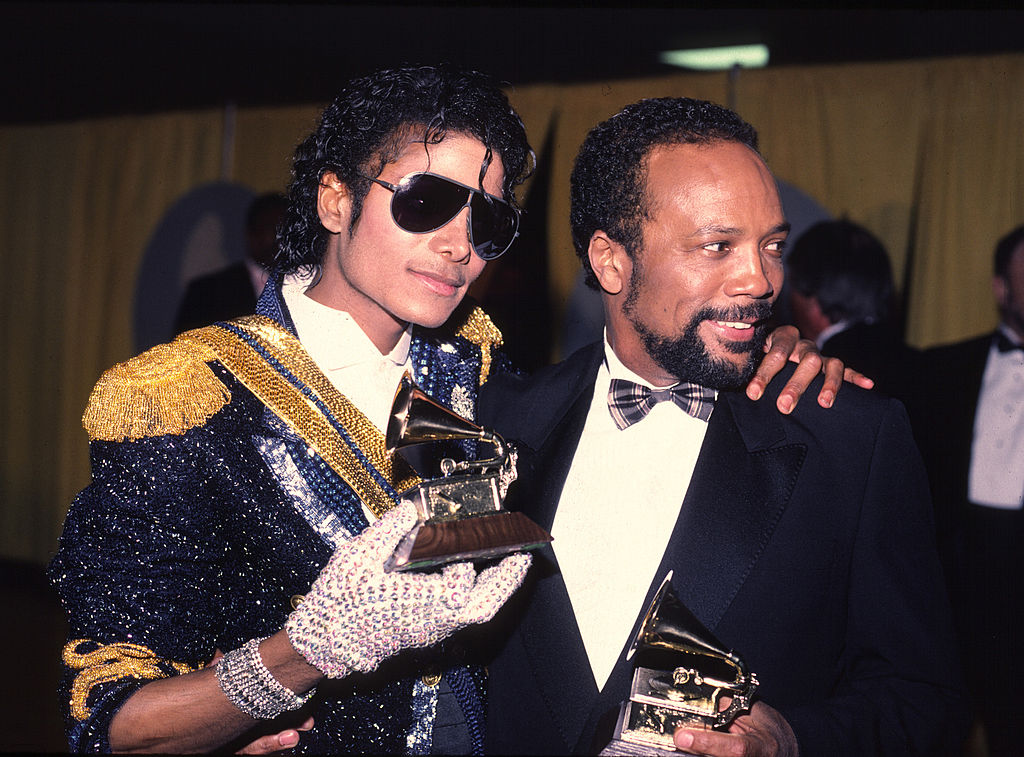 While West has produced a fair share of hits for himself and other big-named artists, there's really no rhyme or reason for comparing him to Jones.
Even Jones isn't too keen on this comparison and let that be known while interviewing with Us Weekly back in 2010.
During the interview, the reporter said, "Kanye West is similar to you in that he's the producer everybody wants to work with in the last decade…" Jones then responded with, "How, man? No way. Did he write for a symphony orchestra? Does he write for a jazz orchestra? Come on, man. He's just a rapper. There's no comparison."
The music producer continued, "I'm not putting him down or making a judgment or anything, but we come from two different sides of the planet. I spent 28 years learning my first skill. I don't rap. It's not the same thing. A producer has to have some sort of skills that enable him to be a producer. It's totally different to know what to do with 16 woodwinds you know from piccolos down to bass clarinet. It's a whole different mindset. No comparison. None."
Later, Jones shared a note on his website (via Stereogum), setting the record straight that he wasn't trying to downgrade West but instead wanted people to know that it wasn't fair that his accomplishments were being compared to the rapper's.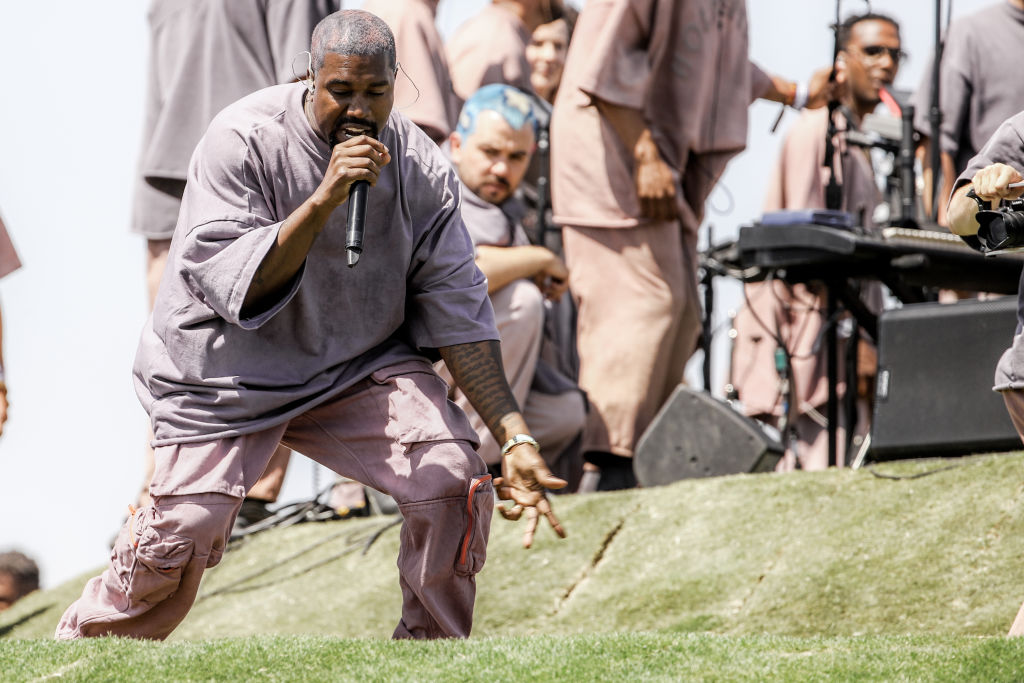 "But having been in the music business for more than 60 years and having been fortunate to accomplish what I have over that time, it's not unreasonable to put a comparison of Kanye at this time in his career and myself into the proper perspective," Jones wrote.
While Jones probably thought that that would be the end of these QJ vs. Kanye comparisons, this discussion is still happening today. But since fans were quick to come to the famed producer's defense, let's hope — for everyone's sake — that this will be the last we hear of Jones being compared to West.
Source: Read Full Article