Brian Shaw Takes on His Wife In a Toilet Paper Home Workout Challenge
Four-time World's Strongest Man Brian Shaw has not let the quarantine slow down his training. He's hit the gym for a bench press goal of 701 pounds, deadlifted a car… and now, he's challenging his wife, Keri Shaw, to an at-home workout challenge. Brian, who weighs about 400 pounds, challenges Keri, who weighs about 130 pounds, to a series of physical challenges using items from around their house in this husband-versus-wife battle.
The quarantine period has them slightly at odds—so this challenge is a perfect opportunity to blow off some steam.
"We've been spending too much time inside the house," says Brian. "Brian's blinking's getting really loud and annoying," Keri replies. "Keri said to me yesterday, 'Are you really eating that loud?'" Brian adds. "I knew it was time to get outside and have some fun."
Their first challenge is the toilet paper roll shooting challenge. They set up orange traffic cones with two toilet paper rolls stacked on each one. The goal: to shoot five rolls of toilet paper into a big garbage can.
After an intense battle, Brian comes out the winner.
The next challenge is the tank protein push. In this challenge, they're pushing a Tank MX at equivalent resistance levels to their strength, and picking up a box of protein for two trips for time.
"It's so a mind game, because there's not even any weight on it," says Keri after finishing her rounds, clocking in at 32:74.
Brian clocks in at 37:66. "I've gotta say that has more resistance to it, for sure. That's good," he says.
For their last challenge, they go head-to-head in rice ground-to-overhead challenge using massive bags of rice.
"Our carb source during this pandemic," says Brian. "And luckily, we've got a few bags to use here. The bags each weigh 20 pounds, so to make this somewhat eve, I'm going to take 2 bags, one in each hand, touch them to the ground, take them all the way overhead, and then back down. Keri is going to use one bag, and we're going to see how many reps we can get done in this in 30 seconds."
At 30 seconds, they're deadlocked at 16 reps, and don't stop until 50 seconds. Brian had 28 reps, and Keri had 26 reps.
"We hope you enjoyed this. We're just trying to have some fun, bring some positivity to the situation," says Brian.
"We're just really trying to make the best out of a really difficult situation for everyone," adds Keri. "We really want to genuinely wish everyone the best, and hopefully you can laugh at us today."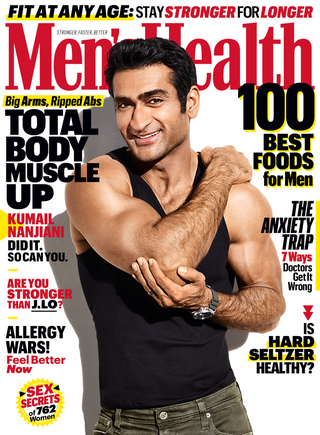 Source: Read Full Article